While on-site at a photo shoot last fall with fellow Black creatives, local fashion entrepreneur AK Brown remembers Brandin Vaughn, a St. Louis-based designer she's looked up to for years, embracing her and thanking her for orchestrating such a trailblazing project.
"Before the shoot started, as soon as he walked in, he gave me a hug and was like, 'No one has done anything like this,'" Brown recalls.
Vaughn says he was referring to Brown's efforts to unite and empower Black professionals in the metro area fashion industry. In his 14-plus years in the industry, Vaughn hadn't experienced something quite like the Black in STL Fashion project.
"For me to go into a room, and it's full of creatives that are in the fashion industry, and they're right here in my city, and I can identify with them being people of color – Black people – I felt very encouraged," Vaughn describes.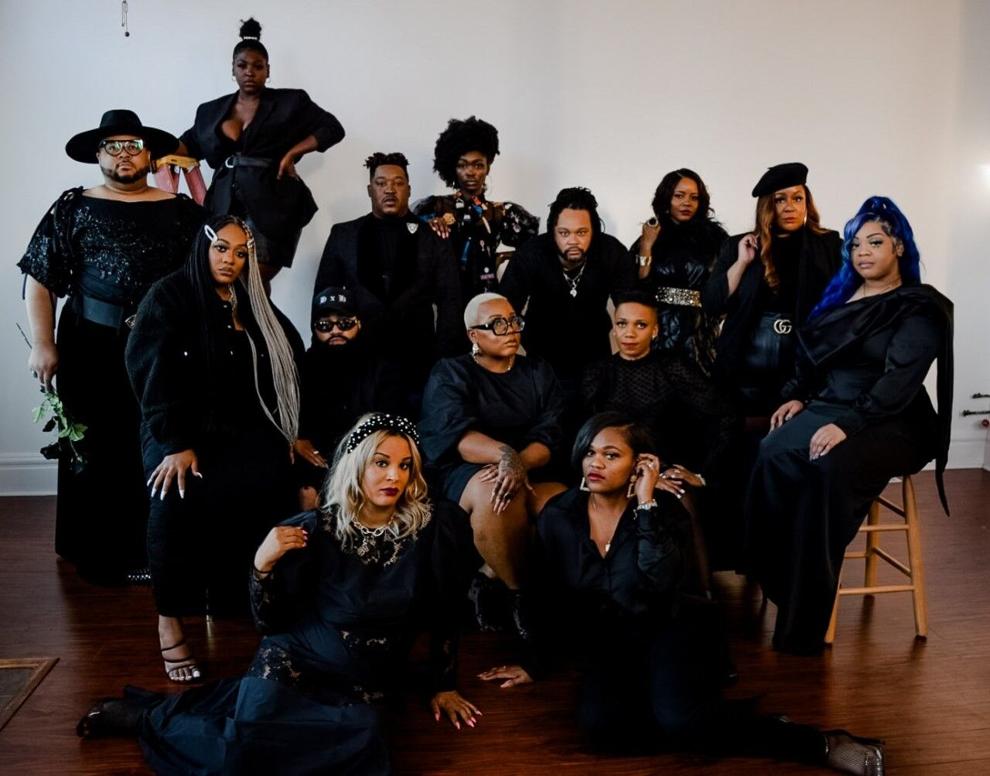 Born and raised in St. Louis, Brown feels passionate about giving her city the creative credit it deserves. She got her start in fashion around age 11, when her aunt taught her to sew, and she later earned multiple academic degrees that would help drive her career in the industry.
"You don't have to go to Chicago, LA or New York or other big cities in order to have a recognizable fashion brand," Brown says. "It can very much come out of a place like St. Louis. I've been able to do it."
After launching a style blog in January 2013, Brown grew her brand through various endeavors. Today, she works as a fashion influencer and stylist, creative director of AK Brown Studios and owner of HautePressPR, a boutique public relations agency for fashion and creative brands. Additionally, she plans to release new products this spring through her "elevated, unique streetwear" clothing line, LA1962.
Vaughn, who grew up in University City, left the metro area for about 10 years to pursue higher education and a career in Chicago before returning to St. Louis.
"It was just too saturated with fashion designers," he says of Chicago. "[St. Louis] was a perfect city for grassroots business."
Vaughn cites the affordability of retail space and more community support as reasons for his relocation. Around 2013, he launched the Brandin Vaughn Collection in the Delmar Loop, and about three years ago, he moved his storefront to its current location on Cherokee Street.
To Brown, the Black in STL Fashion project is part of a larger effort to revitalize St. Louis' reputation as a trendsetting city.
"For some reason, people just don't think of innovation or fashion brands coming out of St. Louis, and I don't like that – I want to change that narrative," Brown explains.
Vaughn says he's grateful for her "bold" initiative that's helping build a stronger network of Black trendsetters and "putting the word out and making everybody aware that we are out here, we are fashion-forward, and we don't make clothes just for Black people."
Black in STL Fashion officially launched in November, and Brown intends for it to carry on into 2021, plus make a lasting impact for years to come. She acknowledges that the first photo shoot did not encompass all of the metro area's Black fashion industry professionals, but rather a smaller group of familiar people representing diverse niches.
This year, she's seeking to solidify the resources necessary to include even more Black creatives in the project and produce more editorial content like the Black in STL Fashion Magazine, which debuted online in December. "If I can give them a platform to help promote their brand [and] their business, I want to be able to do that," Brown says.
Discussing St. Louis' reputation in the global fashion industry, Brown clarifies: "There has to be a focus on all of the creatives – not just white and not just Black, either," she says. "Everybody needs to be represented."