Since the spring of 2018, lifestyle brand Polished Prints has worked to spread its message of empowerment and kindness from its base in Illinois to a continental audience. LN chatted with Leah Longueville, the owner and creative behind the brand, about how her team's graphic designs continue to resonate with a growing audience.
"It started with the overarching theme of kindness and … the interactions we have with people in everyday moments," she says. "Going out of your way to do something kind intentionally can impact another person in ways we do not know. Those small interactions are powerful."
The goal of human connection through clothing that promoted influential messaging began when Longueville first designed onesies for her daughter in the family's guest bedroom.
"I had recently left my full-time career … in tourism [and] was freelance graphic designing," she recalls. "I didn't have a creative outlet that was all my own. At the same time, as a new mom, I wasn't finding apparel for my daughter that aligned with our personal values and outlook."
She began posting the heat-transfer vinyl designs to social media, which in turn created buzz.
"Something clicked and it grew organically," Longueville says. "I started an Etsy shop, did a website, and [now] we wholesale to over 250 stores throughout the U.S. and Canada."
Polished Prints' initial design – a statement tee with the slogan "Be the Good" imprinted on it – is still the brand's bestseller, though newer mantras, such as "for all womankind" and "world peace begins at home," also connect with consumers. In today's climate of division and literal separation, the lifestyle brand serves to provide the human connection craved by many.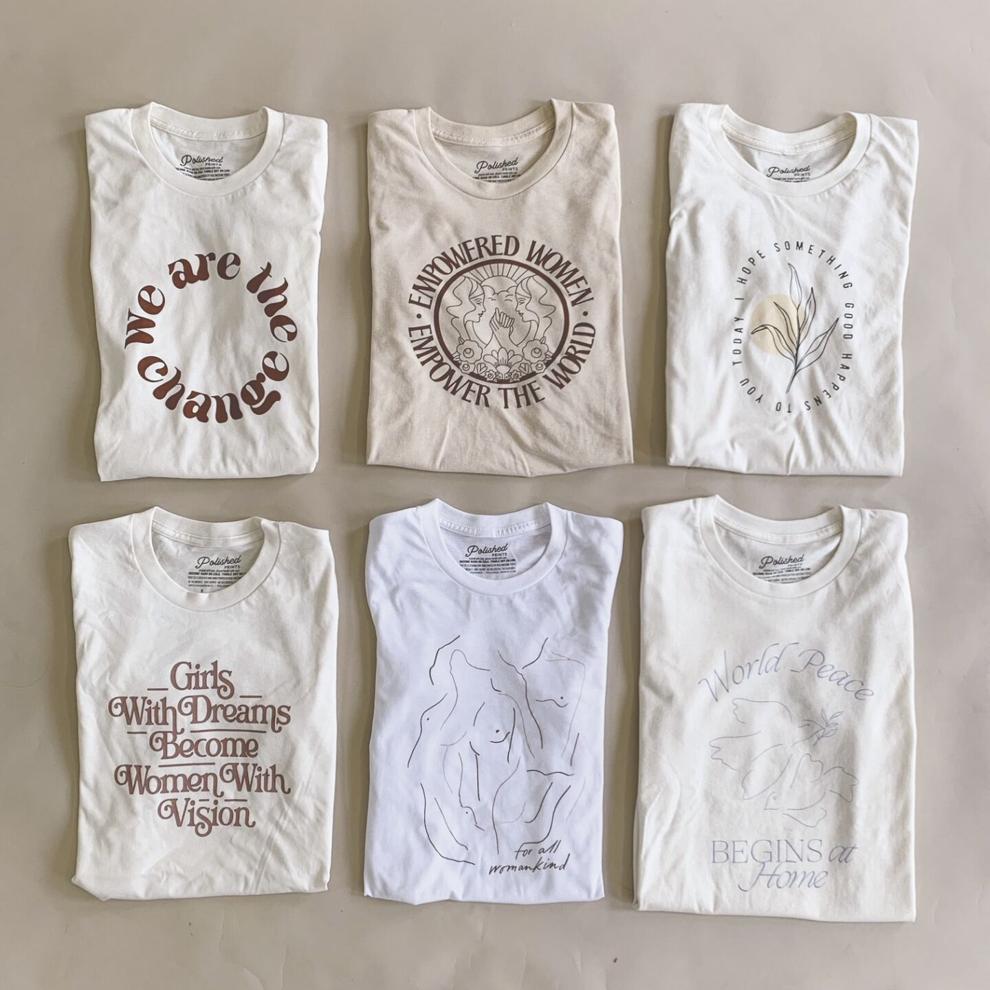 "The way our products come to life [and are] printed is special," Longueville says. "We source from ethical manufacturers. Right now, we work with a printer in southern Illinois, where I'm from, and every shirt is printed by hand using eco-friendly, water-based ink. When you wash the shirt, the ink soaks into the garment so it feels like your favorite tee right off the bat."
Recently, the company has shifted its focus to building a strong connection with not only other human beings but also oneself, as well as finding additional ways to offer feel-good content, including through a monthly newsletter (the most recent released at the start of February) featuring a playlist and printable illustration.
"We'll partner with a different woman creative every month to send out a free, downloadable wall graphic," Longueville says. "We're working to bring a new color palette, a small basics collection that is all organic cotton, and expand our overall collection – making sure that anything we invest in is aligning with our values as well. That has been a huge focus for us here."
Two graphic designers, including Longueville, and a fulfillment manager are at the center of Polished Prints, and although their background is in graphic design, together they are working with a manufacturer to create a complete Polished Prints collection, possibly as early as May.
"When it all comes to fruition, that will be a huge venture for us," she says. "During this time, we've focused more on spreading positivity, empowering people through words [and] creating products that they love wearing."
After all, that's what it all comes back to, Longueville recognizes.
"A small message goes a long way," she says. "I think about it every time I see a random text from a friend or a thank-you note in the mail. You don't always know what somebody else is going through, right? Something as small as striking up a conversation with somebody in the grocery store line goes such a long way. It creates human connection."
Shop Polished Prints through its website or on Etsy, or in-store locally at Webster Groves' Paisley Boutique and Edwardsville's Seams for the Soul.
Polished Prints, Edwardsville, polished-prints.com, etsy.com/shop/polishedprintco