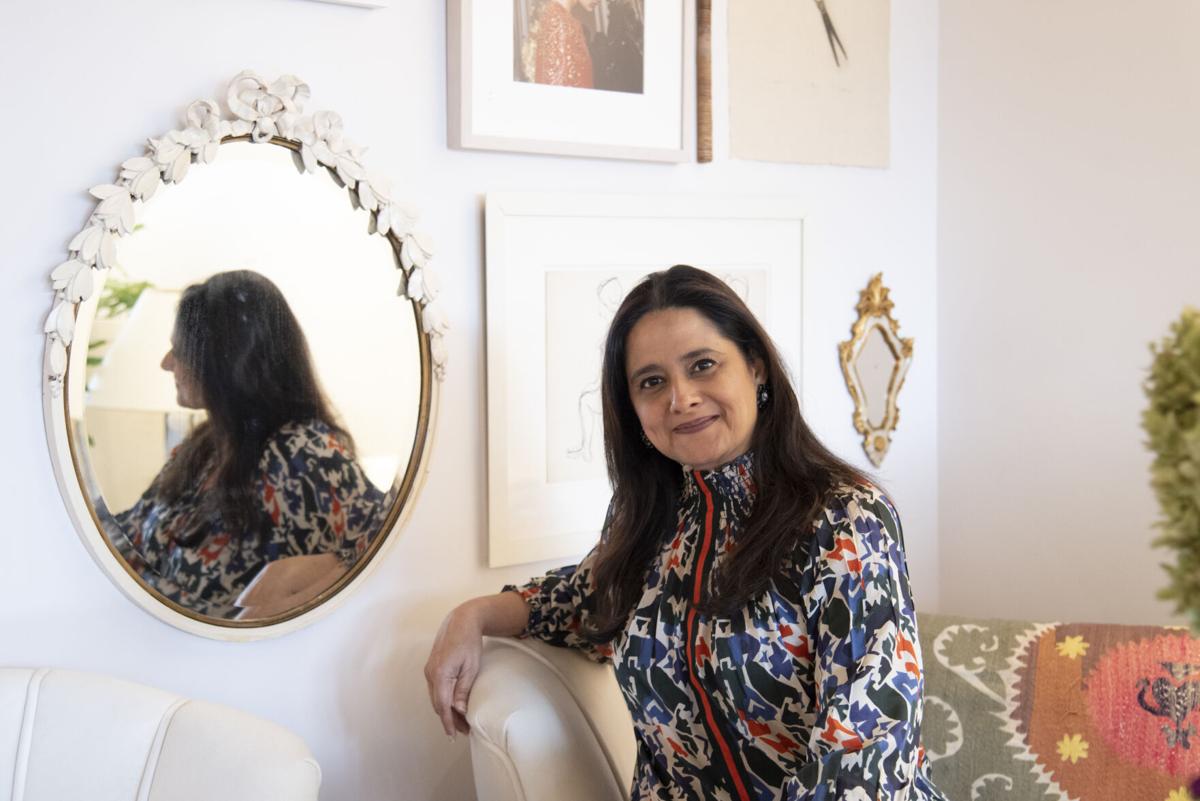 Stepping inside Rungolee's bricks-and-mortar storefront, which opened this month on Clayton Road, is like joining designer and founder Anjali Kamra on one of her worldwide fashion hunts. Cultures collide in a dazzling display of wearable art. The brand celebrates its 13th year in 2021, and in its latest evolution, clients can get up close to the coveted designs.
"I visit art galleries and flower shops in every city that I go to," Kamra says. "I get so much inspiration from my travels. The souks of Morocco, the Paris flea markets, Portobello Road in London.
"We did a trip right before [the start of] the pandemic to Amsterdam. They have two rows of shops that are all independently owned, small labels. There's so much inspiration there."
When travel shut down, Kamra sourced photographs of her global explorations, as well as introspection, to inspire her latest collections.
"I found these beautiful pictures of the Majorelle Garden [in Marrakech, Morocco], a trip to Paris, and one of my favorite cities – Jaipur in India," Kamra details. "I combined those influences in my last collection. This collection, called 'pick up the pieces,' is inspired by everything small-batch and unique, and by [artist Henri] Matisse's 'The Cut-Outs.'"
Rungolee is deeply rooted in the heritage of Kamra's homeland, India, where, according to the website, her aunt Swaran operated a fashion house out of Mumbai, creating fashions for several of India's famous film stars. Overseas, her aunt remains involved in brand operations.
"I grew up among a kaleidoscope of color and pattern and culture in Calcutta, [India,] which is considered to be the cultural capital of the country," Kamra says. "It's almost intrinsic to me. I wanted to celebrate that heritage and then combine that with my global travels and how they influence my aesthetic."
From design development to first try-on, the fashion house creates all of its exclusively owned prints in-house. Rungolee originally launched as an apparel line that sold at upwards of 50 yearly trunk shows around the country.
"The pandemic hit, and that whole trunk show/Champagne/shopping model suddenly fell apart," Kamra says. "I own my own production. I had an entire atelier in Mumbai. I was supporting their jobs and everything. So I had to think: Are we going to sink, or are we going to swim?"
Rungolee transformed itself into an online shop, which increased sales by roughly 90 percent, reports Kamra. Soon, the explosive growth meant Kamra's home studio needed to expand. However, she began to miss the offline connection with clients.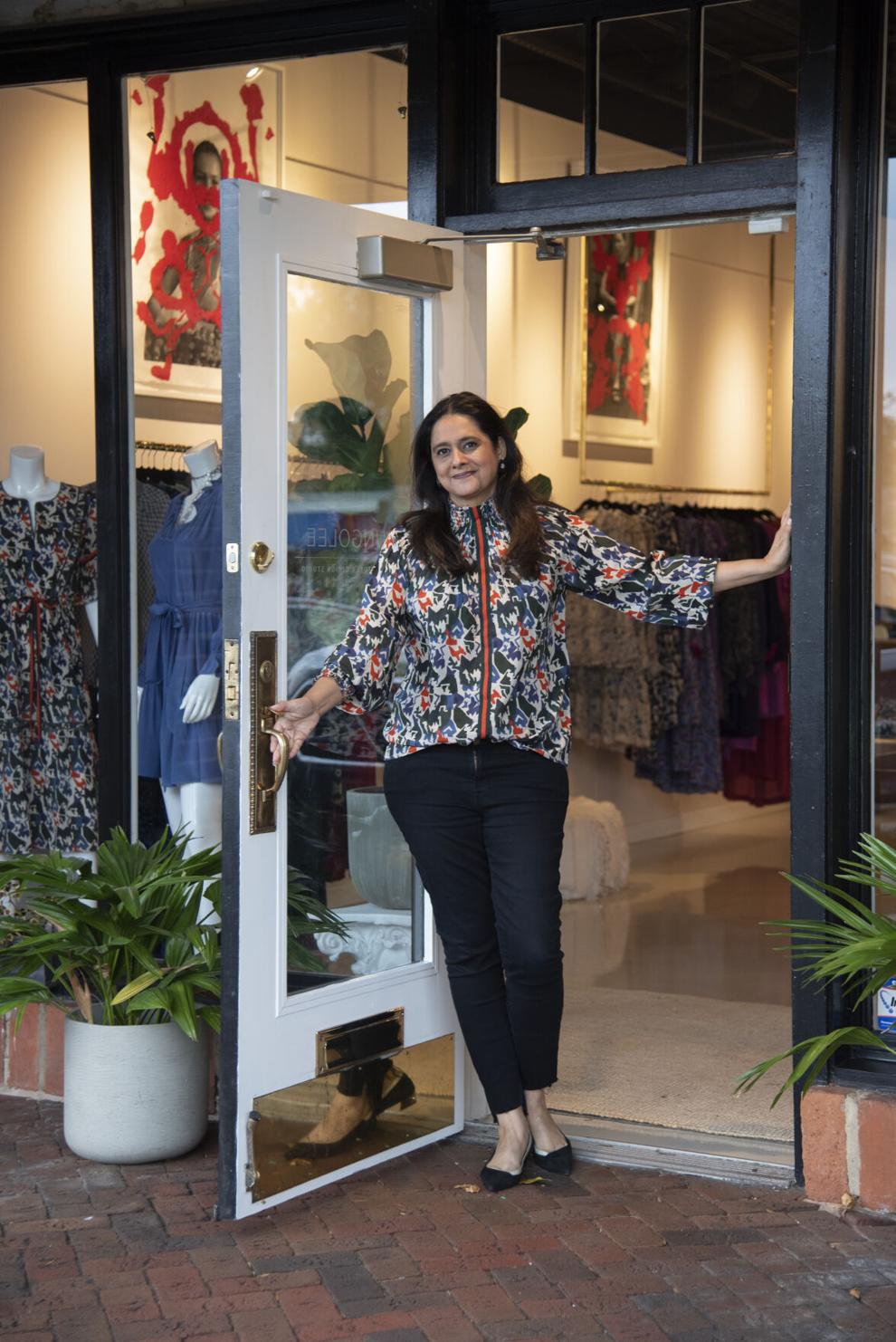 "I started to miss the intimacy and joy that comes from someone walking in and you helping them find the perfect piece," she describes. "There's a twinkle in their eye. I missed that!"
Opening a bricks-and-mortar storefront on Clayton Road, Ladue's popular shopping concourse, gives Rungolee a chance to return to its roots.
"I wanted to give it the sense of a gallery space, but intimate," Kamra describes of the shop. "It's an eclectic mix of cultures from around the world. I look forward to welcoming people in."
The boutique plans to host shopping events and pop-ups with other area brands, particularly those that produce small-batch in the same way as Rungolee does. The back of the store houses the brand's fulfillment center, and a full bar invites shoppers to linger over freshly brewed coffee or glasses of bubbly.
Patrick Hensley of Hensley Construction, Inc., in Brentwood worked with Kamra to reinvent the space, cultivating a contemporary boutique, with pearlized, epoxied flooring and locally sourced handmade clothes racks. Details include vintage furniture from Future Ancestor and Cool Stuff Period.
Kamra also showcases curated artwork from her private collection on the shop's walls, alongside a painting she purchased from Barrett Barrera Projects. The artwork by Hassan Hajjaj, entitled Lisa, depicts a woman against a Moroccan backdrop, which is a portrayal of female empowerment, Kamra adds – a fitting piece for a fashion brand that centers on the "boldly feminine," as stated on its website.
"Every piece that I design, it's about bringing joy, it's about happiness, it's about pattern, it's about color," Kamra says. "A contemporary aesthetic. They're not trend-driven. It's slow fashion. It's something you want to have in your wardrobe for a long time."
Rungolee, 9807 Clayton Road, Ladue, rungolee.com