The wedding invitations displayed May 24, 2020, in gold foil lettering. University City resident Lauren Davis slid the elegant slips of paper into blush pink envelopes, preparing to send them to a couple of hundred friends and family members. "Am I going to go through with this?" she wondered.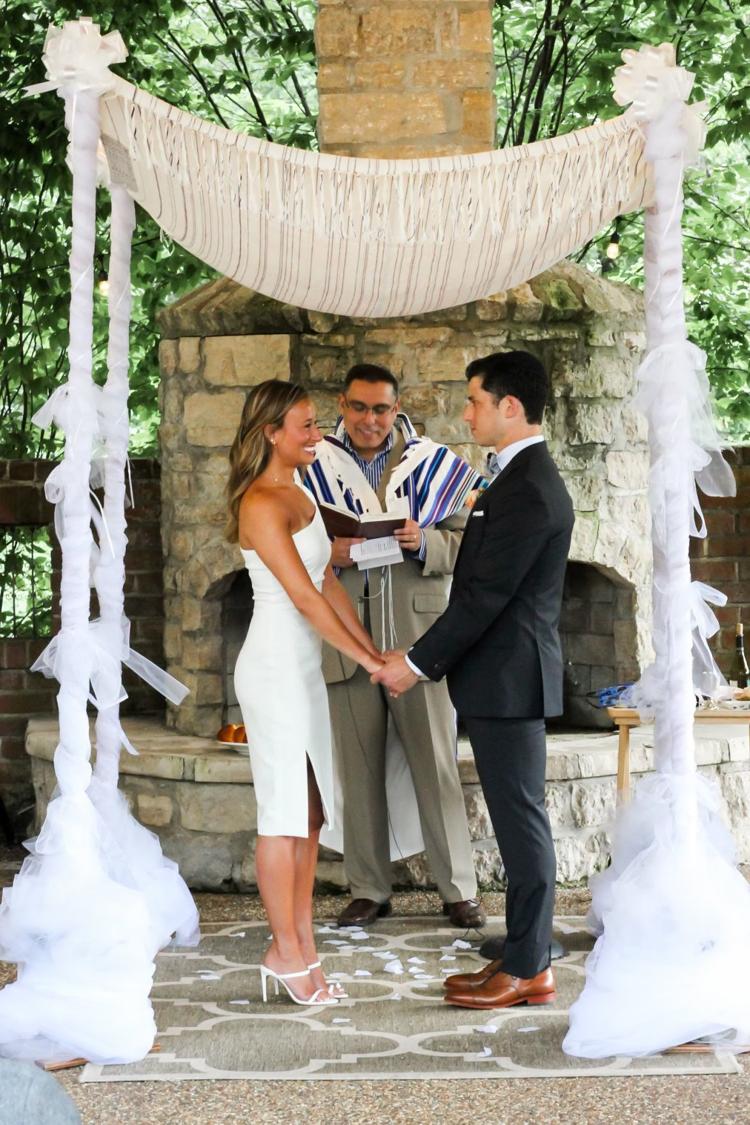 It wasn't cold feet that caused her to hesitate; it was COVID-19 creeping through her city. She weighed the options with her fiancé, Chad Klamen. Today, she still has a stack of unused invitations – and a new last name.
On May 24, the two said "I do" in front of just 17 people, settling for a modified version of their original plan. They're planning a larger celebration for September 2021. Changing plans didn't set well with Lauren Klamen at first, but she says she's glad they didn't "delay a good thing."
"A lot of people, including myself, get wrapped up in the big things about planning a wedding," she says, "and they often forget what it's about."
"I just wanted to marry her, and I didn't care if we could do it in front of five people or 500 people," Chad Klamen adds.
Couples and wedding vendors nationwide are adapting to rapidly changing expectations for what a modern wedding should look like. St. Louis city and county restrictions continue to change in an effort to prevent the spread of COVID-19, while attempting to return to a sense of "normal," but no matter where you go, large gatherings are still frowned on.
Cecily Hoffius, co-owner of The Venue at Maison du Lac in Catawissa (roughly 37 miles southwest of Ladue) and Ces & Judy's Catering in St. Louis, says her team has been working with couples to reschedule weddings amid the pandemic, and they've organized a package for those interested in a "micro-wedding" or elopement. By partnering with vendors such as St. Louis' STL Wedding Celebrant and Be Lovely Photography, The Venue at Maison du Lac can offer a small celebration in a "serene, outdoor setting," Hoffius says.
"We are trying to be as flexible as we can to accommodate whatever people want to do, so we're offering the micro-wedding and elopement packages as ideas," Hoffius explains.
The elopement package allows for a 2-hour private rental with six guests, a short-but-personalized ceremony, a 30-minute photography session, a small cake from St. Louis' Cake House Design, a bottle of Champagne and a take-home meal by Ces & Judy's Catering. A micro-wedding, by comparison, has a guest allowance of up to 25 people.
Hoffius says she and her team also offer ceremony livestreaming and meal delivery for guests who cannot attend. Package pricing starts at $795, according to the website.
Other metro area businesses like The Last Hotel St. Louis and Rudy's Flower Truck are also offering services tailored to the times. The Last Hotel's Rooftop Elopement package includes an intimate rooftop ceremony, champagne toast, complimentary stay in the wedding night suite and other elements provided by various local vendors. Rudy's Flower Truck partnered with The Last Hotel as a floral vendor and also provided the Klamens with quick arrangements.
St. Louis native Emma Gassett and her fiancé,  Matt Kunkel, had plans for a large wedding in Kunkel's hometown of Long Island, New York, but after much deliberation, they decided to postpone everything from March 2020 to July 2020, and then again to April 2021. Gassett says their original vendors accommodated the postponement, relieving the pressure to plan an entirely new wedding.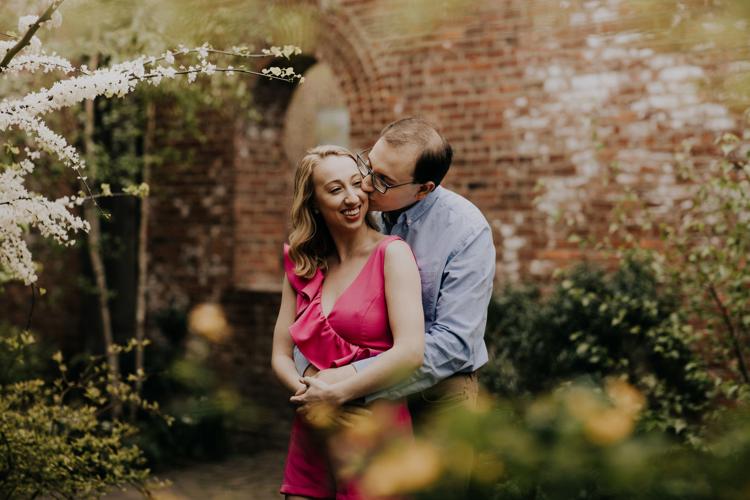 Gassett and Kunkel met in 2014 while working at The Muny in St. Louis; Kunkel was a directing intern for the musical Tarzan, and Gassett was part of the cast. They began dating in the summer of 2016 and were engaged two years later. Because they're already living together in New York City, they decided it wasn't worth forcing a wedding during the pandemic.
"We're happily co-existing in our 650-square-foot apartment for the past three months of quarantine, and we haven't killed each other yet," Kunkel jokes, but says really: "If we can do this together, we can do anything."
They were also concerned for their family and other guests who would have to fly to New York. "Why should we make our family choose between our wedding and their health? It's truly life or death," Kunkel says. She adds that the timing just wasn't right.
"Leading up to the wedding in February and March, I was very stressed about last-minute details," Gassett says. "Honestly, as long as all of our family and friends are there and they feel safe and healthy, those details are trivial. The pandemic really puts things into perspective."
The Venue at Maison du Lac, 2603 Wild Plum Valley Road, Catawissa, 314-991-6700, thevenuestl.com
The Last Hotel St. Louis, 1501 Washington Ave., St. Louis; 866-752-7700, thelasthotelstl.com
Rudy's Flower Truck, 314-446-9659, rudysflowertruck.com