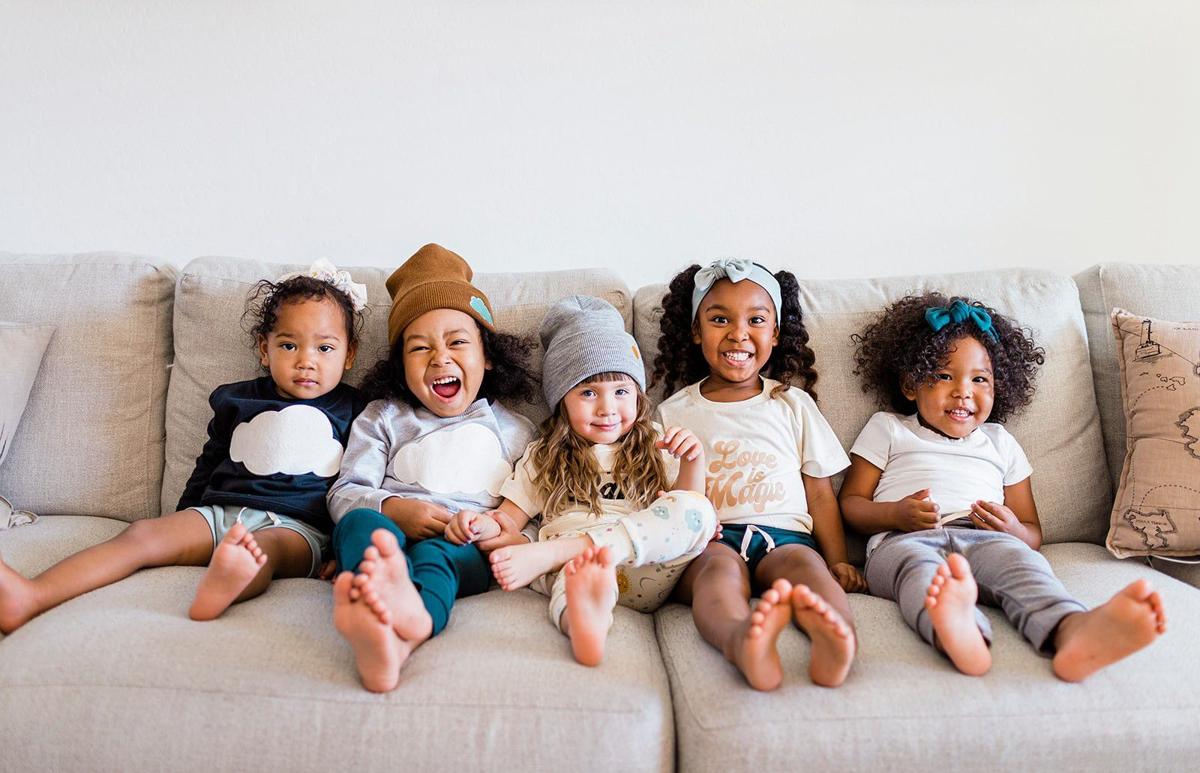 St. Louis' Bohemian Babies brand believes clothes for kids should be as soft and sustainable as they are stylish.
"I've always had really soft fabrics," says Bohemian Babies founder Amanda Whittle. "I want to wear things that are soft, and I think it's important to put soft, high-quality things on our babies."
Whittle started Bohemian Babies as an Etsy shop in 2011 before launching her own website and physically going into stores like RF Home Co. in Kirkwood.
"I always wish I had a more sparkly answer than what I do of how I got started," says Whittle with a laugh. "I was a stay-at-home mom, and I had a lot of extra downtime during nap time and things like that, so I decided I was going to teach myself to sew. I really enjoyed it, and it kind of morphed into a business. It was kind of a happy accident."
Whittle started Bohemian Babies with embroidered onesies and chevron dresses, but today, Bohemian Babies is a brand of simple, soft, sustainable staple items.
"I remember when chevron was the biggest thing, and that was such a big, bold print," Whittle says. "I just evolved away from that. I would say we definitely lean more toward a minimalist style. I'm definitely an aspiring minimalist. I don't like clutter. I like really simple fashion, and I've tried to take the brand there, as well. It's really hard to find good staple pieces for kids that are high quality."
Bohemian Babies' offerings include onesies, T-shirts, leggings, overalls, track shorts, shorties (what Whittle describes as a combination between a short and a bloomer) and joggers, which she describes as a simple pull-on pant, for sizes starting at 0 to 3 months, up to 4T.
"You can buy almost any piece in our collection and mix and match them with each other, so people can make capsule wardrobes out of things," Whittle says. "I also try to use a lot of neutral colors. I'm not into big, bright, bold colors, so everything usually has a pretty, kind of muted, palette to it."
Although Whittle stills sews approximately 40 percent of her product, this summer, she started working with The Collective Thread – a small-batch manufacturer in St. Louis that trains immigrant and refugee women within its own sewing school – for the remainder.
"I am so excited to be working with them because they have a fantastic mission," Whittle says. "All of their seamstresses are immigrant women who need work. They train them, they pay them a fair wage, and it's local, so it's amazing. … That was a big step for us this year – to put my stuff in somebody else's hands because I've always made most everything myself."
Most recently, Bohemian Babies has introduced embroidered beanies.
"I am so over the moon about them," Whittle says. "We collaborated on those with a friend of mine, Flair City Supply Company, and she embroidered all of our beanies for us."
The beanies are part of Bohemian Babies' latest collection, which launched in October.
"This collection came together super easy and really fast," Whittle says. "I am really in love with it. I am really obsessed with this color palette, and there is something about this specific fabric, this type of solid. It's hard to find good fabric, so when I found these, I was all in. We were going for it."
The fabric in question is certified organic and eco-friendly.
"We are trying to go more eco-friendly this year, which is one of my goals," Whittle says. "So using more organic fabrics, more sustainable fabrics, [and] just reducing our carbon footprint as a brand. It's something as a family we strive to do, so why not extend that into my brand?"
Bohemian Babies, bohemianbabies.shop