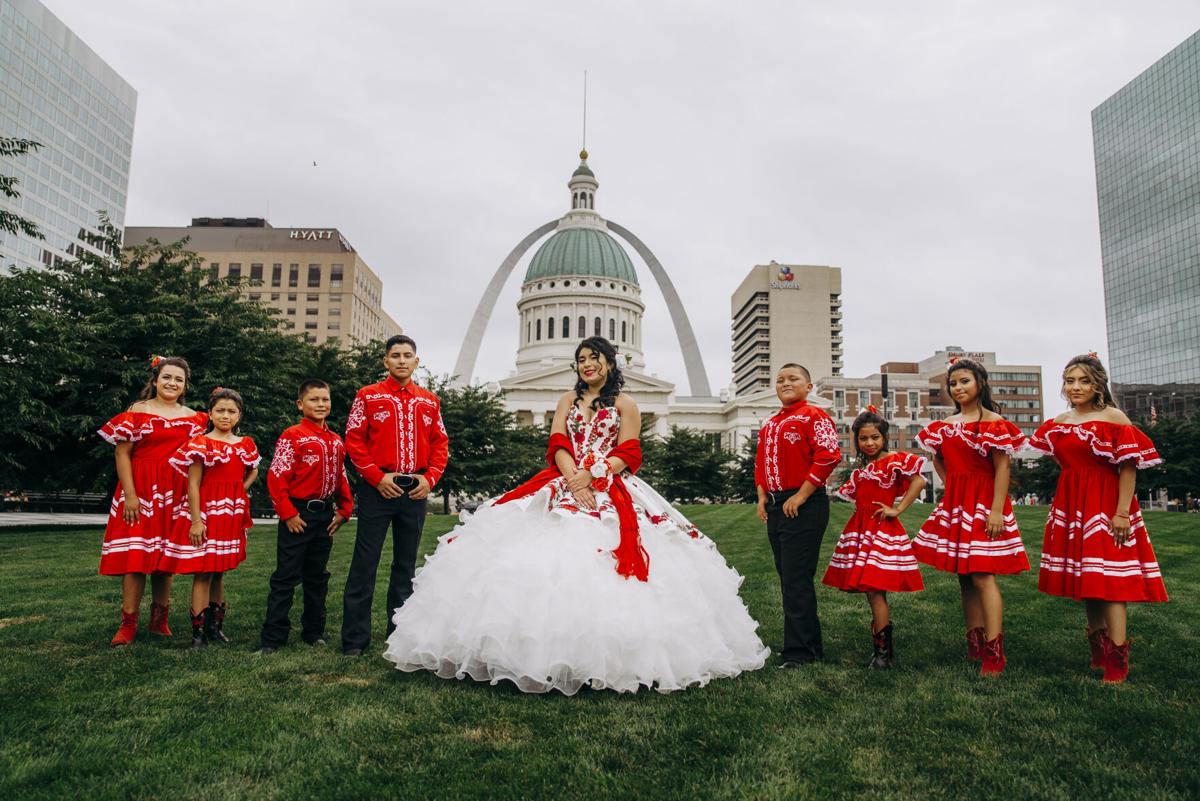 While on a road trip together, Rafael and Racine Martir conceptualized a dress shop in the metro area that would better serve the area's Latino community, particularly Latinas in search of their dream gown for their quince años (the Latin American celebration of a girl's 15th birthday).
As they brainstormed, the song "Bidi Bidi Bom Bom" by beloved Latina musician Selena played over their car's speakers, and that inspired the business they'd start in their basement in the fall of 2019 and grow to serve Latinos not just locally but nationally.
"We really noticed there was a lacking space for culturally appropriate clothes for Latinos [in the metro area]," Racine Martir says, describing the initial motivation to open the store. "Most families had to travel out of state – they had to go to Chicago, to Texas, or go back to Mexico – to find the gowns that they really need for their events."
The store resides on Lackland Road in a space the Martirs recently expanded to twice its original size to accommodate increased inventory, which includes multicultural wedding gowns in addition to quinceañera dresses and accessories. The husband-and-wife duo are also scouting areas just across the eastern state border in Illinois for their second location, with hopes to eventually open stores in cities across the U.S.
"Why did we go bigger? [Because] our store is just doing wonderfully," Racine Martir raves. Such success could not be assumed after a year when numerous quince años celebrations and weddings were canceled due to the COVID-19 pandemic.
In fact, Rafael Martir notes that they had planned to expand the store prior to the pandemic but decided to wait it out. "We were scared," he reflects. Their income depended on the comeback of in-person events, and since those early-pandemic events have now been rescheduled, business at Bidi Bidi Bom Bom has been booming.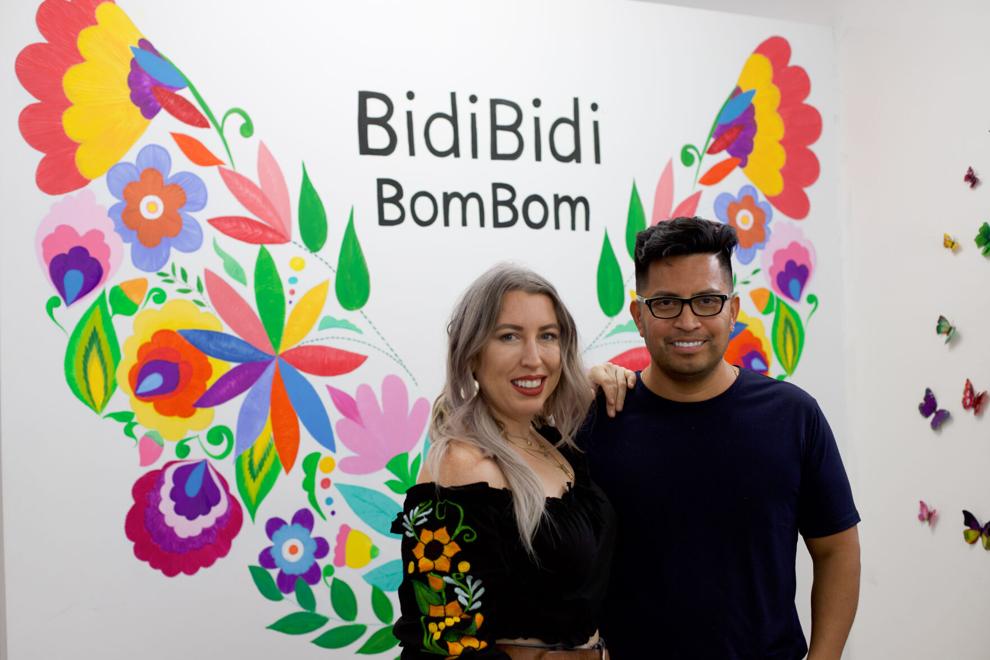 Before opening their store, Racine and Rafael Martir had worked with quinceañeras as a photographer and a DJ, respectively, and they continue to offer those services today. Racine Martir compares the scale of these celebrations to that of a large wedding, with a year or so of preparation required and hundreds of guests expected.
A quince años, sometimes called a "quince," is a rite of passage for young Latinas, or quinceañeras, entering womanhood. Traditions include a formal ceremony or Catholic Mass, a moment of trading flats for heels, a father-daughter dance, a court of damas (ladies) and chambelans (their escorts) and a lively reception – but each family honors this milestone differently.
"We want every girl to have the quinceañera of her dreams," the Bidi Bidi Bom Bom website states. "Your quinceañera dress should be a beautiful reflection of the woman you're becoming, and a symbol of your style and taste. Our collection of quinceañera dresses is a stunning array of bold colors, large flowing princess ballgown skirts and all the sparkle you've been dreaming of."
For spring 2022, Racine Martir expects dazzling, detailed capes and trains to increase in popularity. Other trends she's noticing are dresses with hidden pockets, large crowns with colorful stones and dresses that literally light up.
"Lights in dresses are getting really big – I have a few gowns that have customized lighting inside them that are really beautiful," Racine Martir describes. "There's battery packs hidden in the gown, and you can see the whole skirt light up! It's so fun."
She advises those who have never shopped for quince dresses before to start the search about a year before the big event. Dresses typically need three to eight months for shipping and customizing, depending on the brand and designer.
In part, Racine Martir attributes Bidi Bidi Bom Bom's growth in clientele to the growth of the metro area's Latino population. According to a recent U.S. Census Bureau analysis by the St. Louis Post-Dispatch, those who identified as Hispanic/Latino in St. Louis County increased from 2.5 percent in 2010 to 3.7 percent in 2020.
The Martirs hope to also serve people from other cultures with the addition of a desi bridal collection, plus more traditional white wedding dresses and tuxedo rentals. "St. Louis is so rich in diversity, and we're trying to work on servicing those underserviced communities, because not everyone's wedding dresses look the same," Racine Martir adds.
Since 2019, Bidi Bidi Bom Bom has provided gowns to customers across the U.S. and even in Mexico through virtual fitting appointments. Like Selena's song, Bidi Bidi Bom Bom is empowering Latinas near and far, with optimism for what the future holds.
Bidi Bidi Bom Bom, 10428 Lackland Road, St. Louis, 314-656-6260, bidibidibombomstl.com, @bidibidibombomstl