When life hands you lemons, make lemonade, so the saying goes. Well, when life handed Julie Ellison a pandemic, she turned it into a picnic.
She founded her business, Alpaca Picnic, in November 2020 after canceling event-planning gigs due to COVID-19 restrictions. In the four months since she kicked off her new venture, the one-woman show (with the help of her "interns," i.e., her parents) has kicked into high gear.
When you think picnics, you probably picture an old blanket, sad sandwiches and maybe a picnic basket, if you're fancy. Ellison steps that up a notch – or 12.
An Alpaca Picnic accommodates two to 36 guests in a curated, private setting of your choice, with themed décor, fresh flowers, charcuterie boards, balloons, personalized touches and plenty of Instagram-worthy photo opportunities. After a customer books a two-hour time slot and puts down a deposit, Ellison coordinates the location, details and add-ons with the customer, and she's the one who comes early to set up (contactless) and who takes everything down once the picnic wraps up.
"All you have to do is show up and enjoy," Ellison says.
There are three options – a standard picnic, an igloo or a custom event – that can be held indoors or outdoors (in a private setting), and pricing varies depending on guest count and selected additions. Each choice comes standard with a low-seated table with a decorated tablescape and tableware; various seating pads, pillows and blankets; still and sparkling water and hot chocolate; a charcuterie board from Rock Hill favorite Bravo Boards; and a covered, heated igloo tent if you choose that route. Alcohol and any additional food are BYO and welcomed.
Along with bespoke additions that Ellison works one-on-one with the customer to curate, common adds-ons include fresh flowers, balloons, a range of desserts, a photographer and a "pizzaologist" on-site to cook made-to-order pizzas in a portable oven.
"I remember all the details and tidbits you told me, and I'll be there to make it special for you," says Ellison, listing recent examples of putting together a Spotify playlist for a soon-to-be fiancé's engagement and seeking out color-matching décor for a themed baby shower.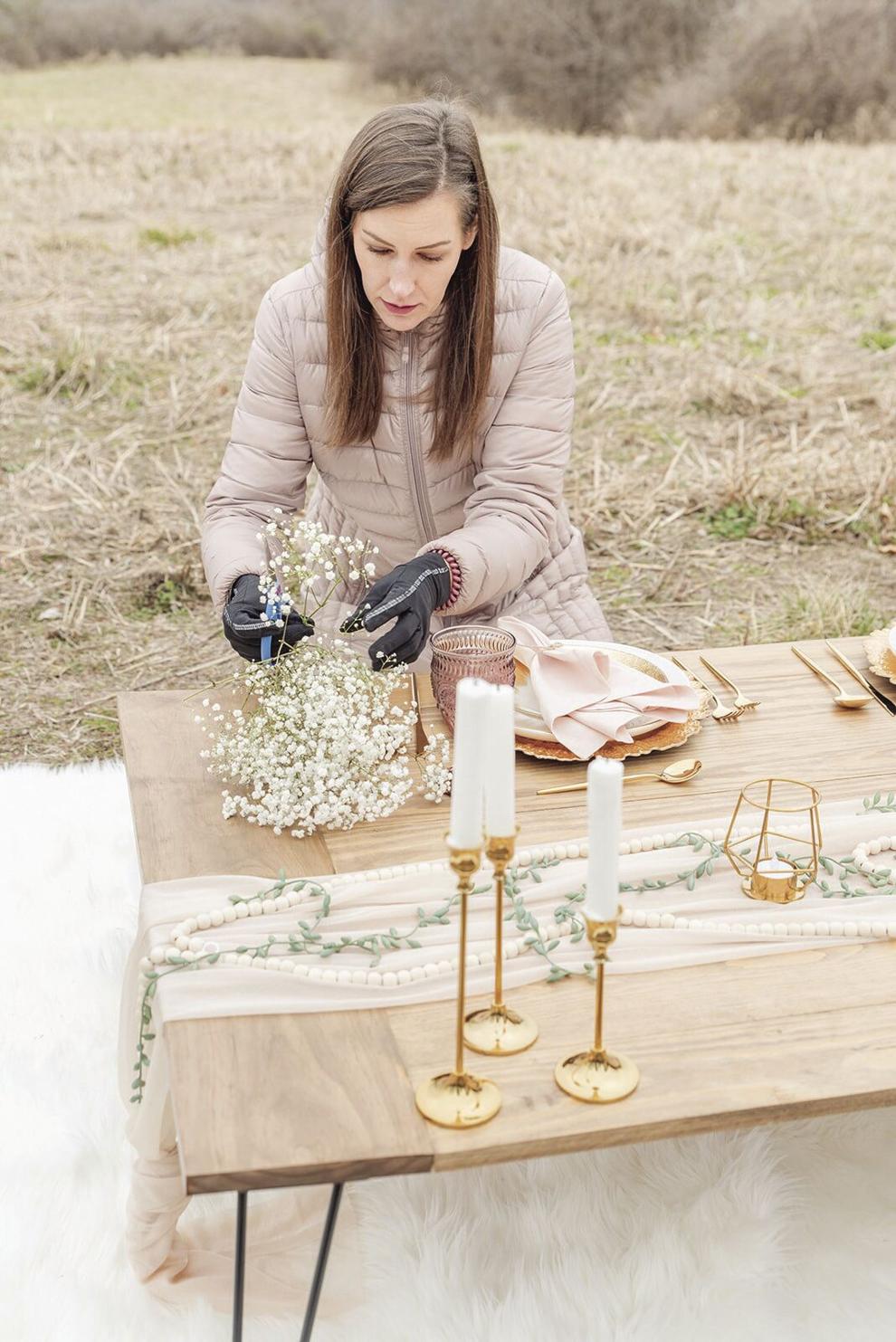 An Alpaca Picnic is an indulgent option for life's special occasions – engagements, holidays, birthdays, bridal and baby showers, bachelorette parties – but it's also the perfect combination of nostalgic whimsy and luxury for those everyday moments we miss so much in a pandemic – date night, afternoon tea, winter woes or just seeing friends and family again.
"I hear people talking about how they haven't had anything special in a long time," Ellison says. "They tell me the whole thing was amazing, high quality, clean, set up perfectly and full of special touches. They say it's just what they needed – they connected and had time to talk to one another in person and feel pampered."
It's clear from her thorough attention to detail and styled setups that Ellison has experience with this kind of thing. She moved back to her hometown of St. Louis from San Diego last May after her event-planning gigs dwindled. Most recently, she was a freelance travel event planner in San Diego coordinating high-end events and activities across the globe – in fact, when the pandemic escalated, she was on her way back from an event in Cabo, and she was booked to work the Tokyo Olympics that were originally slated for last summer.
She also spent time with a private jet company and traveled four seasons with the St. Louis Blues to all their away games, where she coordinated their catering and special activities while on the plane.
This summer, she'll have the capacity for 50 guests, which means she'll be booking outdoor micro weddings. She plans to hire full-time staff as she continues to grow. Ellison has big ideas, grand schemes and so much potential with her bespoke picnic business (and maybe even a live alpaca!) – but she keeps "front of mind" the personalized pampering that's earned Alpaca Picnic so much popularity to this point.
"I've had requests for corporate events, destination weddings, repeat customers … and of course, I want to do everything," Ellison says, "but I still want to make sure your two-person picnic is super special and just what you want."
Alpaca Picnic, alpacapicnic.com