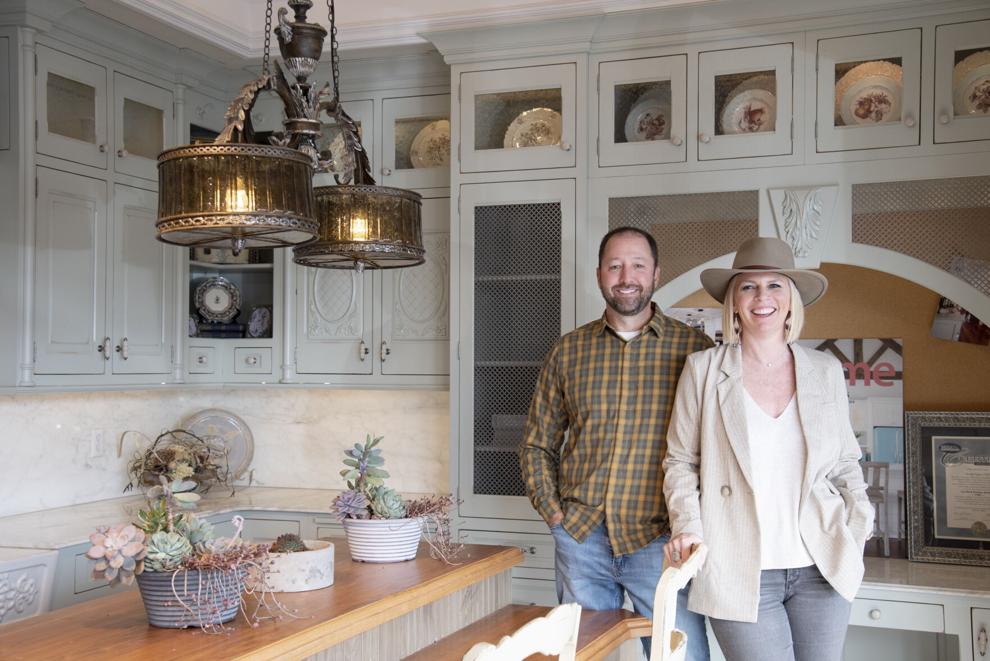 When a Town and Country homeowner started to feel that her ornate, Tuscan-inspired home felt dark and oppressive, she began to look into a redesign that better suited her personal aesthetic. Seeking to create a bright and open space – from the floorplan to the finishes – she turned to Karr Bick as a team that could handle it all.
Karr Bick has long been known for creating nothing ordinary in their kitchen, bath and wherever space designs. With the recent addition of in-house interior design services, offered alongside their construction and remodeling services, Karr Bick is now a unique, one-stop-shop for metro area residents
With the ability to make all selections and plans from the Karr Bick showroom, it was easy for designer Wendy Kuhn to create a new floor plan for the first floor. Karr Bick co-owner Todd Rausch managed installation and execution, and interior designer Ashley Obradovits handled details such as furniture, paint colors and window dressing.
"We have several different teams, and it works really well because everyone is in the building with us," explains co-owner Jenny Rausch. "If a designer has a question, she can go to the construction department. It makes it less painful for the consumer; they can basically hand us the house."
"I think that with the addition of the interior design and having our own construction team that is dedicated to high quality, it's a great opportunity for people to come to Karr Bick and have us take care of the whole project," Kuhn adds. "That's something I can be proud of and feel good recommending to my existing clients."
This team effort resulted in a dramatic transformation for the Town and Country abode. By pulling out the ornate stone hood on the range wall and replacing it with open shelving, the Karr Bick team created the clean lines the client desired, and the addition of a brass statement piece, found by Obradovits, tied together the open-concept floor plan.
"Ashley has been a go-getter since day one – really positive attitude," Kuhn says. "She took that bright feel and made it coordinate throughout the house; all the colors, furniture and fixtures flowed together. She works her magic to find the accessories so the client doesn't have to worry about that, and she makes it look great."
As one of the first projects in which all areas of Karr Bick were engaged, this particular redesign also provided an opportunity to see how well they worked together as a full team. "It was a huge project and was extremely successful," Todd Rausch confirms.
Every space Karr Bick designs is as one-of-a-kind as the client. "We don't have 'our style'; we want to help you discover what you love, not what we love," Jenny Rausch says. She adds that the designers, as well as the construction and installation teams, specialize in solving problems quickly and efficiently to ease the burden on the homeowner.
For those interested in joining the Karr Bick family, Jenny Rausch adds that the company makes a point of hiring people over skills and has a substantial mentor and training program. "Everything is about solving complex issues, and you have to be intelligent and driven and want to face problems," she says. "Everyone we have here that is successful didn't come in with all of the necessary skills, but they were highly intelligent and wanted to learn."
"Our client knew she wanted Karr Bick [because] we can be trusted to handle everything from design to installation and make things looks great" Kuhn concludes. However you're looking to redesign your home in 2022, you can trust Karr Bick to have everything that you need.
Karr Bick Kitchen + Bath, 2715 Mercantile Drive, Brentwood, 314-645-6545, karrbick.com