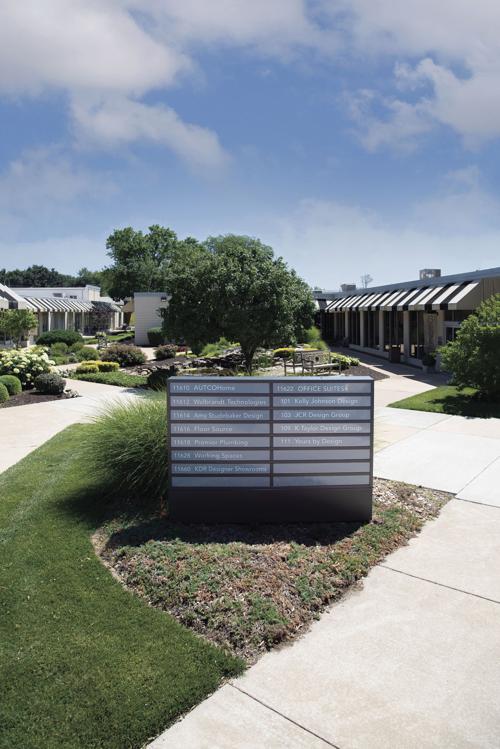 Have you, like many homeowners during the pandemic, learned there are areas of your home that could be made more functional and purpose-driven? Whether you found a need for office space inside your abode or a more serviceable kitchen, there's one place in the metro area that can meet every homeowner's designing need: the Interior Design Center of St. Louis.
The city's leading resource for high-end home improvements, one visit will introduce you to seven showrooms and five design firms where experts are at the ready to make your living and work spaces reach their maximum potential.
KDR Designer Showrooms
11660 Page Service Dr., St. Louis,
314-993-5020, kdrshowrooms.com
The Midwest's leading resource in fine furnishings and décor details, KDR Designer Showrooms has been a unique destination for trade professionals and homeowners for 30 years. Explore its 60,000-square-foot showroom, where luxurious interiors come to life.
Yours by Design
11622 Page Service Dr., Suite 111, St. Louis,
314-283-1760, yoursbydesign.net
A one-stop interior design experience, Yours by Design creates spaces reflective of who you are and how you live. The award-winning design firm offers full remodeling services, new build selections, and online and commercial interior design.
Beck/Allen Cabinetry
11585 Lackland Road, St. Louis,
314-677-6713, beckallencabinetry.com
Mike Beck and Lee Allen established Beck/Allen Cabinetry 20-plus years ago to better support the home-building community. Today, Beck/Allen serves builders, architects, interior designers and homeowners in mid-range and multi-million-dollar homes, historic renovations, developments and more.
Working Spaces
11624 Page Service Dr., St. Louis,
314-918-8778, wspaces.com
Today's office is ever evolving. Always ahead of the curve, Working Spaces' team of experts in office design and commercial furniture is at the ready to guide you through creating the workplace for the future.
JCR Design Group
11622 Page Service Dr., Suite 103, St. Louis,
314-706-2727, jcrdesigngroupstl.com
JCR Design Group's timeless interiors are tailored for everyday living, with luxurious details prominent in each space. This high-end, custom approach is due to a network of curated sources and tradespeople, who work closely with homeowners.
Amy Studebaker Design
11614 Page Service Dr., St. Louis,
314-440-0853, amystudebakerdesign.com
Luxury residences receive a fresh, functional update with Amy Studebaker Design. Working closely with clients to create beautiful and personalized living spaces, the design firm creates a cohesive architectural interior style for each project.
AUTCOhome Appliances
11610 Page Service Dr., St. Louis,
314-707-0044, autcohome.com
Searching for the perfect appliance? Whether upgrading one appliance or the whole kitchen, look no further than AUTCOhome Appliances, where 20-plus years of experience prove its excellent customer care record and guarantees a hassle-free process.
K. Taylor Design Group
11622 Page Service Dr., Suite 109, St. Louis,
314-610-7288, ktaylordesigngroup.com
A full-service interior design firm, K. Taylor Design Group takes pride in implementing projects that enhance clients' lifestyles. Specializing in remodeling and new construction, the firm's designs prove simple yet sophisticated, with a focus on functionality.
Floor Source
11616 Page Service Dr., St. Louis,
314-447-1972, floorsourcestl.com
This premier flooring showroom in St. Louis has your flooring needs covered. From tile, natural stone and hardwood to luxury vinyl and custom area rugs, plus residential and commercial carpeting, Floor Source has it all.
Premier Plumbing Studio
11618 Page Service Dr., St. Louis,
314-872-9339, wpsco.com
Showcasing designer-influenced, quality products, Premier Plumbing Studio has garnered a reputation over its 65-plus years for providing luxurious plumbing fixtures that will elevate your residence – and first-rate customer service to guarantee an effortless experience.
Walbrandt Technologies
11612 Page Service Dr., St. Louis,
314-627-0346, walbrandt.com
Discover how to get maximum enjoyment out of your property, with Walbrandt Technologies. Integrating automation systems at home and life-enhancing technology that can elevate how you live your daily life, Walbrandt delivers uncompromising and award-winning service.
Kelly Johnson Design
11622 Page Service Dr., Suite 101, St. Louis,
314-733-5877, kellyjohnsondesign.com
Trends come and go, but a homeowner's investment should withstand the test of time, believes Kelly Johnson Design. By focusing on originality and individuality, Kelly's design vision brings elegance, practicality and serenity to each space.