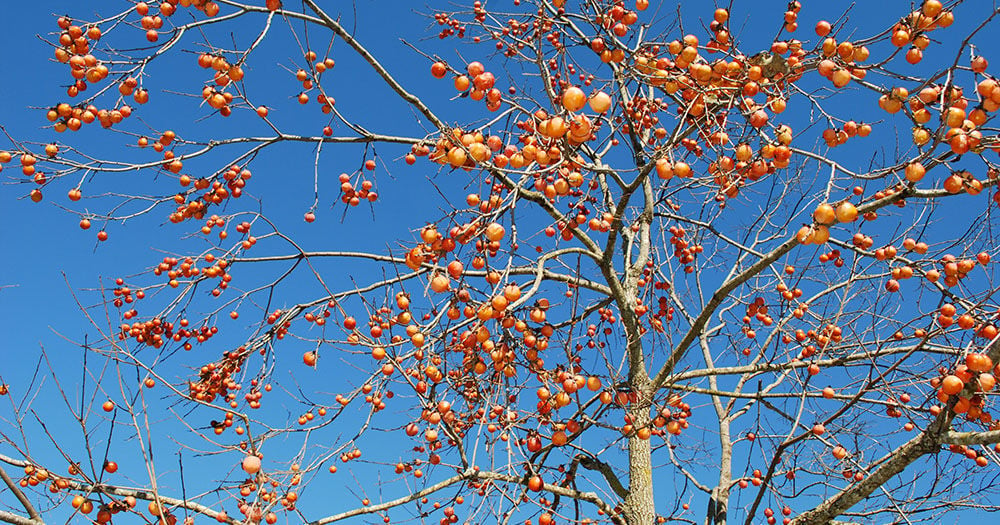 Three persimmon trees stand outside my sunroom window.
The first has already ripened – and been stripped by hungry squirrels. The other two bear jade green fruits that will tinge to a soft orangey peach when they're nearly ready.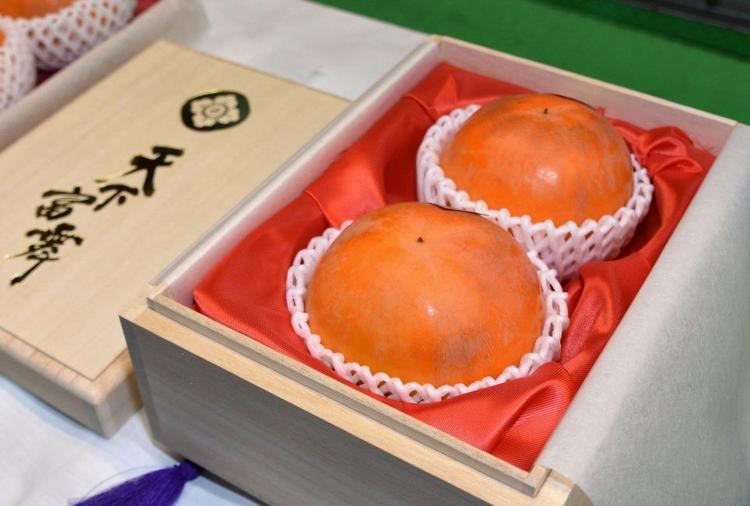 Most years, the crop is so heavy the fruit remains after the leaves drop. I wait for these moments of beauty, with dark alligator bark and branches with plum-size, amber-pink gems against the blue autumn sky. After the season's first frost ends the puckering astringency persimmons are famous for, a subtle sweetness emerges, and they become candylike with the cold.
My friend Patty once traveled with her sister in Japan during persimmon season. Never much aware of persimmons before, she appreciated the reverence with which the Japanese cared for the trees and the fruit alike. Pyramids of perfectly frosted orange-red varieties were stacked neatly in shop windows. Carefully tended trees, leaves dropping to reveal their coral treasures, lined the tidy gardens along the train lines for miles. I myself have been fortunate enough to take that train and see the gracefully laden trees ready for harvest.
Your own garden would make a perfect place for this lovely, small, deciduous tree. My trees are the native type, Diospyros virginiana, planted by Mother Nature – and admired by me. They may reach 50 feet eventually but are well-behaved in the home landscape as well as in woodlands. Also, we don't fight the squirrels for their fruits, as most years there are enough for all.
The Missouri Department of Conservation recommends the persimmon tree for mixed reforestation. Early Golden, Meader and Szukis are the best varieties to seek. Planting two or more will increase yield.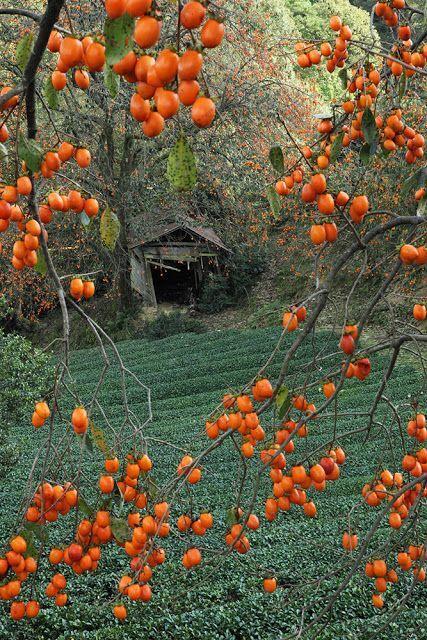 That said, it's often easier to find the smaller maturing Asian persimmon tree, D. kaki, for sale. Self-pollenating varieties include Ichi-Ki-Kei-Jiro or Early Jiro (a dwarf with nonastringent, sweet, typically seedless, early red-orange fruit); Fire Crystal (an astringent variety, popular in China, handsome, early, productive and bright orange); Great Wall (an astringent variety with small fruit and excellent fall color); Nikita's Gift (an American/Asian hybrid from Russia with astringent, large flatter fruit that drops when ripe); and Saijo (an astringent, excellent Japanese variety with a vigorous, good yield, maturing at 15 feet).
Nonastringent Asian varieties are naturally low in tannins and may be enjoyed while still crisp. Astringent varieties, Asian and American, bear high-tannin fruits and must be soft and very ripe to be sweet. Wild local persimmons are typically harvested in late October or early November after their fruits have dropped naturally to the ground. These have large seeds, so it takes a lot of them to make a persimmon pudding, but it's a really special treat.
Be the first to know
Get local news delivered to your inbox!