When you burn a Virago Candle Studio soy wax candle, you're channeling the spirit of a "strong, brave or warlike woman" – the definition of the brand's name but also the defining mission behind the founding of this St. Louis company.
"Virago spoke to me because there are so many of these people in my life who inspire me to be a better daughter, friend, sister, wife and granddaughter," explains Virago founder Tyra Dizon-Clark. "I like to think that every candle has a little bit of virago spirit in it."
Officially launched in April, Virago offers artisanal, hand-poured candles featuring crackling wooden wicks in blown-glass jars. Sold in 8- and 16-ounce sizes (with burn times of 30 and 60 hours, respectively) and completely recyclable or reusable packaging, the candles' soothing fragrances and long-lasting ambiance are meant to provide an escape from life's daily stressors and to project a sense of serenity and hope.
"Candles were always a symbol of stability and safety to me, even throughout a childhood and adolescence that wasn't," Dizon-Clark says. "Having something in your life that you can do, whether it be lighting a candle or any form of self-care that can make life a little more bearable while also prioritizing yourself, is so important. I really wanted to create a product that would provide that feeling to others as it does for me."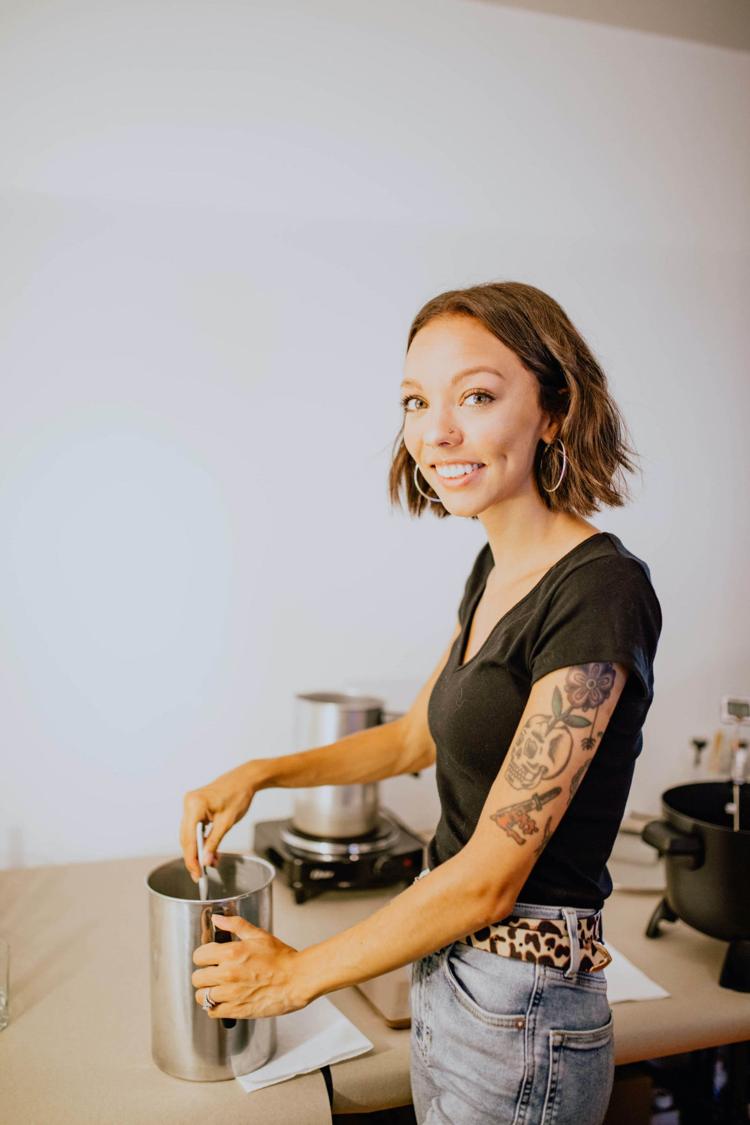 Born and raised in St. Louis, Dizon-Clark and her wife, Darline, (as well as their three fur babies) moved to Dallas in April 2019. Her wife gifted Dizon-Clark a candle-making kit to help her find a hobby in their new city, and Dizon-Clark, a lifelong lover of candles, quickly discovered she had a knack for creating them, even dabbling with selling her own through her personal Instagram. When the couple decided to move back to St. Louis earlier this year, Dizon-Clark saw it as a sign to light the flame and make her vision of what would become Virago come to life.
Now with her website launched and Virago wares available locally at Wink iBoutique and Union Studio, Dizon-Clark has perfected her ideal candle. She uses high-quality ingredients to create clean-burning fragrances free of phthalates (a family of chemicals linked to unsafe negative side effects when present at high levels). Her signature scents include the top-selling Cactus Flower and Jade, as well as a vanilla-sweet Gooey Butter Cake and a fresh and floral Grapefruit and Mint option. She also releases a lineup of rotating seasonal offerings, including the autumnal Toasted Pumpkin Spice, Cranberry Apple Marmalade, Oakmoss and Amber, and White Sage and Lavender.
As an indication of how dedicated Dizon-Clark is to studying and crafting the perfect fragrance to create that virago vibe, she includes three layers of fragrance notes for each candle: top, middle and base. The top notes are the first ones you get when you smell the candle, almost as an introduction to it. "The top notes are what you get when you smell its 'cold throw,' or the scent when the candle isn't lit," Dizon-Clark says. The middle notes are the ones you smell when the candle is burning. "They're a bit more complex and full-bodied, and they balance and unite the top and base notes," she says. Speaking of which, the base notes are the ones that last the longest and tend to linger after the candle is blown out. "They're heavier and round out the fragrance of the candle," Dizon-Clark says.
By way of example, the best-selling Cactus Flower and Jade has top notes of aloe and agave; middle notes of chrysanthemum, green floral and green leaves; and a base note of patchouli. A fragrance as presumably simple as the lavender scent transforms into something much more complex with the top, middle and base notes of bergamot and lemon, lavender and cedar, respectively.
As of Sept. 1, Dizon-Clark has expanded to selling wax melts via her website in both the signature and seasonal offerings. After that, the sky's the limit, but it's sure to be something scent-sational.
Be the first to know
Get local news delivered to your inbox!