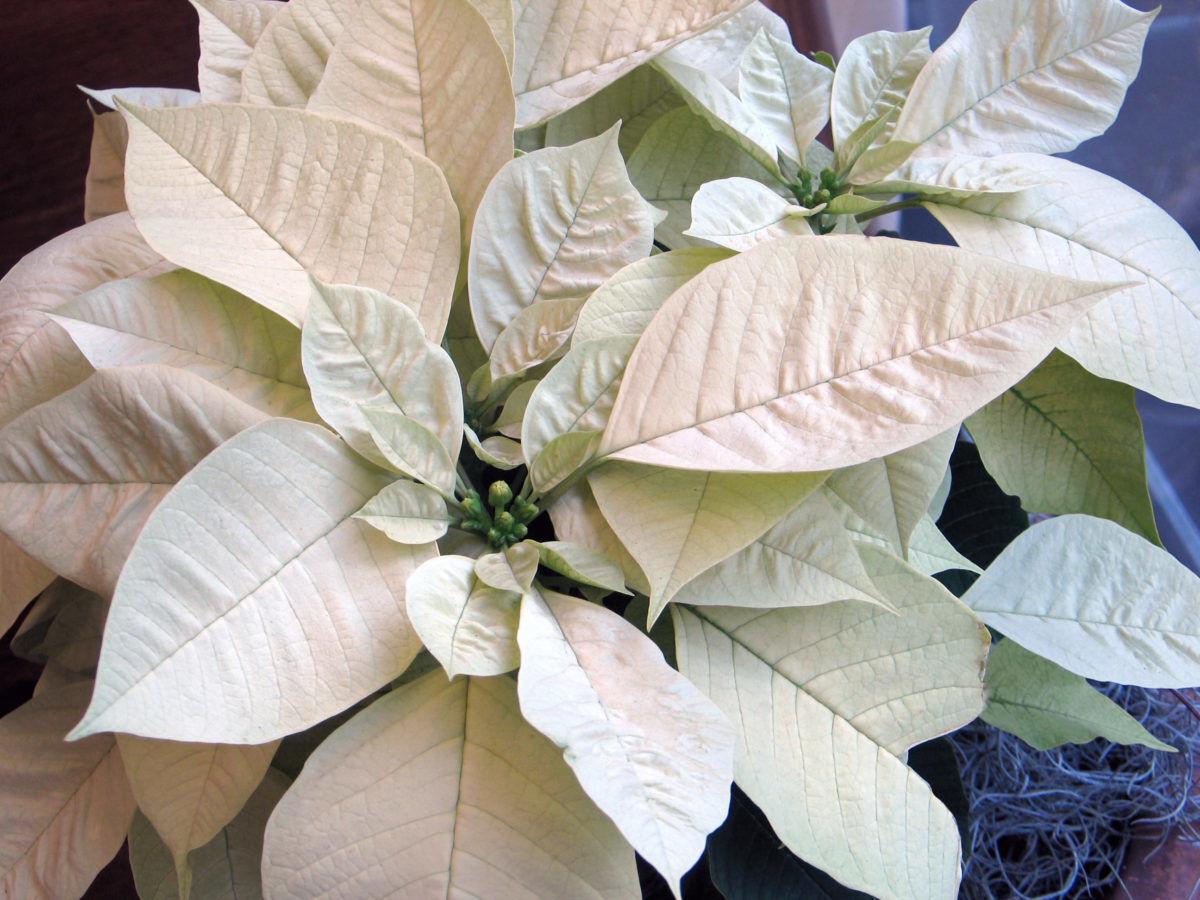 Poinsettias are the go-to plants for home decorating in the winter. We may call them flowers, which is technically true, but the colorful and attractive parts are actually modified leaves called bracts.
These large, colorful plants last for several months and give great value for indoor seasonal interest. Pair them with fragrant white narcissus and delightful, heart-shaped clumps of red, rose or white cyclamen nestled in sprays of evergreens, and your holiday decorating is complete.
There has been an exciting explosion of color in the poinsettia world, thanks to modern breeding methods. Not just bright, Santa red anymore, new clones come in a rainbow of colors. The newest red tones include Cinnamon Rose, Carina Hot Pink, Candy Bubblegum and Cortez Burgundy.
To jazz things up, look for Ice Punch or New Glitter for jolly marbled bicolor bracts, Red Glitter for red bracts splashed with white dots or the carefully muted pastels of Picasso. Perfect for Hanukkah are two new pure whites, Alpina and Alaska, and a lovely warm buttercream white called Leona. Green-white Envy can fit any color scheme, and the new bronzy red/orange/yellow combo called Autumn Leaves is perfect for fall. For novelty, try the tightly ruffled Christmas Rose or the tiny pink and large creamy white combo of Princettia Pink.
In addition to color and form variation, some varieties have been selected to be ready for sale earlier, so you can enjoy them longer if the conditions in your house are suitable. All of them will last till the new year.
Other great qualities include better branching, longer bract retention and draft or heat resistance. Still, it's a good idea to keep fresh plants away from fireplaces or wood-burning stoves.
With bright light, a draft-free location and faithful watering, some will last long enough to be moved onto the patio for next summer – just don't expect them to color up again. That attribute is controlled by a complex lighting regimen easily managed by commercial growers, but it is difficult to replicate in a home setting.
Enjoy them for the season, and then happily let them go after celebrating their colorful contribution to your winter décor.