What if you could hold your favorite park in the palm of your hand? Or your favorite cross streets in a cup? That was Malaika Tolford's vision behind Place Value Pottery, where she offers ceramic mugs, cups, bowls, planters, dishes and more that depict artful "maps" of the local neighborhood streets we walk each day.
"I love the idea of a tangible, physical proximity to a place we love," Tolford says. "The idea is that a tactile experience adds another layer of interaction with the places that are important to us."
St. Louis in particular has been an important place to Tolford for the past nine years, and before that, there was Chicago, where she grew up and attended college, as well as Rome, where she studied architectural history for a semester. The gridlike nature of St. Louis' streets resembles that of Chicago and lends itself well to the ceramics' design. "[Chicago's and St. Louis' grid systems] each sprawl away from a body of water to the east, with diagonals heading northwest and southwest," Tolford says. "They're both major rail hubs. St. Louis' roads work around topographic obstacles like hills and creeks, whereas Chicago sticks to a more rigid geometry."
Art has proven to be a virtually limitless way for Tolford to express her interests, which range from ceramics to anthropology, bioarcheology, geography and art history – all of which she studied in school for some period of time. She moved to the metro area in 2011 for a master's program in geography at Southern Illinois University Edwardsville, but the academic route didn't feel right.
She found she loved taking ceramics classes at Craft Alliance Center of Art + Design, so much so that she eventually taught children's art camps and adult classes there. With her founding of Place Value Pottery in 2018, Tolford combined her passion for ceramics and geography by evoking "our built environments" in the pieces she creates.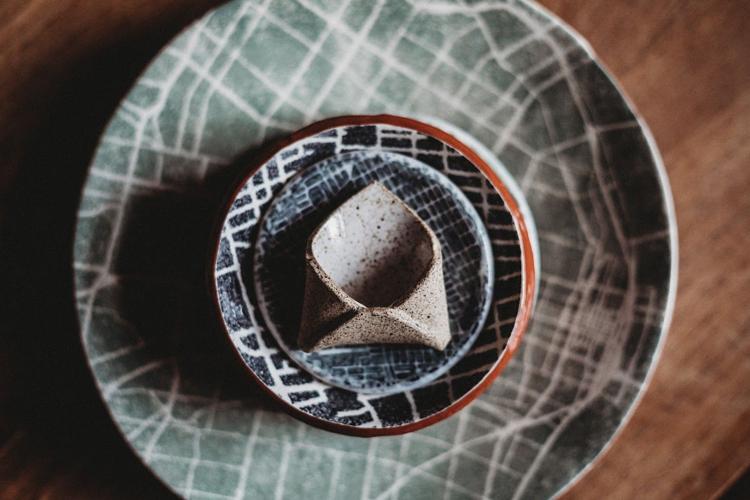 "The 'built environment' is a term used in a range of disciplines (such as sociology, history, engineering, landscape design, etc.) to describe all the features of our man-made world – basically the way we alter the natural landscape for human use," Tolford says. "It's the stuff we make for the ways we live: buildings, roadways, parks, engineered waterways, all of it."
To that end, each of the wheel-thrown speckled stoneware offerings from Place Value Pottery features hand-painted glossy white streets running over unglazed clay neighborhood blocks. You can choose from one of Place Value Pottery's popular neighborhoods and parks – St. Louis neighborhoods like Benton Park, Tower Grove South, Shaw, the Central West End and St. Louis Hills, as well as other municipalities like Webster Groves, and parks including Forest Park and Lafayette Square – or customize your own.
One of Place Value Pottery's most popular items is a serving tray with a recognizable green glazed rectangle of Tower Grove Park down the center, as well as Tolford's custom map mugs and planters.
"One customer ordered a planter as an anniversary gift but couldn't decide what area they wanted to depict," Tolford says. "We ended up dividing it into four maps: where the couple met, where they first lived together, where they got married and the neighborhood where they live now."
In September, Tolford is bringing back customer-favorite house ornaments, on which she hand-carves images of customers' homes into slabs of porcelain inlaid with glaze. "They're really fun to make, and it scratches an itch for me – I love studying architecture," she says.
As long as it's a go, Place Value Pottery will have a booth at the rescheduled Schlafly Art Outside Festival over Labor Day weekend, but you can also shop the widest selection of her wares via her website. Locally, you can purchase Place Value Pottery wares in store or at the online shops of St. Louis' Union Studio and Urban Matter and Kirkwood's RF Home Co, at the last of which you can find her pieces among succulent arrangements by Laura Dooley of LoKey Designs.
More than anything, Tolford wants customers to feel grounded and connected to their experienced environments when drinking from one of her mugs or serving appetizers from one of her trays. "Place and value have different meanings as verbs and nouns," she says. "There's the value of place, and the value we place on certain things. I like to think that my customers place value on handmade pottery, and that they also value place like I do." 
Place Value Pottery, placevaluepottery.com, etsy.com/shop/placevaluepottery
Be the first to know
Get local news delivered to your inbox!