Imagine waking up and, with the push of a button, having your entire house wake up with you. In the time it takes to hit the snooze button, an integrated home technology system sets off a chain of commands, opening the blinds, playing music and starting the coffee maker.
Modern home technology is all about accommodating unique preferences to put a house in tune with its owners' everyday rhythms. This can encompass numerous elements, from lighting to heating and air conditioning to entertainment.
Walbrandt Technologies, a local favorite in this niche, will be celebrating 10 years in business this summer and is used to constantly adapting to new developments.
"Almost all of what we do involves having conversations with our client and finding out, 'How do they like to live?'" says Aaron Walbrandt, president of Walbrandt Technologies in St. Louis.
When the company began operating, people questioned the need for this type of home technology, Walbrandt says. Now, such tech has become more accepted.
A bathroom mirror, for example, can double as a TV or smart screen for the avid multitasker. With the Séura SMART Mirror, users can watch the news or check emails while brushing their teeth. Those who enjoy entertaining can install a home theater or media room, or they can customize "scenes" that dim the lights, close the shades and turn on the perfect music playlist, setting the mood in the entire home with the push of a button.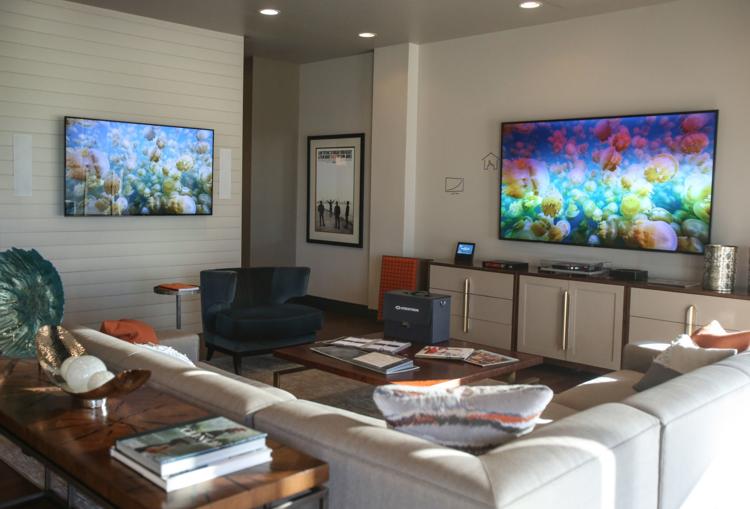 As the digital world advances, moreover, so does the home technology industry. In 2016, the global smart home market was valued at $55.7 billion, and it's projected to grow to $174.2 billion by 2025, according to the Dow Jones online subsidiary MarketWatch.
Home technology can be activated on demand or on a schedule, and it can be modified to perform a series of commands based on an individual's lifestyle. One of the home automation products Walbrandt Technologies is using to do these things is the new Crestron Home interface. "It's not only easy for the client to use – it's easy for us to set up and install," Walbrandt says, also noting that this lowers the cost of labor and makes the technology less expensive for consumers.
Crestron Home allows appliances and other devices scattered around a house to work together and be controlled from a smart device, handheld remote or touch panel. It can execute multiple commands and allows homeowners to easily create their own scenes for total control of their environment.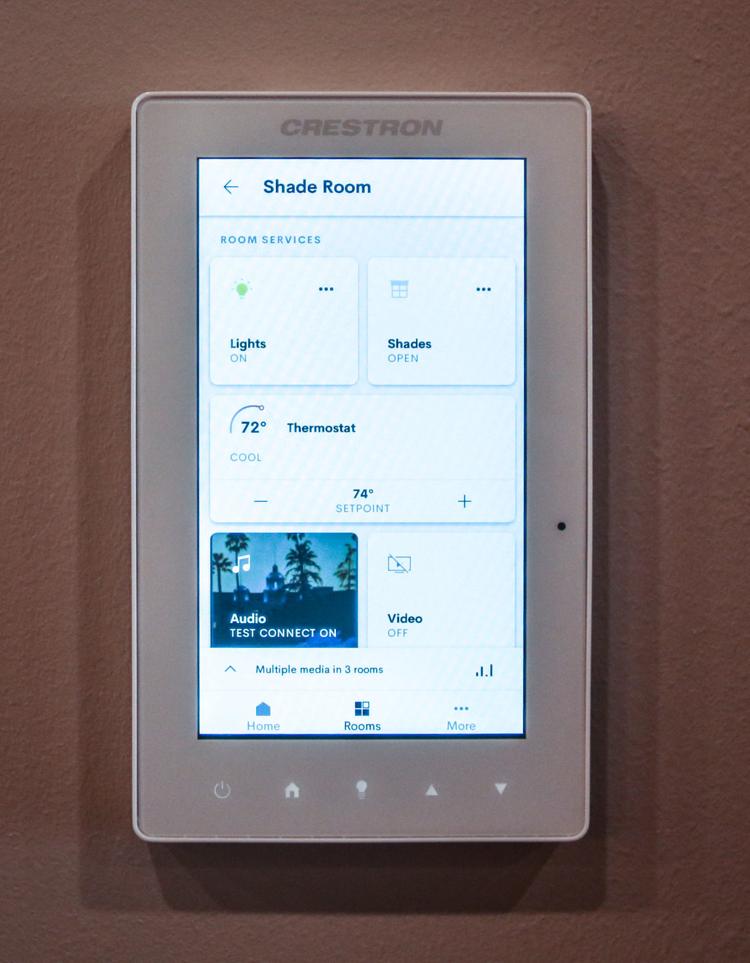 "There's so many different ways, with programming, that we can achieve this," Walbrandt says. "We just talked to somebody who would like to be able to, when they pull into the driveway and they open that garage door, set off a series of commands where lights are going on and alarms are being disarmed. And then conversely, when you leave and you shut the garage door, alarms are being armed and lights are going off."
Walbrandt says the home security aspect is something clients are increasingly interested in – and that goes beyond security cameras. Home automation can turn lights on and off during specified times of the day to give the appearance that someone is home, even if the owners are sitting on a beach miles away.
Although voice command is a popular smart home feature, it's also a security concern for some. Walbrandt says his company is testing voice-control products tailored to Crestron Home and other home systems that go beyond the capabilities of virtual assistants like Alexa and Google.
"One of the inherent fears people have with these services is these internals listening to them," Walbrandt says. "There are some voice-control products that we're testing right now that are independent to your home, so they only work on your network."
In addition, Walbrandt says he and his team are working to make virtual assistants more user-friendly by creating customized voice controls on the back end. Ever ask Siri about the weather and have it call your brother? Walbrandt's team is hoping for less of that in the future.
"Voice control is still in its infancy," Walbrandt says. "It's getting better, and it will continue to get better."
A smart home reaches its peak when an architect, technology expert and interior designer have worked together at the very beginning of construction. Technology can be integrated into any house, Walbrandt says, but it's easier to customize everything through initial collaboration.
April Jensen, an interior designer and founder of ADJ Interiors in St. Louis, has worked with Walbrandt Technologies in the past and also recommends Fusion Media Systems and Integration Controls in the metro area. She says it's totally doable to find technology that works well with an individual's lifestyle and aesthetic, so she advises people to keep an open mind.
"It's all these little bitty luxuries that make your life, you know, sweet and pampered in a way," Jensen says. "To go from nonexistent [home technology] to what we can do now – it makes the future so much more exciting." 
Walbrandt Technologies, 11612 Page Service Dr., St. Louis,
314-627-0346, walbrandt.com
ADJ Interiors, 2800 S. Brentwood Blvd., Floor 3, St. Louis,
314-230-9099, adjinteriors.com
Be the first to know
Get local news delivered to your inbox!