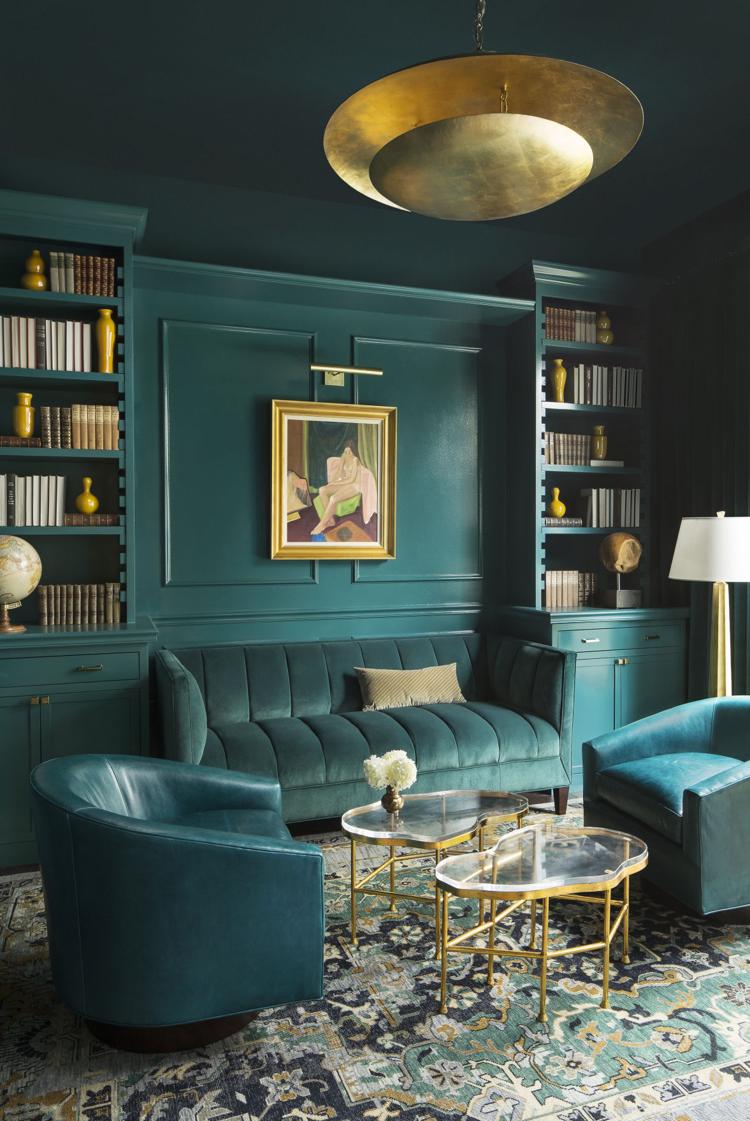 The original room, practically a blank canvas, was "almost vacant, minus a dust-collecting baby grand piano," interior designer Jessie D. Miller remembers.
"The couple were newlyweds, both on their second marriage," she continues. "Between the two of them, they shared six daughters, all living under one roof. The parents craved an exclusive lounge all their own."
When the clients described a vision of rich jewel tones, Miller envisioned a "monochromatic jewel box" – a room drastically different from the original space consumed by quiet neutral tones.
Miller, namesake of the St. Louis-based firm Jessie D. Miller Interior Design, worked with artist Mark Tillman, carpenter Kyle Grimm of Grimm Woodworking, Inc. and upholsterer Jesse Russell to complete this project in Town and Country. She says she started with an oriental rug she had been saving for some time, and from there, decided on a color palette of deep teal that would allow splashes of warm yellow and gold.
"A rich teal lacquer covering the walls and built-ins created a reflective backdrop," she elaborates. "My intent was to exaggerate the feeling with a monochromatic color palette, varied by texture."
Miller says the custom-designed bookcases were painted the same color as the walls to accomplish a built-in look. The seating was also custom-made, designed by Miller and manufactured locally.
"The custom sofa was outfitted in rich velvet, joined by a pair of leather swivel chairs – all peacock blue," she says. "Traditional architecture juxtaposed by modern lighting and furniture is always exciting."
Her favorite element, though, resulted from a last-minute decision. In her archived pieces was a thrifted, unstretched canvas that provided "the perfect focal point piece of art" when fitted into a luxe, gilded custom frame.
Miller says bold, monochromatic color palettes benefit from a slight gradient in tone for added dimension.
"When committing to a monochromatic color palette, don't fret if the materials aren't the exact same shade," she explains. "A slight gradient in tone keeps the space from feeling flat. Also, I always paint the baseboard, trim and doors out in the same color. Don't hold back – paint the ceiling also. You will not regret it." 
Jessie D. Miller Interior Design, jessiedmiller.com
Be the first to know
Get local news delivered to your inbox!