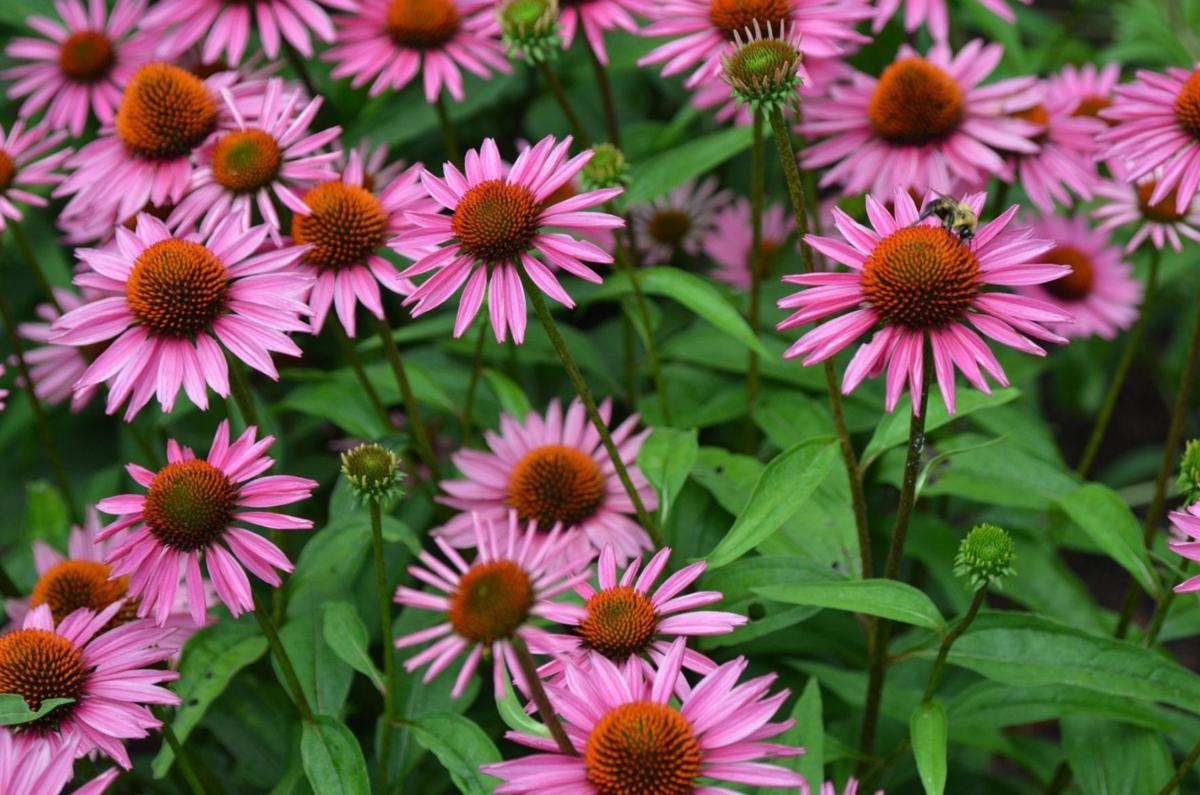 The composites (Asteraceae), the second-largest plant family in the world, comprise more than 20,000 species, among them many attractive cultivated varieties: ox-eye and gerbera daisies, marigolds, chrysanthemums, cosmos, dahlias, ageratums, dusty miller, sunflowers and zinnias.
In our vegetable and herb gardens, the family includes globe and Jerusalem artichokes, sunflowers, wormwood, culinary dandelion, safflower, lettuce, chicory, tansy, burdock and stevia. As their common characteristic, the "flower" head actually comprises many tiny individual flowers, not just a single bloom, like an apple or a rose. In many genera, the flowers are specialized into minute bell-shaped disk flowers that form the eye and radiating straplike flowers forming the outer circle of rays – so when you pluck a "petal" from a daisy, you're actually pulling off an entire flower.
In the wild Missouri garden or roadside prairie, summer brings an explosion of color from composites, with every rainbow shade from icy lemon yellow to rich amethyst purple, as a myriad of species bloom freely. I flipped through the pages of Volume 2 of Steyermark's Flora of Missouri to find 434 pages – a third of the book – filled with descriptions and illustrations of aster relatives native to our state. It's the largest plant family found here, with nearly 80 genera, including several with many species, such as asters and goldenrods.
Along the colorful spectrum are violet ageratums, black-eyed Susans, blazing star liatris, lavender-rose coneflowers, blue cornflowers, yellow compass plants, golden Alexanders and coreopsis, magenta ironweeds, rosy joe-pye weeds, prairie docks, pink pussytoes, golden ragworts, vivid sunflowers and purple thistles. You can see dozens of species in bloom by taking a road trip to the Whitmire Wildflower Garden and prairie restorations at Shaw Nature Reserve in Gray Summit, roughly 35 miles southwest of Ladue. Make notes of what you like to prepare your shopping list for the fall in-person native plant sale on Sept. 10.
You can bring some of this exciting palette into your own space with one of the most popular composites for home gardens, formal or wild: the coneflower, Echinacea. With a handful of native species and a tidal wave of newer hybrids, there are dozens of choices in the market.
Mt. Cuba Center in Hockessin, Delaware, recently tested 75 species and selections in its trial gardens. Rating them for longevity, horticultural value and pollinator attraction over a three-year test, the center shortlisted the top performers. Echinacea purpurea, Pica Bella, which topped trials a decade ago, still placed first. Sensation Pink, Santa Fe, KISMET Raspberry, Snow Cone, Postman, Glowing Dream, Purple Emperor, Fragrant Angel, KISMET Intense Orange, Hot Coral and Julia rated outstanding. None of the fancy double-flowered forms made the grade with pollinators, so keep with the singles to feed the bees and butterflies!