With remote learning a reality for many, a proper home-schooling space can set students up for success. According to Bonboni Mercantile Co. owner Lauren Thorp, who created such a space for her two kids amid COVID-19 pandemic restrictions this year, a home-schooling space should not only cultivate learning but also be cozy and customized to your kiddo.
"I designed it pretty intentionally with them in mind," Thorp says. "I find that having a beautiful space helps me have better focus and attention, and it just makes me feel better emotionally, so I wanted to make sure that my kids felt that also during their school day."
Before getting particular with the personalization component, Thorp stresses picking a specific space for home-schooling.
"I realize that is absolutely not possible for everyone, but if there's a guest bedroom that doesn't get a lot of use or even a basement, have a space that you know that you can close off that you can leave and mentally be kind of done for the day," Thorp says. "And if that's not possible, get creative with the spaces that don't get a lot of use in your home, and repurpose them for a home-school space."
For example, Thorp recommends a potentially oversize, unused closet.
"I've seen on Pinterest that you can take a big closet and kind of turn that into a little workroom," Thorp says. "If there's nothing like that, obviously, the kitchen table or the dining room table works, too."
Regardless of which space works best, Thorp says to not force trying to re-create a classic classroom setting.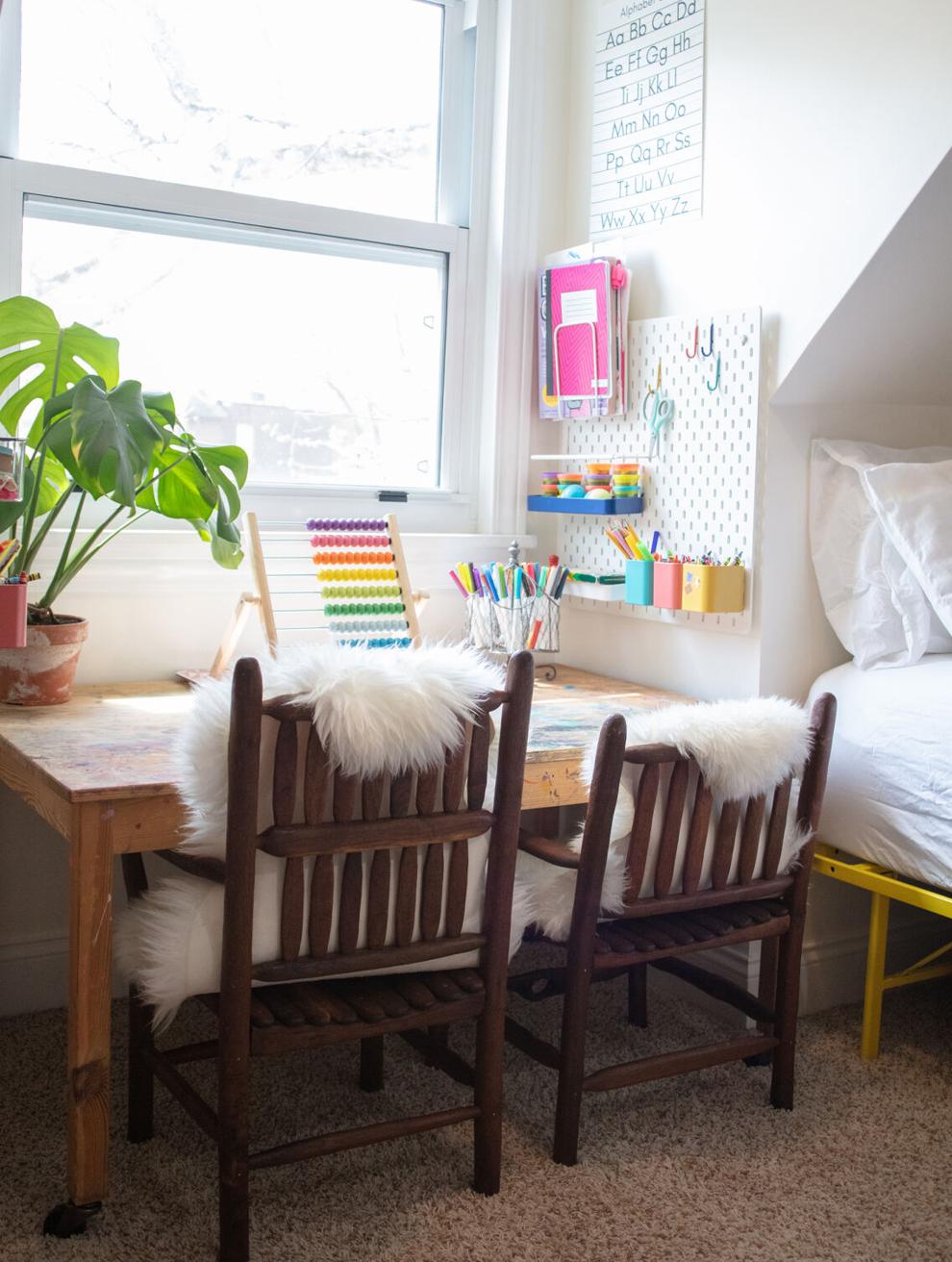 "It's a totally different environment," she says. "It's OK if it has other elements in there besides your typical classroom-type things – just kind of have a multipurpose type of an atmosphere."
Once you have a set space, Thorp encourages carefully selecting a visual palette.
"Pick colors that work with your goals," Thorp says. "Calming colors would be the blues and cool colors, whereas reds and brighter, warmer colors are going to create more stimulation and more attention. So depending on the needs of your kids, you can kind of figure out what colors would be best for them."
These color choices can be incorporated by painting the space or featured in surrounding artwork.
"I think art is great," Thorp says. "And I think it's often overlooked."
Thorp says she incorporated her color palette for her kids' home-schooling space into printables – including a calendar and a weather station – which she customized on the website Canva, before printing, laminating and displaying in the space. If you aren't that handy in the graphics department, Thorp says parents can easily turn to Etsy.
"There's a lot of pre-made things on Etsy," Thorp explains. "You can just type in 'home-school printables' and a whole bunch of things will come up that you can choose from and just print at home."
In addition to art, Thorp also encourages organizational options. For example, in her kids' home-schooling space, she hung a pegboard for all art supplies.
"I think it's important to create an organizational system so that clutter can be kept away," Thorp says. "I think that all goes back to the emotions of a space. Visual clutter distracts, and keeping things in order and well organized can help us focus."
Ultimately, Thorp encourages creating a space that is meaningful to your specific student.
"Depending on the age of your kids, you're going to be spending at least a couple hours a day in the space during the week if you're doing a traditional home-school schedule," Thorp says. "I just find that a beautiful environment just really helps me be happier emotionally. When you're happier emotionally, then you're ready to learn." 
Bonboni Mercantile Co., 2246 Klemm St., St. Louis, 314-472-3457, bonbonimercantile.com