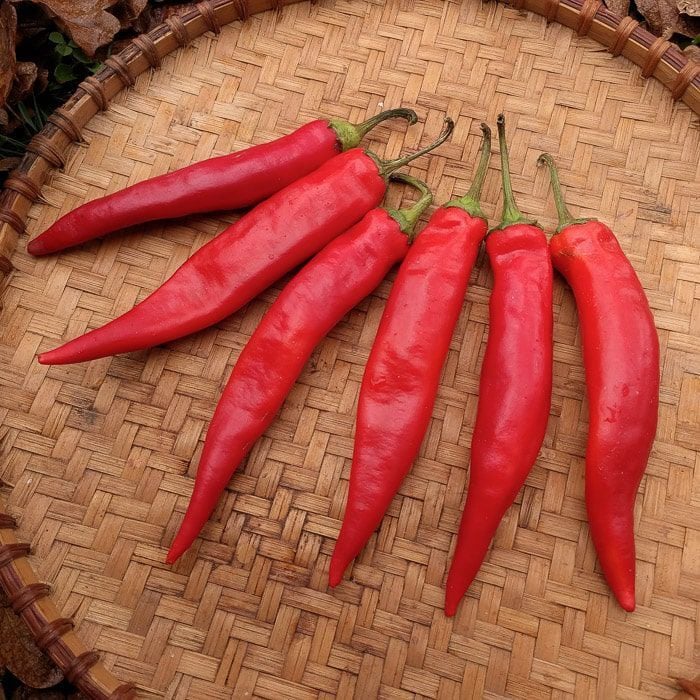 Gray, cold January days scream for spicy, hot homemade chili!
I recently added dried Thai chili peppers from last summer's bounty for a bit of zing to a pot of Wawona white turkey chili. They give high notes of flavor and complement the roasted poblanos and jalapeños that I froze in August just for this recipe. Growing hot peppers in St. Louis is very rewarding, as deer don't touch them. Roughly 10 varieties are available as small plants in the spring market, but you can start dozens more from seed. Order early, as last year's run on seed may be repeated as people remain constrained by the pandemic.
Hot Peppers
All peppers of the genus Capsicum come from the New World, five of them with hundreds of varieties. Their heat comes from capsaicin, a metabolite that helps protect the plant from predation. Birds don't "taste" peppers, allowing them to disperse seeds and to enjoy hot pepper suet that squirrels can't eat. Humans, however, love the spiciness – and have carried peppers to every continent and incorporated them into every cuisine.
Be very careful, though, about varieties that have the phrases Ghost, Reaper, Scorpion, Viper or Death Spiral in their names; likewise beware the dangerous 7-Pot pepper from Trinidad. All of these fruits score high on the Scoville scale, which measures the "heat" of chiles, and therefore should not be eaten without a lot of dilution, with an intensity more suitable for making pepper spray, killing barnacles or making arthritis creams. I myself prefer milder selections that can actually be tasted, so I tend to choose varieties with Scoville scores below 50,000 (around the level of cayennes or Tabasco sauce). That still leaves hundreds of choices if you want to grow plants from seed.
Favorite Culinary Peppers
Bell peppers, Cubans, Anaheims, pepperoncini and pimentos are all considered sweet peppers with little or no heat – except when grown near hot pepper varieties and pollinated by them. I've had a nasty surprise or two in my gardening past with bell peppers as hot as serranos.
The famous Hatch green chiles, anchos, pasillas, Fresnos and some jalapeños are pretty mild. Japanese shishito peppers are generally sweetly warm and great roasted or grilled as appetizers. One in a dozen, though, will surprise you with a hot punch!
Cayenne, Tabasco, serrano and poblano peppers pack a pretty lively kick and are too hot for many. My limit of comfort falls at Thai peppers, minced and mixed with food. Peppers with a Scoville range above 100,000 are for daredevils and competitors. I've eaten some Indian peppers that left me gasping and weeping – an experience that does not invite repeating!
The Chile Pepper Institute at New Mexico State University in Las Cruces is a great source for seeds of unusual varieties. Urbana, Iowa's Pepper Joe's offers seeds, plants, recipes and cultural info. For more great recipes for your bumper crop, visit Mike and Patty Hultquist's food blog Chili Pepper Madness.