"Mudrooms are typically the first room homeowners see when they walk in from their garage to their home," says Maria Hogrefe, co-owner of C&M Interiors. "This is an opportunity to go with a design strategy that says, 'This is me; this is my home. This is a reflection of how I want to feel.'"
The mudroom pictured here was only a small part of a major new build in Frontenac, constructed by Kirkwood's NJL Custom Homes. In a home filled with intriguing interior spaces and dazzling décor, not even this pedestrian, sometimes-messy room was overlooked.
Hogrefe and Channing Krichevsky, the University City-based founders and principal designers at C&M, say their clients "are very practical but have a keen eye for quality and traditional charm."
Throughout the Frontenac home, the designers aimed for a look of "casual elegance" that incorporated decorative light fixtures, crisp paint colors, statement wallpaper and Japanese-inspired accessories. One of the clients had lived in Japan for some time and found a series of pagoda prints that ended up on the mudroom walls.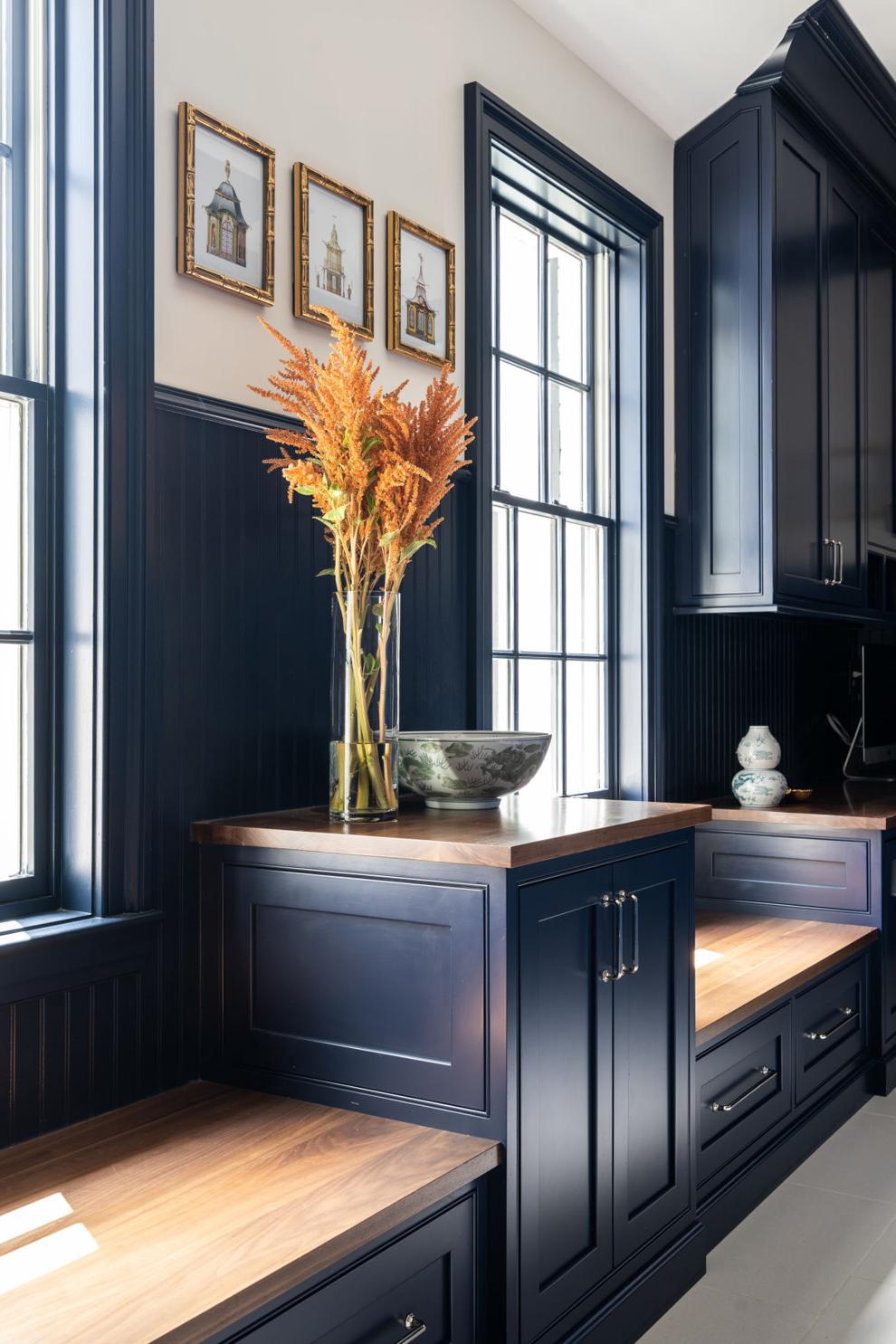 "We styled the surfaces with a few Asian-inspired pottery pieces, as well as a tall floral arrangement to add some additional color and charm to the space," Hogrefe notes.
Warm, walnut wood surfaces counterpoise the cooler cabinets supplied by Arthur, Illinois' Kenrose Kitchen Kabinets and painted in Sherwin-Williams' In the Navy, which also coats the beadboard and trim.
"The linen-textured floor tile also adds a sense of tactile stability upon entrance to the home from the garage," comments Hogrefe.
Classic Ralph Lauren Home visual comfort globe lights hang overhead, sourced from Maryland Heights' KDR Designer Showrooms. Below eye level, a couple of food and water bowls are set in a dog-friendly nook.
"Tank, the family's yellow Lab, was a puppy during the construction of the home," Hogrefe says. "We added a few fun features to accommodate him. The cabinetry above his feeding area is also home to storage units for all his belongings and food storage."
For an active family that enjoys entertaining, closed storage for sophisticated organization was key to this space.
"This family is beyond welcoming and open to anyone and everyone," Hogrefe says. "Function was of high importance to live a balanced and beautiful lifestyle." 
C&M Interiors, 937 Midland Blvd., St. Louis, 314-328-1923, candmstudio.com