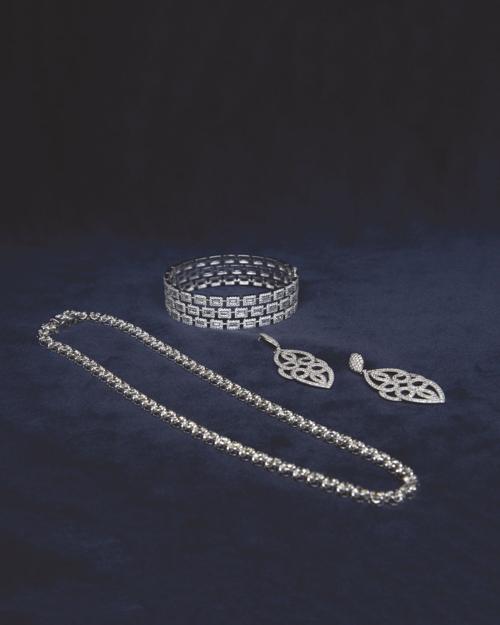 There is no day more personal than your wedding, and Genovese Jewelers has the selection that guarantees your jewelry will complement both your dress and your style.
"Every bride has a different personality," confirms executive buyer Katie Kelly. "Certain brides will be all about the glamour and want to be decked out for the best day of their life, while some brides want the focus to be the dress and not the jewelry."
Across the board, Kelly notes that brides-to-be typically don't look to follow whatever jewelry is en vogue at the time, instead trending toward classic pieces that will stand the test of time. When looking back at photos, no one wants to think about how outdated the fashion choices were.
Classics include a tennis necklace that complements any neckline and can vary in karat weight so brides can go simple or extravagant. For earrings, the style can range from studs to chandelier-style depending on how the bride wears her hair. Bracelets tend toward the simple and understated, so they don't take attention from the engagement ring.
"We always want the bride to feel comfortable," Kelly says. "The timeless pieces are things you can wear the rest of your life and pass on."
At its core, no matter how glam or traditional, wedding jewelry is there to complement the dress. "If there's lace in the dress, brides will go for a filigree design in the jewelry," Kelly explains. "If it's a more clean style, then they might go more simple or traditional."
Brides can trust Genovese to custom-modify jewelry passed down from a parent or grandparent that can be incorporated as the "something borrowed" element of the wedding. And beyond jewelry for the big day itself, the jeweler also offers monogrammed jewelry for bridesmaids or cufflinks for groomsmen.
Genovese will always offer the very best in custom engagement rings, as well. "We want to make a friend through the engagement ring process," Kelly concludes. "The engagement and wedding is a huge part of our relationship with the couple."
Start your big day off right, with a jeweler that understands how to make you shine.
Genovese Jewelers, 12460 Olive Blvd., 314-878-6203, genovesejewelers.com