With many in the metro area spending more time in their homes, this year has been the ideal time to look at reinventing interior spaces. Two local designers sat down to talk about the most innovative designs, breaking interior design out of the ordinary.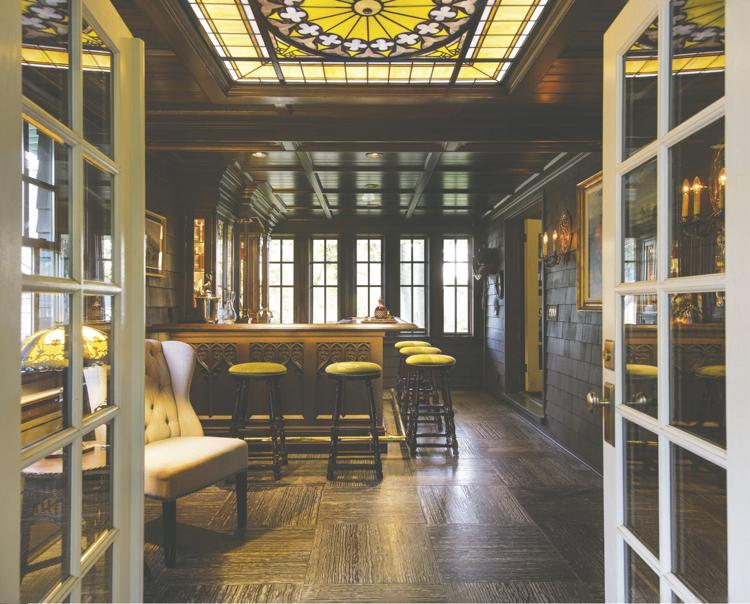 Karr Bick Kitchen & Bath
Designing for a historic home can be a daunting challenge, but it was one that Karr Bick owner and craftsman Todd Rausch rose to when creating a custom bar in a 115-year-old home at the end of last year.
"I put a lot of thought into this bar," Todd Rausch says, "a lot of time and energy. We created a feel people wanted to come back to, wanted to spend time in."
Todd Rausch drew from his love of Gothic architecture to create a space filled with backlit stained glass, brass sconces and beam ceilings built from the 180-year-old oak tree that once stood in the home's front yard.
"In terms of floor plan, it's fantastic," Jenny Rausch, co-owner and designer, adds, "the scale and detail creates lasting architecture that will stand for 100 years."
Not only was this design the perfect fit for the home, but also it was a 20-year passion project for Todd Rausch, one he and his wife are proud to show off to the world. "I could go on [about this space]," Jenny Rausch says. "The details are without end."
Karr Bick Design, Construction and Custom Homes, 2715 Mercantile Drive, Brentwood, 314-645-654, karrbick.com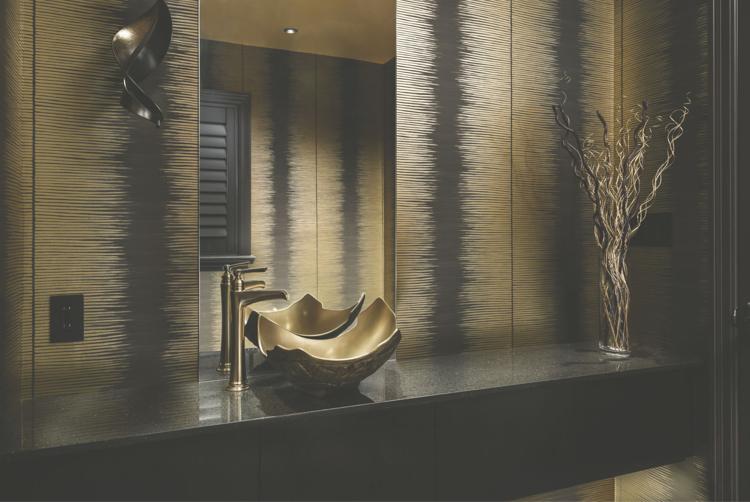 Marcia Moore Design
When designing for a kitchen or bathroom – especially when the space is small – the temptation is to use light colors to create a more open feel. Marcia Moore at Marcia Moore Design turned that on its head, transforming a powder room into a cocoon of glamour without an ounce of white.
"Right now everything has white and marble and light grays," Moore explains. "I am thrilled that this was a project that I got to use color and creativity and that they allowed me to do everything down to the details."
Because of spatial constraints, only essential items were used – no clutter, nothing unnecessary, but everything beautiful and unique. The stunning Cole & Son wallpaper creates the color palette, while a warm vibe comes from the metallic gold in the ceiling, coupled with painting the trim and existing plantation shutter to match the wallpaper's background.
The illusion of a larger footprint is created with seamless designs in the vanity doors and floor-to-ceiling mirror, and the pièce de résistance is the organic-shaped gold vessel sink. "I like how unique and unstructured it is," Moore says. "Everything melds beautifully together to accomplish our goal of moody glamour."
Marcia Moore Design, 314-395-1114, marciamooredesign.com
Be the first to know
Get local news delivered to your inbox!