With COVID-19 causing many to reschedule routine retreats and forgo glamorous getaways, there has been an uptick in renovations that transform boring backyards into personal sanctuaries – and thanks to advice from local designers, you, too, can create such a space.
"The outdoors is a place you can have fun with style," says Jenny Rausch, president of Karr Bick Kitchen & Bath. "Throw pillows, rugs and blankets – they give each space a personality."
One such space with a pop of personality is an expansion of an existing deck designed by (and for) Castle Design designer Jill Oliver Brown.
"It basically added another family room to our house, and the purpose was to be able to use it almost all year-round," Oliver Brown says. "We made sure we had uncovered areas as well, so we could grill and have a space if you wanted to be in the sun."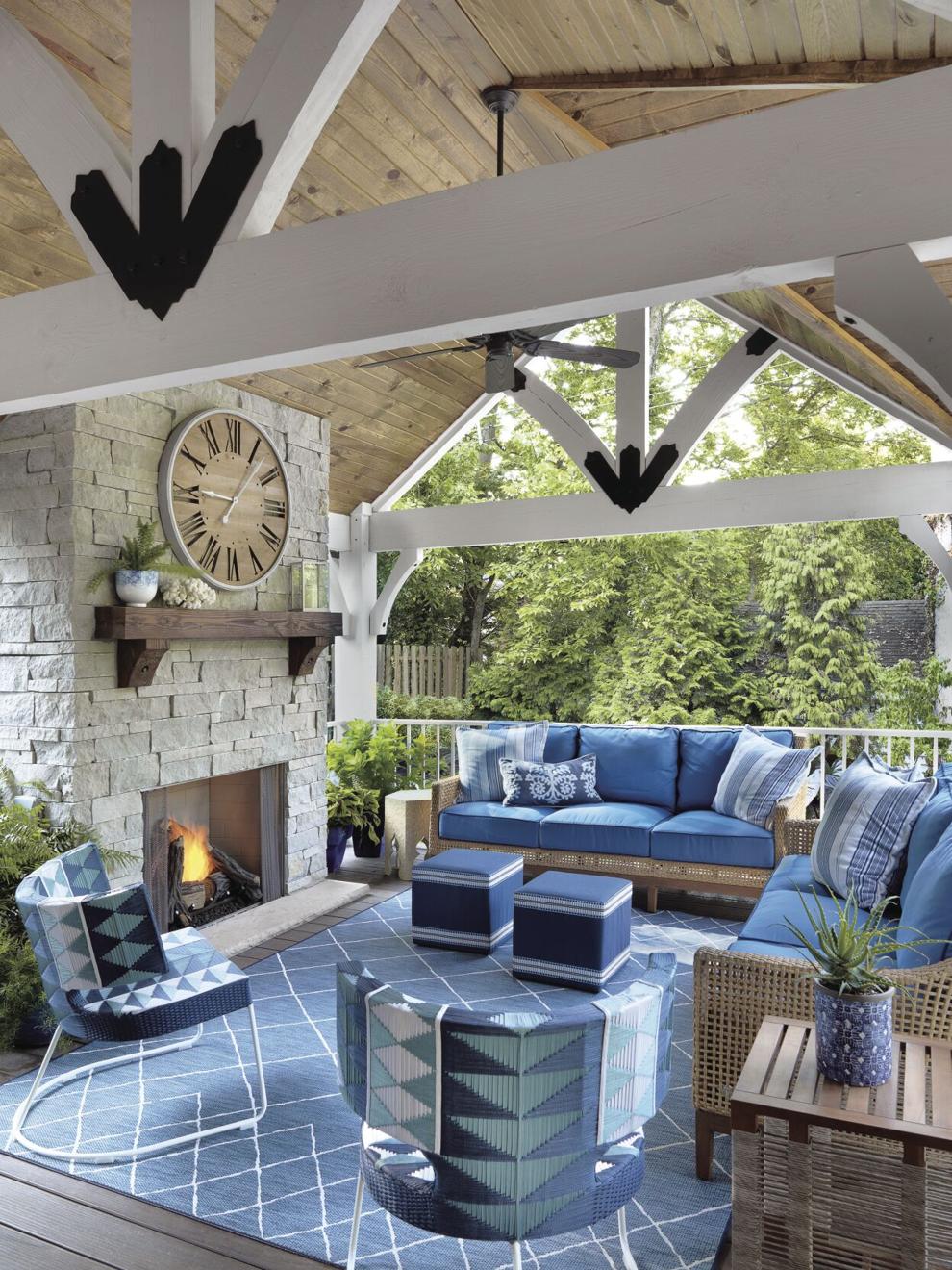 Oliver Brown layered multiple tones of blues with custom-designed ottomans, cushions and a printed rug. She used various prints with natural textured elements such as rattan, stone and iron to create a relaxed yet fresh and cheerful feel.
"Cozy, comfortable furniture is a must because if it's not comfortable, no one is going to want to stay out there," Oliver Brown says. "Greenery and plants are key. Even if you don't have a big yard with lots of pretty green space, you can achieve that with potted plants."
Matt Wolfe of Wolfe Architecture & Design also recommends the incorporation of lighting.
"[It's] usually the first thing to get cut for budgeting and [is] frequently underdesigned, but it can have the biggest impact when done well," Wolfe says.
Another must, according to Rausch, is a fire feature.
"It can be a beautiful stone fireplace or a store-bought fire pit," Rausch says. "There is outdoor beauty in every budget."
And on the flip side of fire, Oliver Brown recommends cooling or climate-control components.
"Whether it's a fan, even a standing fan, you've got to have some kind of climate control or shade," Oliver Brown says. "I mean, people aren't going to last long if things aren't climate-controlled at least a little bit."
The Karr Bick Kitchen & Bath team elegantly implemented wooden fans under the expanded roofline of their historic carriage house-turned-pool house project, which allowed space for covered seating and entertainment poolside.
"With families staying home more, the pool and pool house are just as popular as home offices and home gyms right now," Rausch says. "We have two in progress, and they are very different in terms of style. Anything goes as long as it speaks to your fun side!"
Which, of course, leads to the cherry on top of creating a personal paradise – a water element.
"[Water features are ideal as] either acoustic white noise or just as a pleasant feature to look at or be in," Wolfe says. With this mindset, Wolfe recently beautifully executed a pool and pool house project in Ladue.
"The pool house was the last phase of a gut rehab and repurposing of a 1920s framed home," Wolfe says. "With the renovations and additions to this residence, a new pool was essential."
The pool and pool house were designed to the style and detail of the original house and were designed to be on the axis with the living room, kitchen and family room. An elevated colonnade connects the house and guest suite, which is opposite a vista – flanked by a restroom and changing room on one side and a kitchenette on the other – that overlooks a large side yard and wooded area.
"It should be noted that every project is unique," Wolfe says. "The location, the orientation, climate, altitude, vistas, geometry, scale, vegetation and, most importantly, the client, are what shape or guide the design for an outdoor space."
Castle Design, 7707 Clayton Road, Clayton; 314-727-6622, emilycastle.com
Karr Bick Kitchen & Bath, 2715 Mercantile Drive, Brentwood; 314-645-6545, karrbick.com
Wolfe Architecture & Design, 7412 Manchester Road, St. Louis; 314-960-0099, wolfead.net