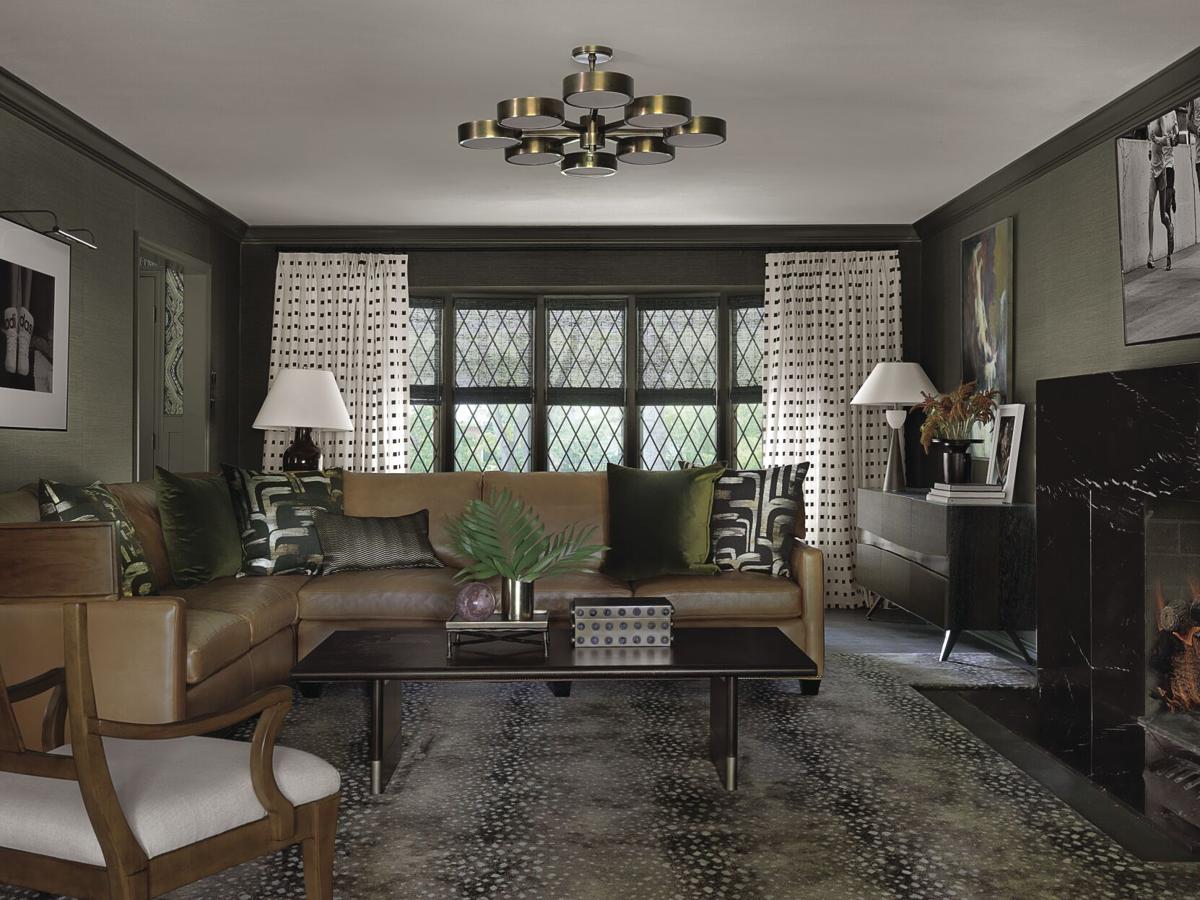 "Luxury is about what you feel, not what you see," summarizes Jessie D. Miller Interior Design's namesake on her "Zimmerman House" redesign.
The stunning Des Peres home was built in the '60s, partially burned down in 1983 and then was minorly remodeled following that, by the previous owners. After this recent four-month project wrapped up in July 2020, however, the space was transformed from a mismatched home filled with random inherited and adopted furniture into a curated, cohesive, comfortable space, including select art from Miller's own collection.
"The homeowners' stories reminded me of all kinds of cherished treasures I have been saving for years," Miller says. "The Zimmerman art collection ended up including everything from vintage equestrian paintings and sketches, editorial photography and even an oversized black-and-white abstract that my mother, Janet Miller, painted for me when I first moved into my current apartment."
Miller felt so connected to the stories and backgrounds of the Zimmerman homeowners because of her professional process – as well as a bit of serendipity. After meeting the couple at a Christmas party hosted in the house she'd previously designed for another client, an instant connection was made, and Miller got to work finding out how the couple met, why they selected their house, their cultures and the families they grew up around, the music and restaurants they like and, of course, "a snoop in the closets," according to Miller.
"The homeowners are pretty much my dream clients," she says. "They are a fun-loving, down-to-earth, sporty-yet-fashionable married couple with three young sons. Working with this family was completely effortless; through the entire process, they were open-minded, adventurous, yet realistic and direct communicators."
The homeowners echo this sentiment right back at Miller: "I am ecstatic with how Jessie transformed our home," one of the homeowners says. "She really understands what her client is saying, and she was able to incorporate a lot of our heirloom and investment pieces, while giving our home a whole new look that turned out even better than we could have dreamed."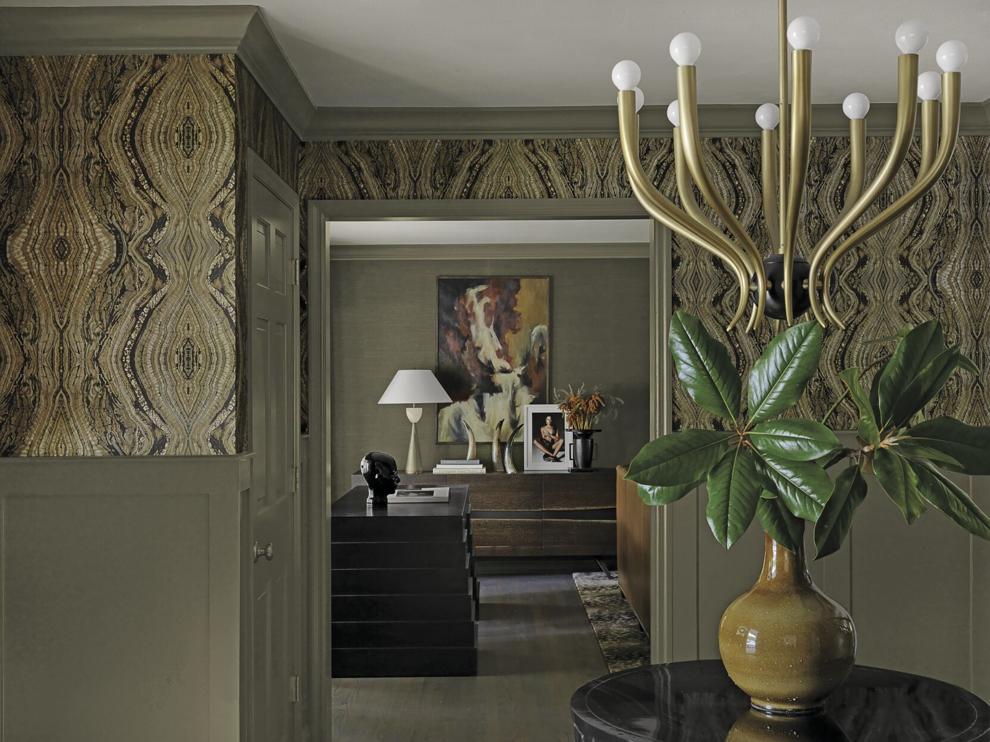 For the Zimmerman redesign, the couple was completely open to Miller's creative direction and requested only that she incorporate quite a few of their existing pieces into the new design. These included sentimental heirloom pieces, like the entry-room foyer's antique round side table, which was given a glossy, contemporary makeover in collaboration with the team at The Resplendent Crow in University City, as well as existing statement pieces like a monolithic scaled leather sectional sofa or a pair of paisley upholstered Louis-style club chairs, all of which could have posed a challenge for a less-adept designer.
"With some strategic spatial planning and intense textile searching, a group of accidental furnishings found their friends, and a perfect, curated design was created," Miller says.
Miller says that, without a doubt, her favorite aspect of the new design is the hand-painted mural in the main bedroom, with its brushstrokes of white and soft neutrals evoking both movement and calm simultaneously, which was completed by Miller's friend and colleague, local artist Susan Greene of Paint Imagery.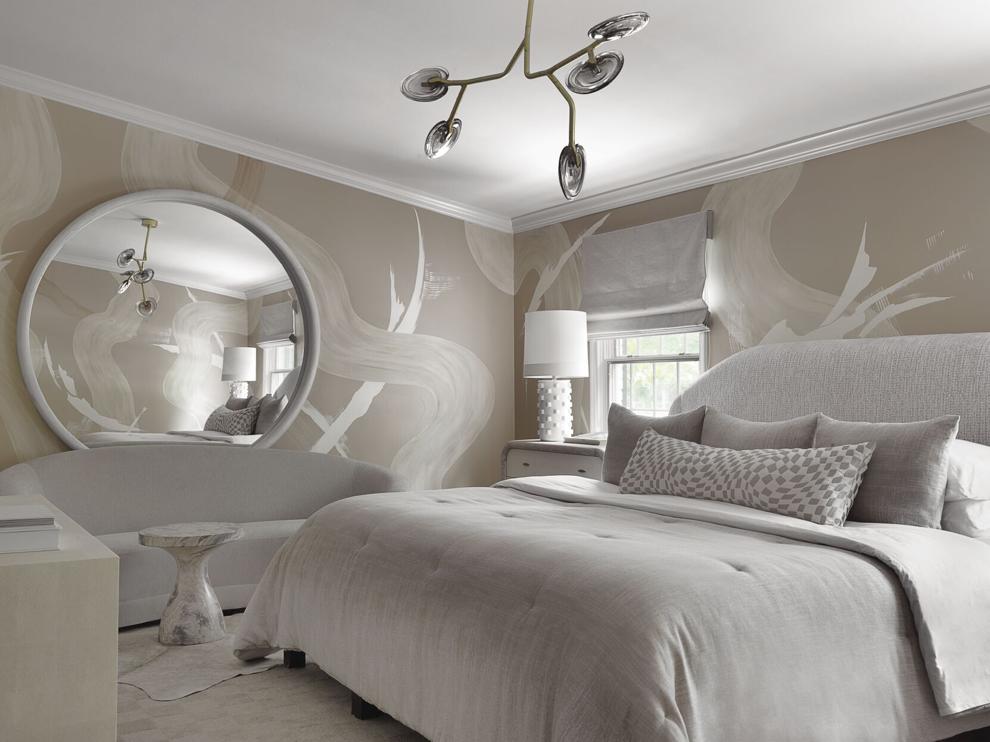 "The result is one of my all-time personal favorite spaces I've ever executed," Miller says. "Client envy is something I rarely experience, but oh, baby, I would love to fall asleep and wake up in that room."
Although the stunning wall mural tops her list, Miller also highlights some of the more subtle design elements as having just as much of an impact in the home – for example, the grasscloth wallcovering in the living room. Miller explains that, though it cost more, it boasts incredible color dimensions with which painted drywall could never compete. Miller also gave special treatment to the previously lonely entryway and oft-ignored front doors (as most families come in through the garage) that she considers defining moments of the entire home.
"They act as an opportunity to welcome visitors with an immediate visual impression of what your family is all about," she says.
The crown jewel of the Zimmerman project is what Miller calls "the big daddy" – the black Calacatta marble fireplace mantel in the living room. "That sexy beast replaced a puny, builder-grade mantel surround that couldn't hold its own," Miller says, adding that it serves as a physically and visually heavy architectural element to ground and anchor what was previously a narrow, unorganized room.
As for the homeowners' reaction to the project, it was in line with their laid-back, appreciative and down-to-earth vibe. Genuinely grateful, impressed and proud of the work, "the fun-loving couple was sipping cocktails at the pool while we hustled to finish the install," Miller says. "When they were allowed to come home for the anticipated reveal, they were still in their bathing suits. How fabulous is that?"
Jessie D. Miller Interior Design, jessiedmiller.com