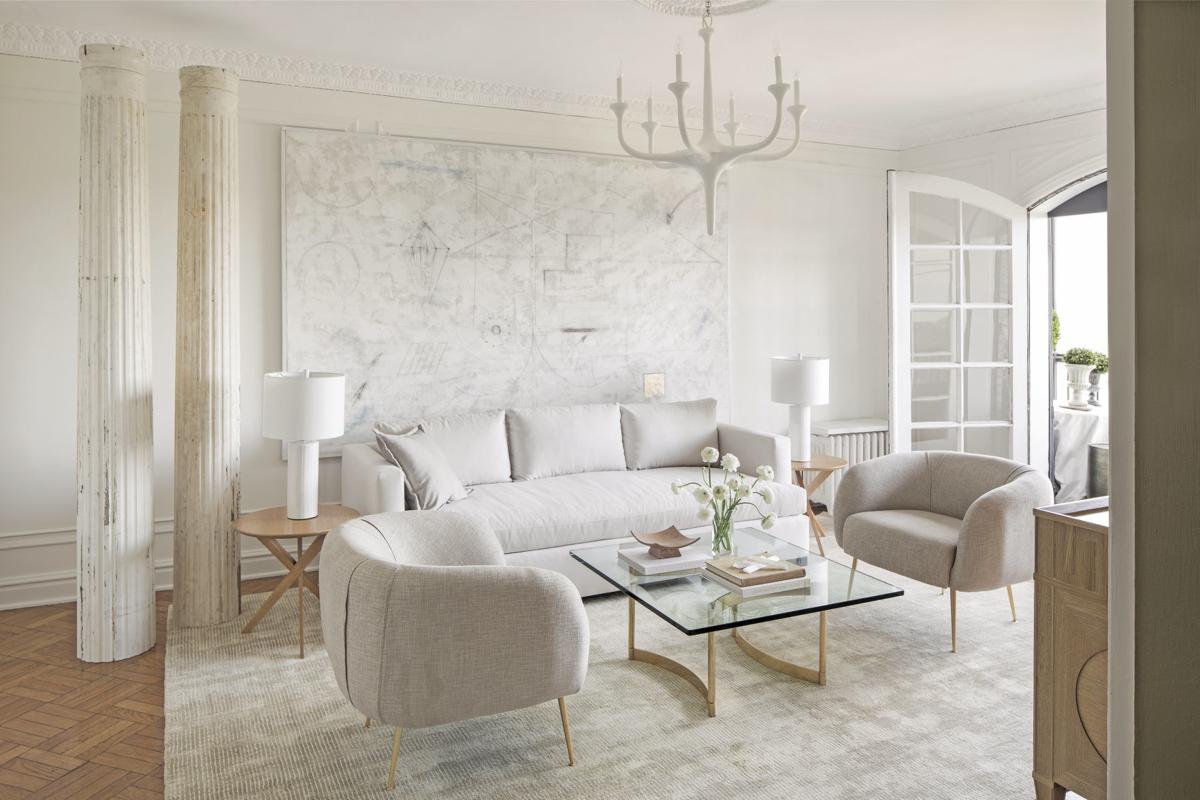 Jessie D. Miller loves starting her mornings meditating, journaling and drinking tea in her ethereal, light-soaked living room, which opens to a balcony overlooking St. Louis' Central West End neighborhood.
The dreamy, bright white space resulted from the evolving renovation of the local designer's own historic high-rise apartment. "It's a really simple space that you can clear your mind in," Miller says.
As one of the metro area's go-to interior designers, Miller always has a bustling full schedule revamping other local abodes. So a renovation of her own home, which she moved into six years ago, was a fairly gradual process that took shape with inspiration from the building's prewar history. "The building's architecture is why I chose to live here," she says. "It has original plaster, molding and trim that I absolutely love."
A winter-white sitting room by lauded designer Alyssa Kapito in New York City's 2017 Holiday House influenced Miller's revamp. "The space really spoke to me," she notes.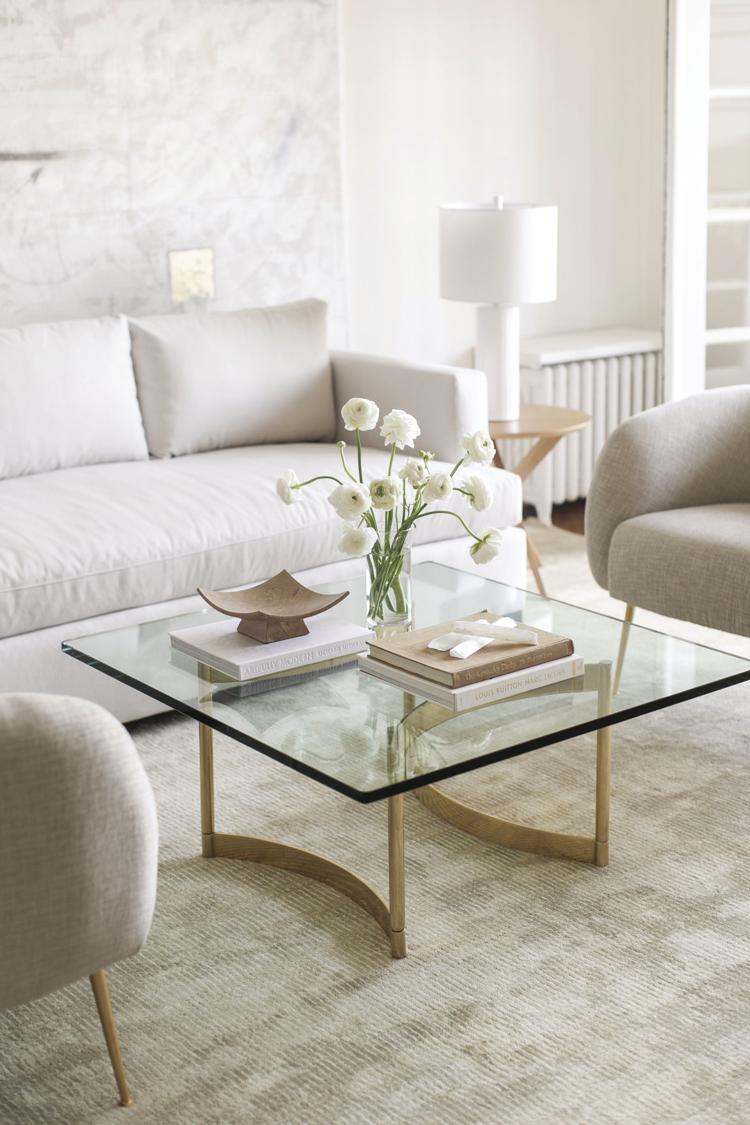 For the first step in achieving this vintage-meets-modern redesign, Miller had to make a big move – swapping her abode's living and dining areas. "I wanted the living room space to be where the balcony was for the view," she explains.
The new light, airy living room features all-white modern furniture and a glass-topped coffee table arranged on a pale area rug, with large, white canvas artwork perfectly perched against the wall to frame the clean, minimalist space.
Unique antique accessories from Miller's "adventures" accent the new living and dining rooms, from European columns to statues – a nod to the designer's love of travel and the European lifestyle. "Everything I do is a reflection of my personality," she says, "and I love unexpected combinations of styles … I love modern mixed with vintage and antique, and I love a balance of masculine and feminine."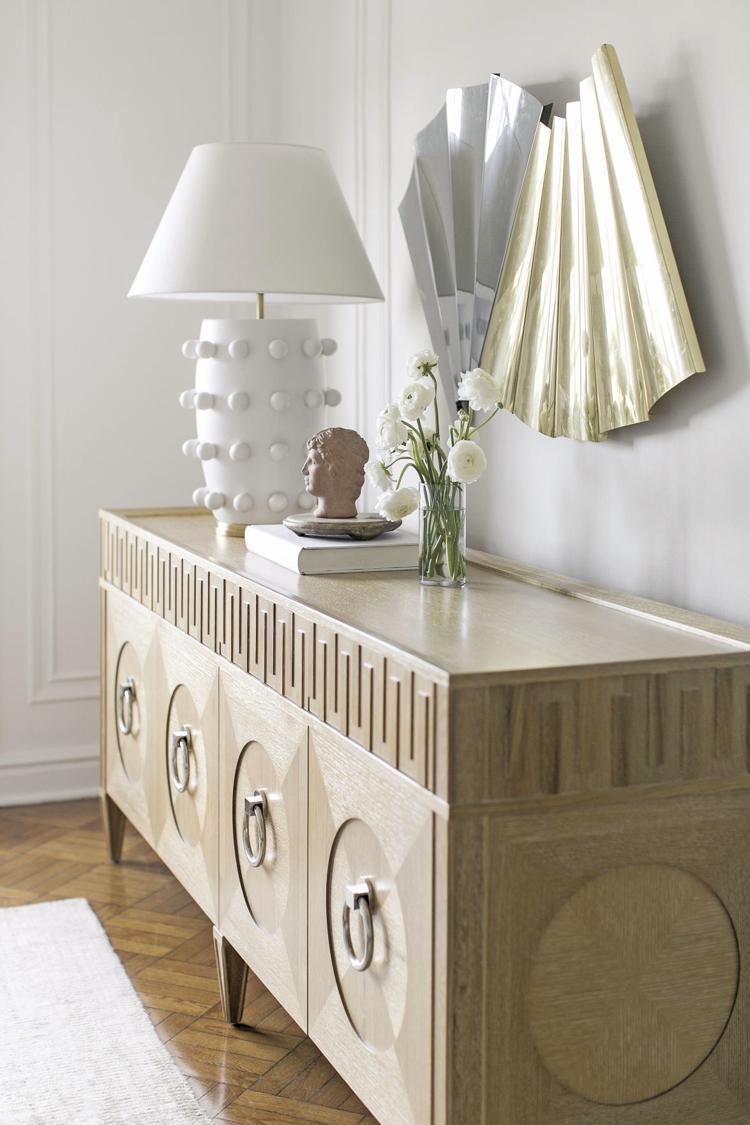 The white-drenched design aesthetic also works well for Miller's furry friends – her two beloved Chihuahuas. "[One of my] white Chihuahua[s] has, in his older years, begun to shed, so I decided to go with upholstery to match his coat," she explains, adding that the sleek sitting space's white couch was custom-made, while the cozy pale chairs, white-coated chandelier and light-wooded media cabinet by Dallas' Global Views were sourced from design vendors.
Although creating spaces for clients brings her joy, Miller says redoing her own abode proved a challenge. "The options are endless because we have access to so many products and materials, so it never shuts off, and you never have a deadline," she explains. "With clients, you have to make decisions … With your own space, you really are your own boss, and you can easily make excuses on indecisions."
One stumbling block came with the European columns Miller wanted to showcase in her living room. "They had to be cut down to fit in the apartment, so they had to take 4 or 5 feet off," she says.
Another hurdle approached when Miller found the perfect vintage Mastercraft Furniture Co. table to be the jewel of her dining space. "I saw it in Palm Springs, but it was at a really high price point," she recalls. "I just knew I could find it somewhere else soon … and six months later, I found the identical piece in St. Louis on Craigslist."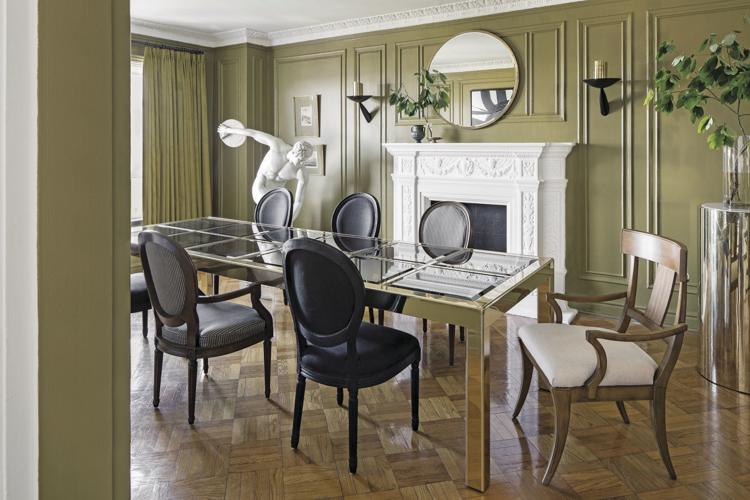 The sparkling glass table finally found its home, now serving as the centerpiece for Miller's showstopping dining room, complete with an original, ornately carved fireplace and an elegant European white stone statue.
As she settles back into her comfy white furniture to start each new day, Miller says she is elated to have the revamp complete – especially since she achieved a tranquil space to dream up others' redesigns, simply noting: "It just really makes me happy." 
Jessie D. Miller Interior Design, jessiedmiller.com
Be the first to know
Get local news delivered to your inbox!