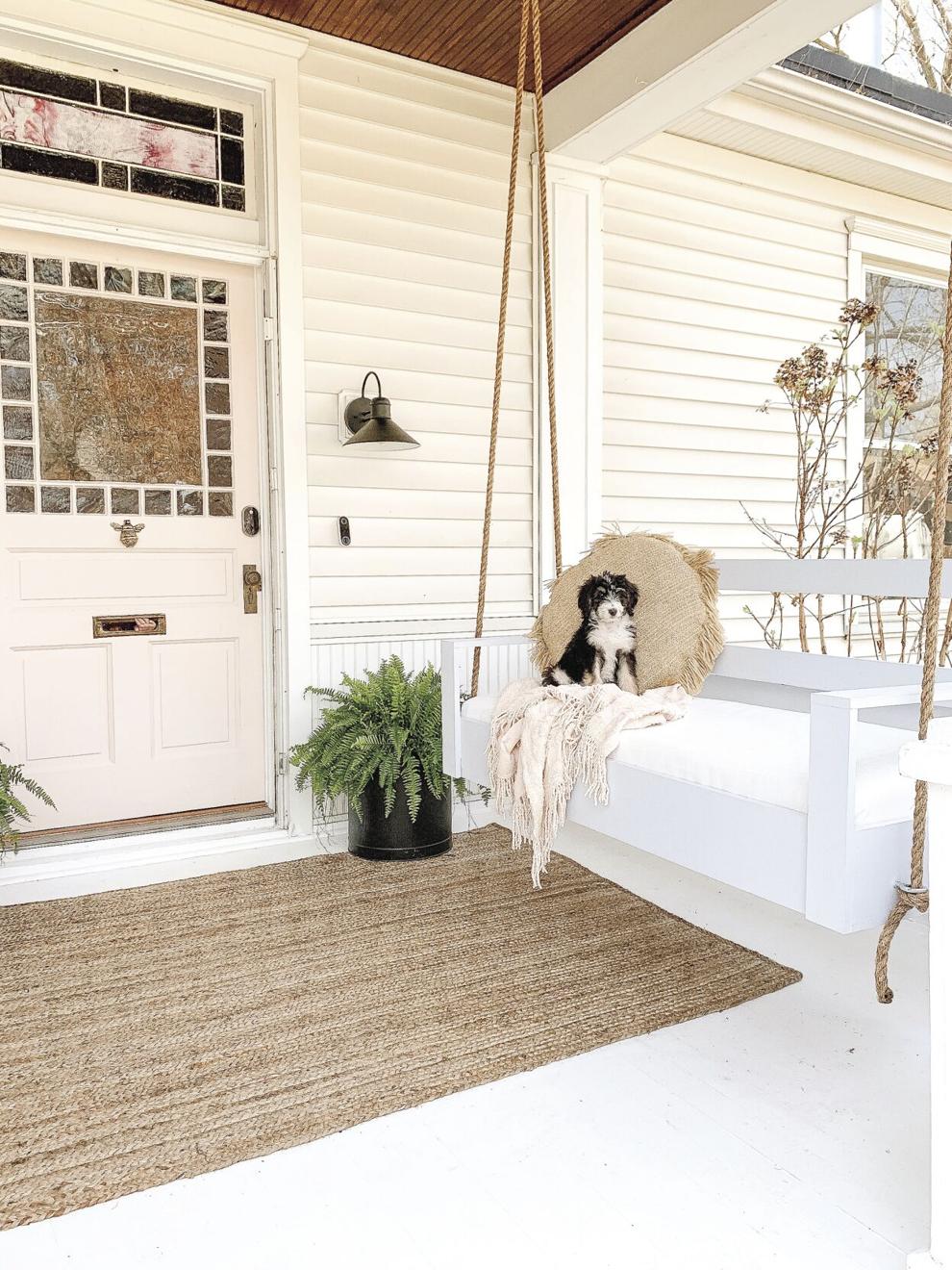 When visiting Arin Jura's Kirkwood home, you'll notice her signature design style before she even opens the door.
Her pale pink front door features charming antique stained-glass windows and recently has been embellished with a rustic gold bumblebee, which coordinates with the gold bumblebee on the mailbox and the bumblebee throw pillow resting on the do-it-yourself porch swing.
"When we were designing the front porch and kind of picking our design elements, I wanted it to fit the age of the home and the charm, but I also wanted people to kind of know this is an Arin Solange home when they drive by," she describes.
To Jura's 53,400 Instagram followers and thousands of Arin Solange at Home blog readers, she's known as a DIY queen with a keen eye for clean, bright and "vintage-modern" interior design. Oh, and she loves pink.
"Everyone who follows me knows I love pink," she affirms.
Jura's current abode is about 150 years old, but it's only been home to her family for about a year. She had hoped to have redesigned every nook and cranny by now, but she admits this home is still a work in progress. Individual projects keep Jura motivated, though, and they keep her followers hooked on her renovation hashtag, #arinsolangehistorichome, on Instagram.
The potential of this older house is what drew her and her husband to it, she says, and it's allowed her to embrace some grandmillennial design preferences.
"You kind of have to let a space speak to you," Jura explains. "If you try really hard to work against architectural details of a home, then it's just never going to look quite right. And the bones of this house are obviously very vintage. I just realized if I lean into that, everything will look so much more cohesive."
Jura's recent design triumph, completing her 7-year-old daughter's bedroom, involved working with the unconventional shape of a small, second-floor room with darling bay windows.
"I was really adamant about making this both an aesthetically pleasing room but also really functional for her as a little girl – and something that was easy for her to keep clean and orderly so that I didn't lose my mind on her," Jura laughs.
Jura guided her oldest daughter, Avé, through design decisions and let Avé's paint choice, a pinkish Valspar Desert Bone, inspire the room's aesthetic. That color now coats the ceiling and fills the arches painted on the wall behind Avé's daybed.
In a blog post, Jura writes that it's "still very 'pink' but light enough to keep the room feeling tall and open. ...I explained that we didn't want to make the paint too dark and make her room feel like a cave."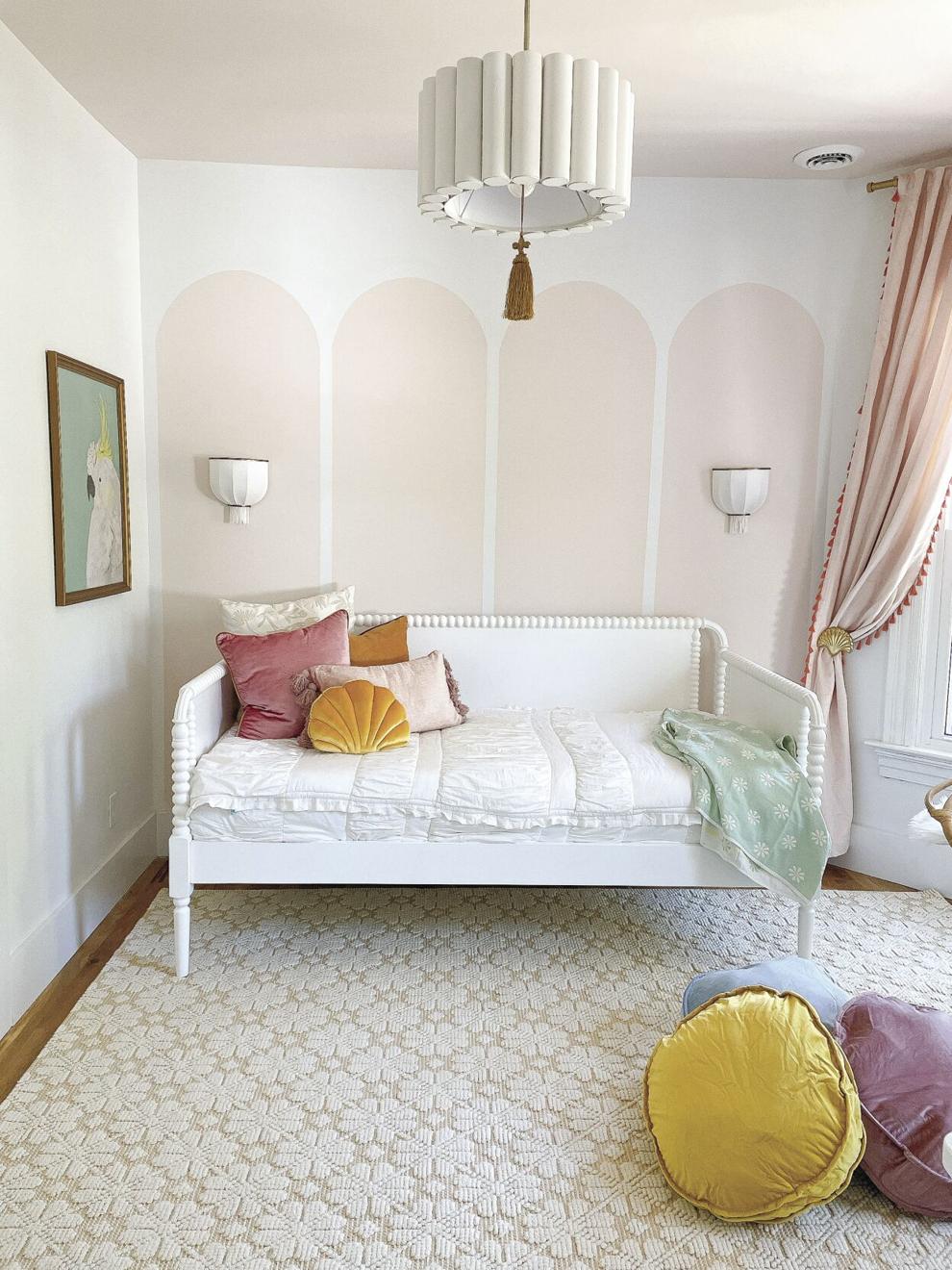 Jura describes the curtains as being an ideal shade to complement the paint, and "the added tassel edge broke up the color a bit." Elegant wall sconces bring a soft glow to the room when lit, and additional light is available overhead thanks to Jura's DIY, PVC-pipe light fixture. Another DIY success, Avé's dresser, is a revamped IKEA dresser with a floral, resin-mold design added to the drawers.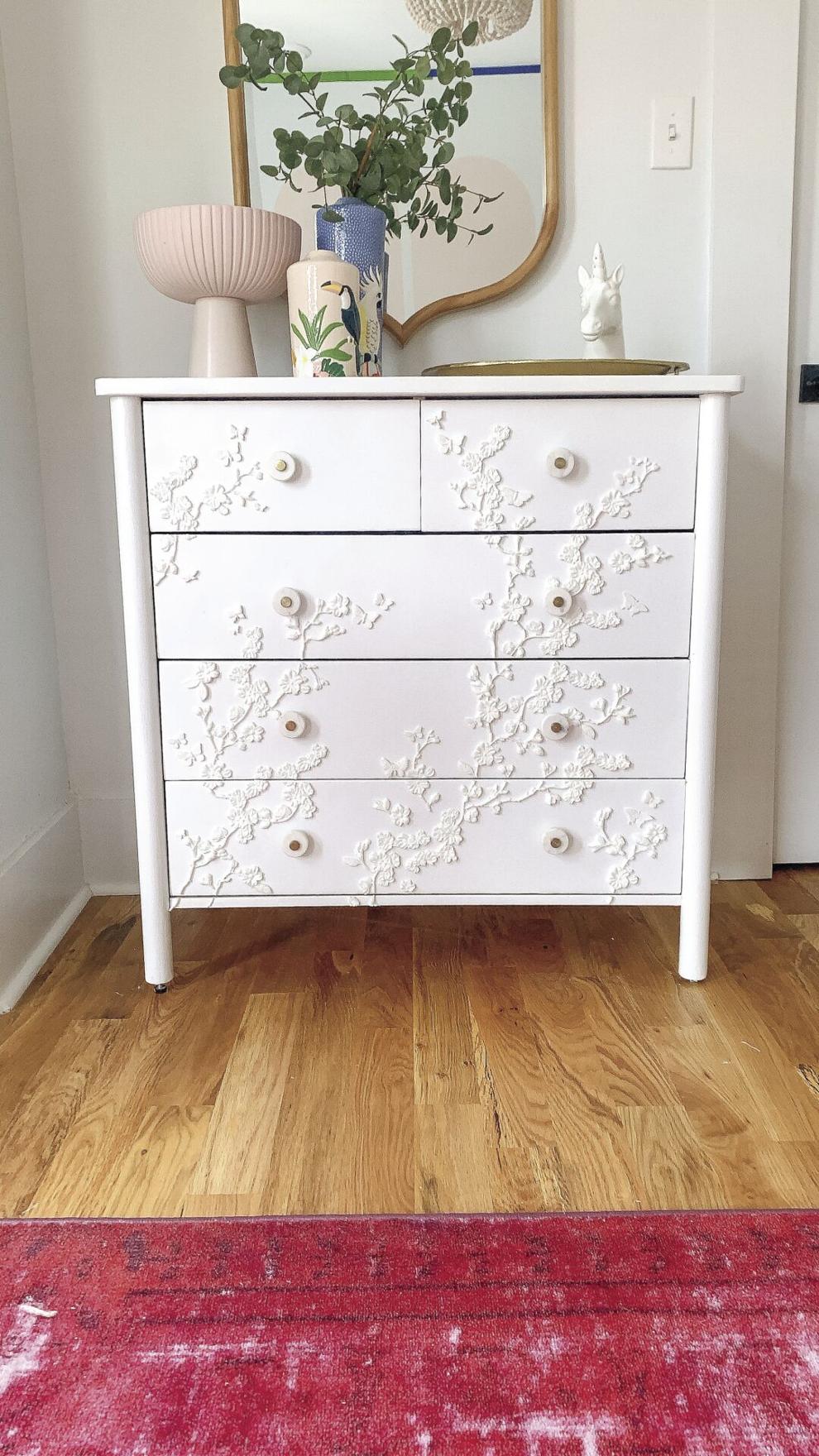 Additional practical details include a Beddy's bedding set with zippers for easy bed-making, velvet floor poufs that double as stuffed-animal storage and a hanging rattan chair for lounging by the windows. Jura details all her décor picks at arinsolangeathome.com/valspar-desert-bone-bedroom.
"Watching the kids' rooms come to life has been really fun over the years," Jura reflects. "My kids get so excited about it, especially my daughter. Avé really appreciated that her space was hers again."
Jura completed her 9-year-old son's bedroom first and says she's working her way down the age lineup, with her 4-year-old son's and 2-year-old daughter's rooms next in line.
Blending home projects and motherhood with her career as a blogger and social media influencer sometimes triggers "mom guilt," Jura confesses, so she's working toward better balance in the future – perhaps with a shared full-time gig with her husband, Sam Jura, who thrives with power tools and often helps make her DIY dreams a reality.
"I needed something that I had control of in terms of success, where my success wasn't just how my kids are doing, because I realized sometimes that's out of your control," Jura says about why she started blogging. "I just wanted something for me. I thought it was just going to be a hobby, but it's not a hobby anymore. It's a full-time job."
Just as her interior design taste has changed over time, her career goals have evolved a bit, too: "I want to look back on how hard I've worked, knowing that it was to build a happy home."
Arin Solange at Home, arinsolangeathome.com