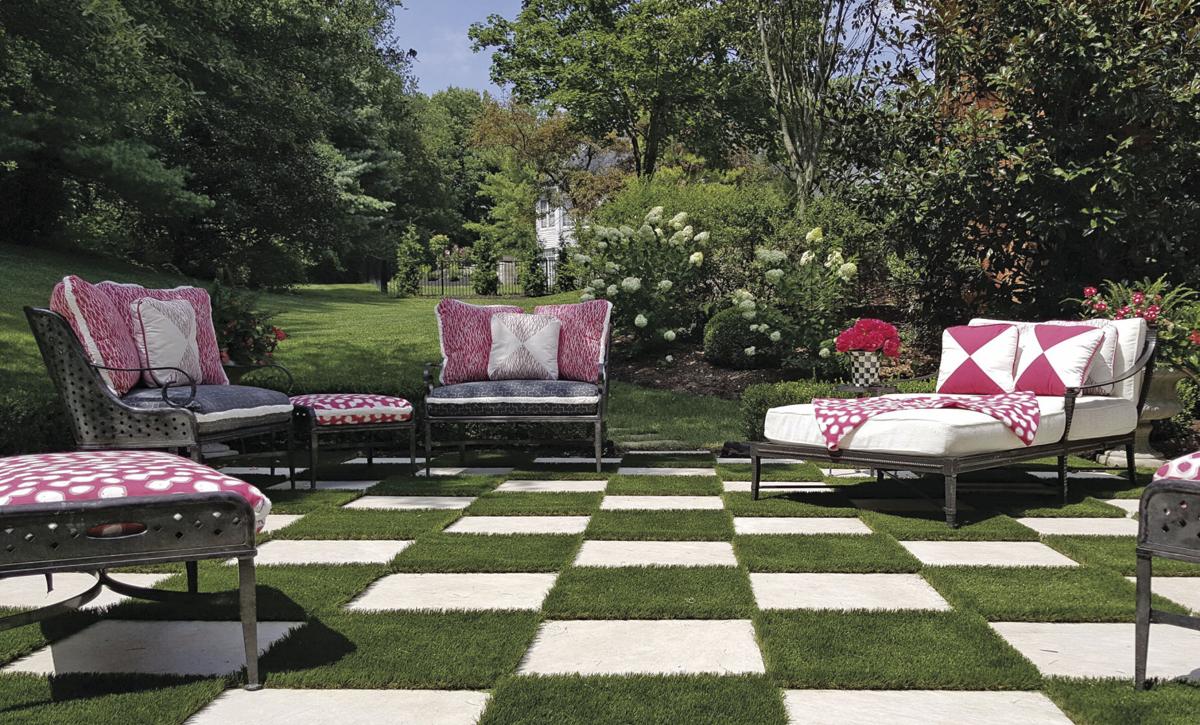 Paradise, thy name is patio!
Patios used for fun and entertainment are vital living spaces, perhaps now more than ever, given social distancing and other COVID-19-related precautions that generally eighty-six indoor entertaining.
In that regard – with the cool clarity of autumn swift increasing – it seemed expedient to confer with a pair of local experts about ways to welcome relatives and friends for a bit of alfresco bonhomie: award-winning designer Gigi Lombrano of Gigi Lombrano Interiors and Nick Liuzza of NJL Custom Homes.
"Flexibility is the key to hosting an outdoor gathering," confides Lombrano, who both belongs to the American Society of Interior Designers and holds the esteemed NCIDQ certification through the Council for Interior Design Qualification.
"When preparing to host, think 'divide and conquer,' using comfy chairs that are easily rearranged, along with small tables which provide a place to hold a drink, as well as your phone/keys and some snacks."
Despite the promise of autumnal cool, Lombrano also recognizes the regularity with which Mother Nature breaks that promise here, with heat and humidity lingering long after they should have abated – usually, alas, mere moments before snow starts falling.
"Another important consideration is shade," she says. "This could be provided by freestanding shade umbrellas or a freestanding electronic pergola that would open and close to provide shade. Adding fans would be key to provide a breeze or keep mosquitoes and bugs away."
From that recommendation, Lombrano broaches the topic of stouter suggestions for augmenting divertissements out-of-doors. "A more permanent solution would be a loggia where you could put fans on the walls or the ceiling, add lighting, and even heaters for nearly year-round use," she says. "A comfy fire pit adds ambiance to the space. And the ultimate: an outdoor fireplace with a TV and sound system to watch movies or your favorite sports team."
Those final suggestions from Lombrano dovetail with the expertise of Liuzza, who owns NJL and, according to his company's website, "has managed the construction of over 700 homes in the St. Louis area." He tenders a heartening bit of information in regard to his business.
"To much of everyone's surprise, including ours at NJL Custom Homes, the amount of inquiries for outdoor covered living spaces, featuring fireplaces and paver patios, have more than doubled during the COVID-19 era," Liuzza relates.
"We think this is solely attributed to people knowing they can't leave their house right now for entertainment. With the current social distancing restrictions in our community, people are in need of a luxury place to curl up after a long workweek in their home office."
Liuzza offers an example of an NJL project that he characterizes as "the epitome of outdoor living. This area boasts cedar wood tones with built-in stone accents. From barbecuing to relaxing in front of the fireplace, our clients will have no problem utilizing this space during social distancing."
Beyond that, Liuzza mentions the potential for adding liquid assets – in more than one sense of the word liquid: "We're also installing cocktail pools more now than ever. These compact pools offer a cozy and more affordable oasis than the traditional backyard pool. Cocktail pools are extremely versatile and offer a ton of customization, making them extremely sought after."
With a bit of luck, the preceding recommendations from Lombrano and Liuzza will inspire area residents to improve their own abodes with a piece of heaven on earth.
Gigi Lombrano Interiors, 314-707-7291
NJL Custom Homes, 556 Leffingwell Ave., Kirkwood, 314-496-8312, njlcustomhomes.com
Be the first to know
Get local news delivered to your inbox!