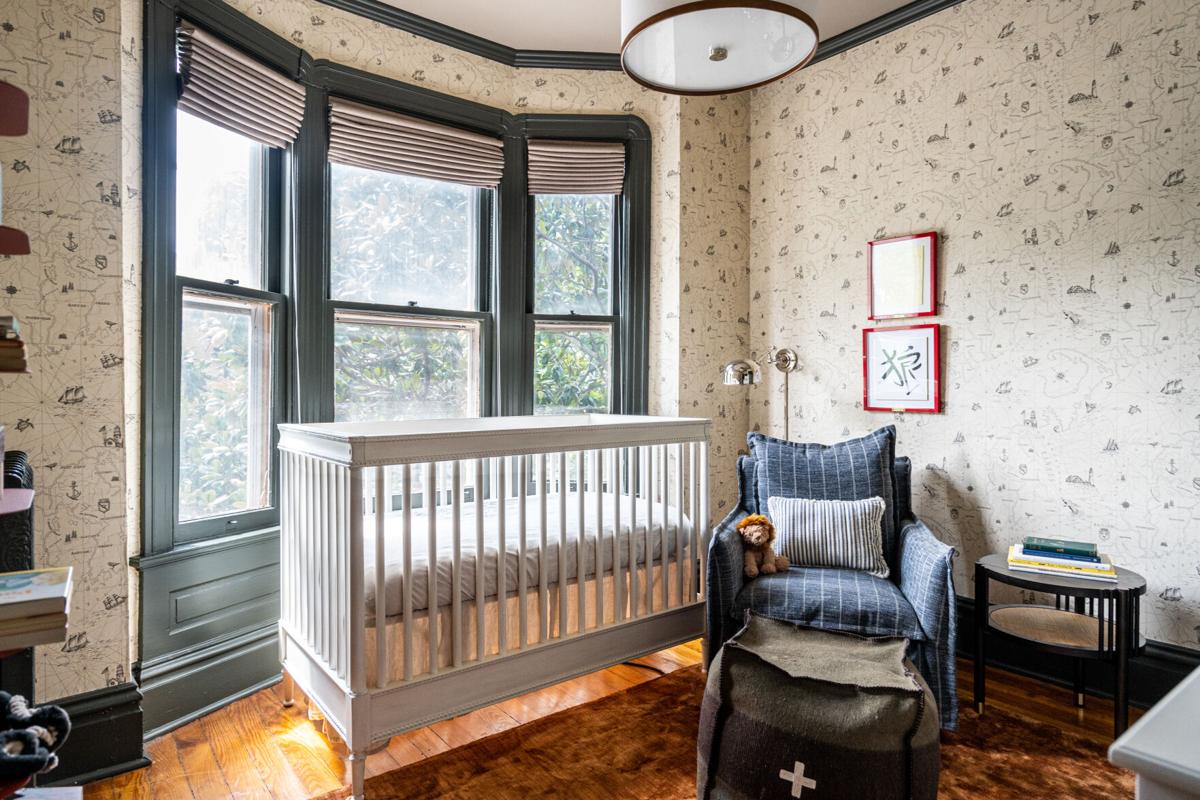 Two St. Louis designers, Channing Krichevsky of C&M Interiors and Ashley Obradovits of Karr Bick Kitchen + Bath, recently welcomed newborns, so they know firsthand how to make nurseries precious – yet practical. Step inside their infants' sanctuaries as they share tips for fun, functional décor and adorable, useful organization elements that serve parents and baby alike.
Channing Krichevsky, C&M Interiors
When creating a nursery for her 5-month-old son, Wolf, Channing Krichevsky aimed for a classic, timeless room that fit into the aesthetic of their beloved 1907 Victorian home.
"We made selections that felt mature, but also young and fresh for a little boy," Krichevsky says, noting that her family avoided doing a typical blue, baby-ish boy room. "We used greens and taupes, and the rug is a burnt camel [color]."
Because Krichevsky and her spouse steered clear of a literal theme, the jumping-off point for the whimsical but functional nursery was Ralph Lauren's seaports wallpaper. "My husband is really into sailing," Krichevsky says, adding that the space's subtle nautical nods include a mirror with leather-and-brass details similar to a porthole.
Making use of every inch of the small space, the C&M Interiors designer thoughtfully hand-picked quality, appropriately sized pieces, from the cute crib, with rope detail, tucked into the beautiful bay window to a compact, gray-painted wooden dresser, a slender vertical metal bookcase, and a felt-and-leather diaper caddy. "We made sure [Wolf] has open floor space to play as he grows," Krichevsky notes.
And for a personal touch, Krichevsky added two framed pieces of sentimental artwork. "One is calligraphy I did in Japan … It is Wolf's name in Japanese," she explains. "The other is a song my dad, who is a musician, wrote for my brother and I when we were kids."
C&M Interiors, 937 Midland Blvd., St. Louis, 314-328-1923, candminteriors.com
Ashley Obradovits, Karr Bick Kitchen + Bath
Last spring, Ashley Obradovits designed a sweet space for her second daughter.
"Nurseries are so fun to design," the Karr Bick designer says. "It's where parents feel they can get outside their design aesthetic and take more chances, and the end results are always rewarding."
For a pretty yet practical nursery, Obradovits and her husband, Michael, desired a design that left room for their 6-month-old, Charlotte, to grow up like her big sister, 3-year-old Piper.
"I lean away from the nursery designs with airplanes, zoo animals and large decals because they only last for a few years before you feel you need to update the space," she explains. Instead, Obradovits started with a lovely chinoiserie wallpaper and added traditional wainscotting, painted pale pink. "My daughter's nursery is the most envied room in our house at the moment," she notes.
Obradovits advises parents not to overdo, but trickle in themed elements. "The nursery essentials are a crib, rocking chair [and] dresser with changing table essentials," she explains, noting nursery items can be stored in beautiful ways within your theme, like her little one's scalloped wicker baskets for soft toys and blankets, wicker hooks on the backs of doors for hanging bows, and short baskets to slide under the crib for extra sheets and diapers.
To add character, swap complete furniture sets for mix-and-match new and old pieces, Obradovits says, noting that it's also charming to incorporate personal heirlooms. "We used a mirror that has been in my family since the '70s and had it repainted, and [a repainted] ceiling light [that] was in my room growing up. I love designs to evoke emotion and nostalgia."
Karr Bick Kitchen + Bath, 2715 Mercantile Drive, Brentwood, 314-645-6545, karrbick.com