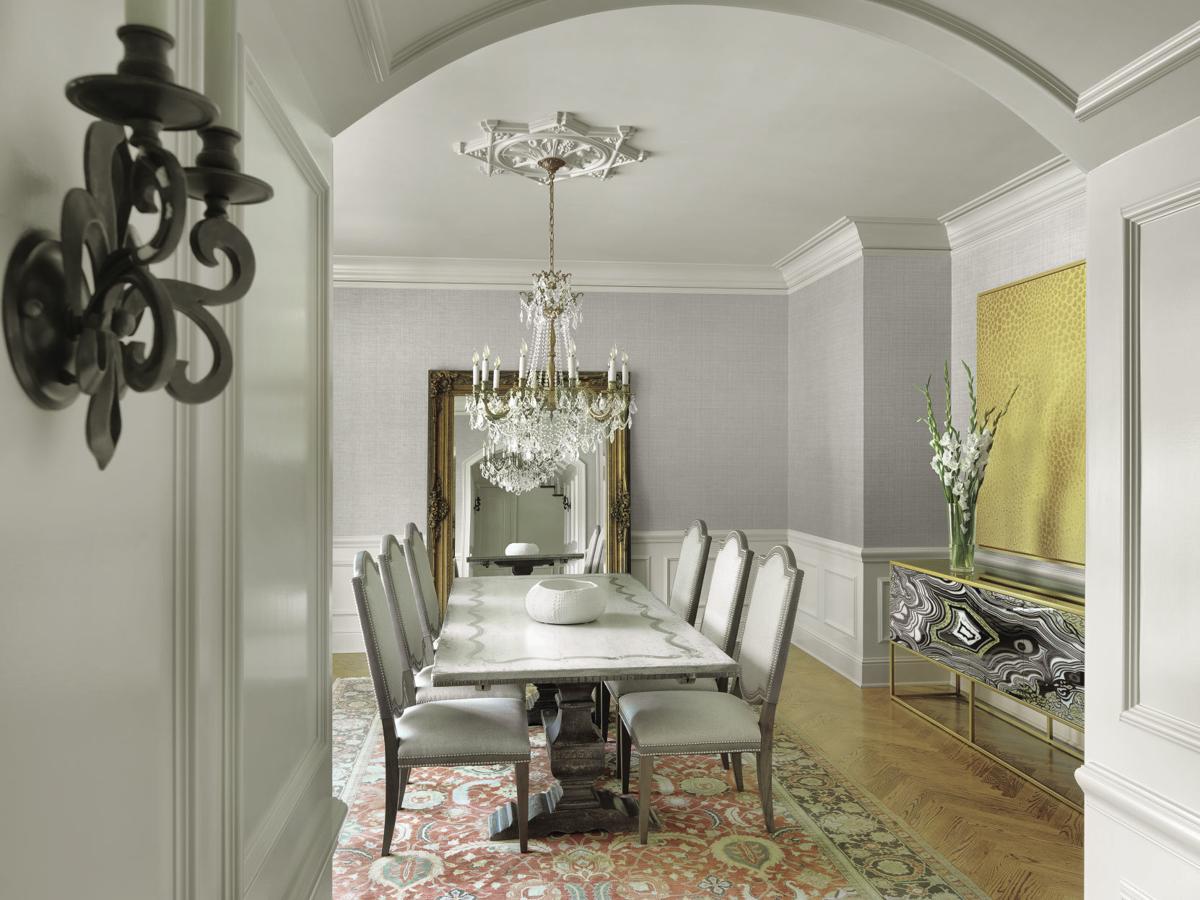 For April Jensen and her team at ADJ Interiors, the family living in this Huntleigh home project is what makes it so special.
"They were basically moving into their dream home, from Chesterfield into Huntleigh," Jensen says. "I think they were just so appreciative to have the luck and ability to buy this home. He's a business owner, and she's a sales consultant in the cosmetics industry, and they have three children, one of whom has Down syndrome. They're just an amazing family. They're very blessed, and they're very aware of their blessings. It was great to work with people that were just, in general, so happy."
The excitement the family had for their new home only grew as the project continued, and what began as a simple painting job and light renovation turned into a gutting of their entire first floor and lower level.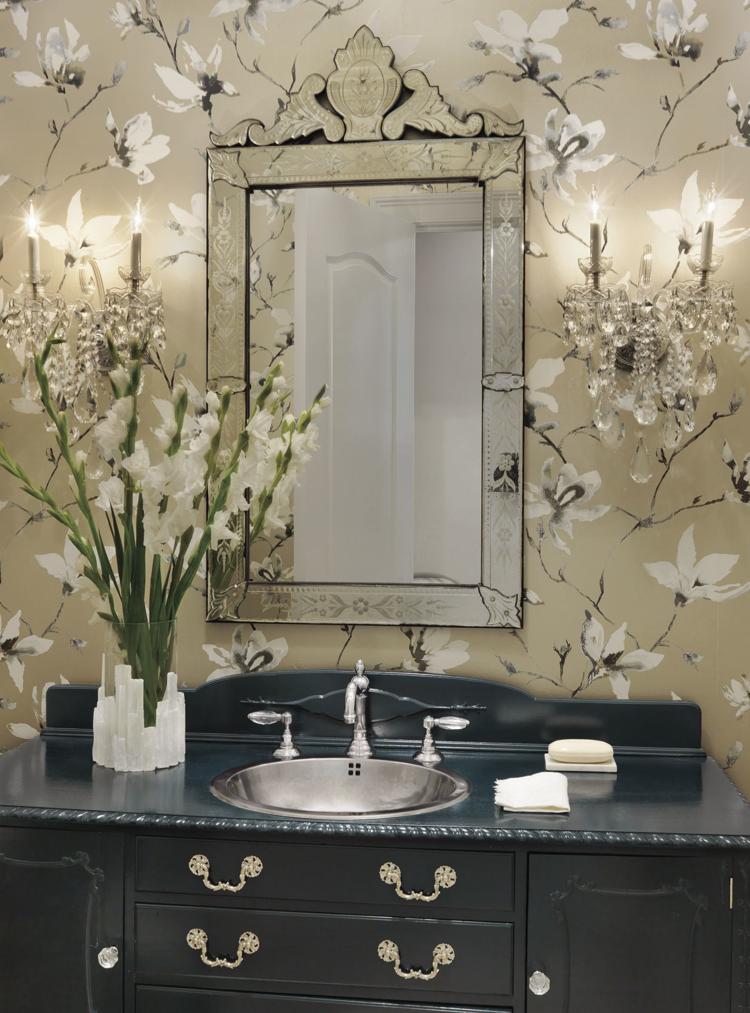 "As we started to get into the adjustments and the things that they wanted, it all unfolded into this full remodel," Jensen says with a laugh. "Something that is fairly common in these renovations is that clients always creep on their scopes because they start realizing, 'Oh, my gosh, this looks amazing; I don't want to just do this in one room and then walk through the rest of my house and think we should have done that.' So we really try to establish the full scope upfront and get bids for the largest-case scenario."
And the largest-case scenario is exactly what the Huntleigh home turned into. With the dramatic alteration in the scope of the project, Jensen notes that she and the clients were consistently facing the question of what to change, what to keep the same and what to scrap entirely.
In the end, the design ended up combining the family's beloved French country-inspired furniture, modern touches courtesy of ADJ, personally commissioned artwork by St. Louis artists Peter Manion and Ted Collier and architectural treasures original to the home, like the built-in bookcases and the ceiling paneling.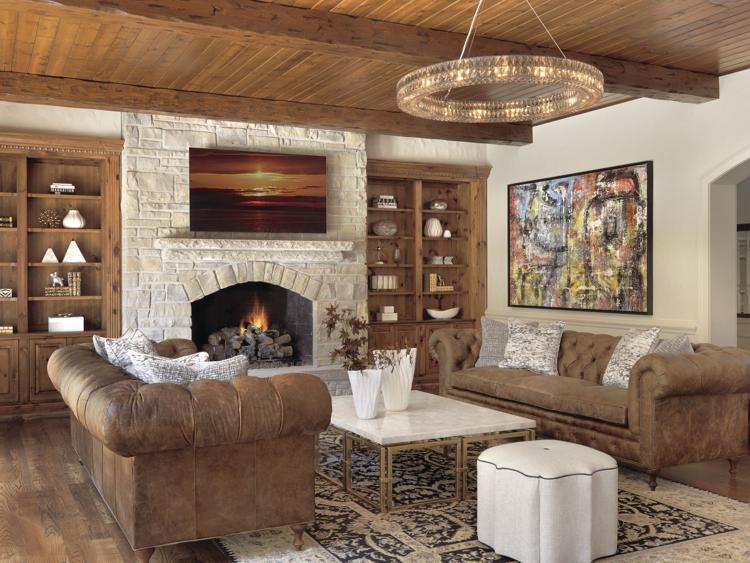 "The process that we follow in all of our projects is, we gather a complete story for the home itself, so that wherever you are, in all of the spaces, there's a common thread," Jensen explains. "There's a commonality and a tone to the house that is in each room, uniting the interior design of each process."
For the Huntleigh home, that commonality was all about the bling. "The wife of this family absolutely loved crystal and light, but she wanted everything to be really quiet and serene at the same time," Jensen says.
The center of Jensen's design was the room that also held the most gravitational pull for the family. "Their kitchen is their favorite part because that's where they're a unified family," she says. "This is where their family spends the majority of their time, so we kind of let that take the lead for the rest of the house. I think it met all of her dreams to have these crystal chandeliers, to have this beautiful quartzite countertop, to be able to have all kinds of activities going on at the same time and to have space for that."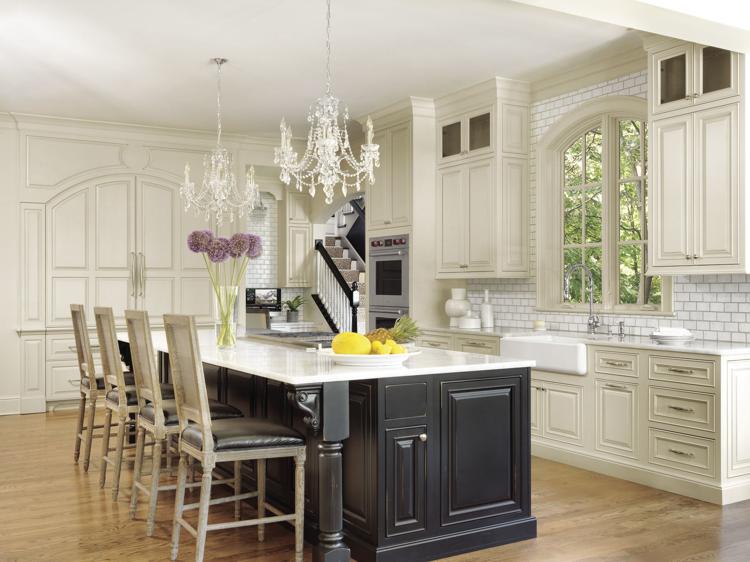 With a timeless aesthetic that balances a French country style with a modern sensibility, the cherished room also features an airy Waterworks backsplash in a gorgeously textured shade named Sugar, countertops called White Diamond that create a glistening effect and cabinets and woodwork in Benjamin Moore's Maritime White.
With the wife's favorite color of blue in mind, Jensen interlaced the hue throughout the dining room and kitchen, as well as the showstopping butler's pantry. "She really wanted kind of a 'wow' factor in her butler's pantry that is in between the kitchen and the dining room," Jensen says. "In the dining room, it's a pale, pale blue grasscloth on the walls, and then it goes into a deeper saturation as you walk through the butler's pantry, but of course, we added a little bling with that antique mirrored backsplash and gold accessories. It's very serene but, at the same time, I think sophisticated and unique to them."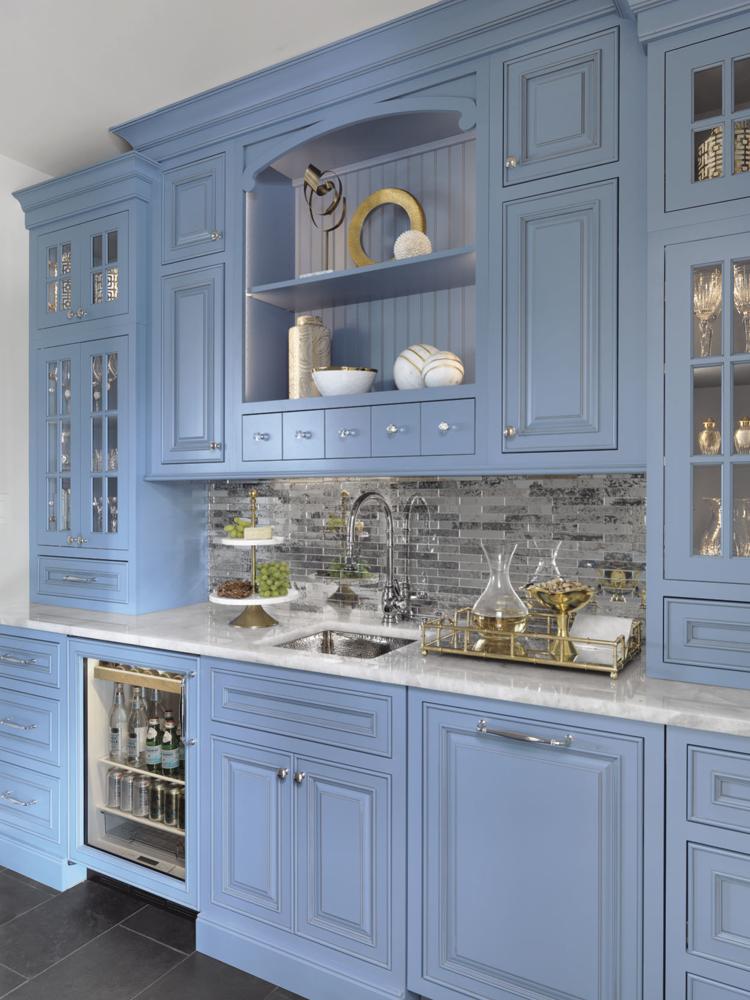 The other statement room in the house – the laundry room – is one that Jensen still admires. "Nobody likes to do laundry, but in there, I probably would," she says with a laugh. "It's so pretty and vibrant. That was actually an island in their kitchen, and we repurposed it for the laundry room."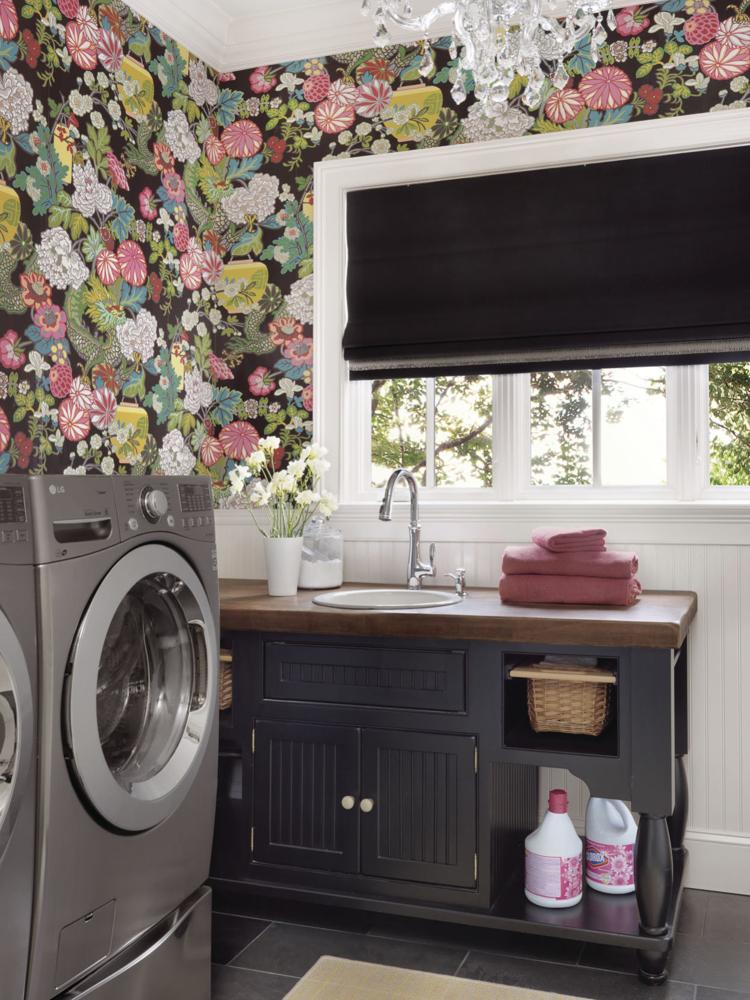 The flexibility and trust Jensen's clients exhibited as they repurposed and renovated these spaces were just a few of the reasons she enjoyed working with them so much. "One of the biggest challenges to every project is change," she says. "Even though people want it, it's really scary. I think it's human nature. But I think part of the reason this project turned out so beautifully is that they were great to take our advice and allow us to do what they had hired us to do."
Jensen says the joy her clients are still getting out of the space is the reason she does what she does. "At the end of the day, your home is where you experience the happiest times – and sometimes the worst days – of your life, and you want it to be comforting. It was just a pleasure helping these clients achieve their goals." 
ADJ Interiors, 2800 S. Brentwood, Floor 3, St. Louis, 314-230-9099, adjinteriors.com
Be the first to know
Get local news delivered to your inbox!