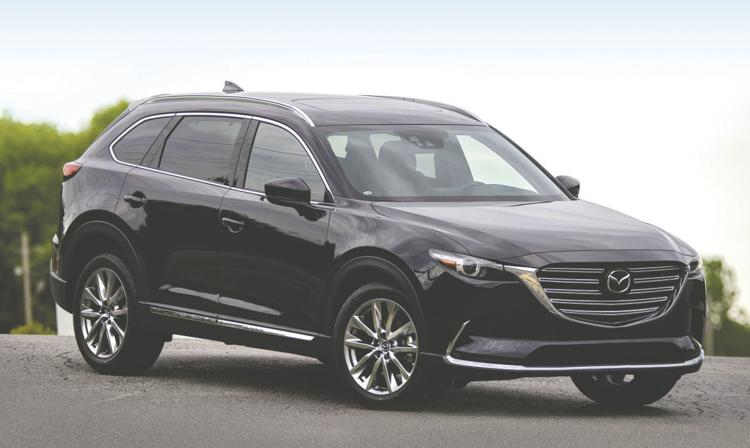 The year 2017 belongs to something of a golden era for potential automotive buyers.
Quality choices abound, and in many ways, making a poor choice has grown more difficult than making a good one. Family sedans offer the horsepower and acceleration of supercars from just two decades ago; manufacturing techniques have advanced greatly, so almost every new car gives a "bank vault" feel; and the rate of tech growth has fully entered the ski-ramp part of an exponential curve. In truth, buyers who just want a nice car could almost write all their options on a wall and blindly throw darts – they'd be fine.
But we don't review cars to summarize with simply "Yep, it's nice." Even in this golden age, real differences exist, where choosy buyers will still have reason to be choosy. And with a segment as diverse as the three-row SUV offerings, some cream almost certainly will rise to the top. Given such fierce competition, lines between mainstream and luxury have blurred. Features previously reserved for the mortgagelike car-payment brands have become available in places you wouldn't expect them, forcing some to wonder how much worth that German badge really has.
Mazda's all-new CX-9 numbers among those examples that pointedly ask, "Do I really need to pay more?"
Most manufacturers, even mainstream ones, build a flagship vehicle to generate buzz and to permit engineers to pat one another on the back about what they've accomplished. But Mazda, which arguably has some of the cleverest engineers in the biz, hasn't had a flagship car in decades.
So in a way, this three-row people-hauler ranks as its flagship – and it shows. Inside, Mazda has built what's without a doubt the most luxurious vehicle in its history. The rosewood trim looks rich and real, unlike some faux-wood plastic; also, doors close with a solid, satisfying whunk, and nappa-lined seats feel just right.
Automotively astute readers will remember the Ford and Mazda partnership from the '90s and 2000s, with the outgoing CX-9 being one of the last vestiges of that partnership. That CX-9 shared a chassis with the Ford Flex and was long overdue for replacement.
With that partnership ended, this new CX-9 has become 100 percent Mazda. Every new Mazda now bears a Skyactiv badge on back; Skyactiv could be thought of as an idea, resulting in a bucket of technologies, all revolving around optimizing efficiency. Under the hood, a turbocharged 2½-liter engine produces 250 horsepower and 310 torque all the way down to 2,000 rpm. Those numbers meet or beat the larger (and thirstier) V-6 engines of competitors.
With weight the enemy of economy, Mazda has managed to shave more than 250 pounds from the new CX-9, which still remains larger in every dimension. And Skyactiv gets down to the nitty-gritty, too: Details as seemingly slight as reducing transmission frictional losses and tucking all underpinnings into the floorpan for smoother airflow add together for noticeable improvements. Instead of building a flashy six-figure flagship car, Mazda's engineers flexed cerebral muscle.
Behind the wheel, this new Mazda leaves two lasting impressions.
The first lasting impression, car lovers likely will expect from Mazda, with the CX-9 (like everything in the company's lineup) undoubtedly more fun to drive than its competitors. Many large SUVs give a feeling of not having feet under you when cornering aggressively, like standing on a 30-foot ladder in a windstorm. The CX-9 still feels big, but instead of feeling as if it might topple over in corners, it responds surefootedly. No, driving a people-hauler doesn't have to be emotionally numbing.
The second lasting impression, less expected from Mazda, involves quiet solitude. Blindfolded passengers could easily be convinced they're riding in a Lexus or an Audi. This type of comfort typically comes at the expense of driving satisfaction, and Mazda's ability to offer both makes the CX-9 all the more impressive.
So yes, the CX-9 ranks as one of the best three-row SUVs at its price point, if not in the entire segment. Still, it's not perfect.
We get spoiled amazingly fast, and although it might sound like a small thing, I'd appreciate a heated steering wheel. Also, the SUV's infotainment gets the job done but feels a bit rudimentary in doing so. Under full-throttle acceleration, moreover, the capable powerplant loses a smidge of its composure and brings some torque-steer with it. And even though it would compromise chassis rigidity, I want a much larger, panoramic sunroof, darn it.
That said, the rate of improvement in modern automobiles remains astounding. As mentioned, it's become tougher to make a bad buying decision than a good one, and the Mazda CX-9 clearly seems a very good decision indeed.
Much as the Volvo XC90 shines a bit brighter than its competition, so does this Mazda. Its interior's a bit more luxurious and refined, with road noise a smidge lower; exterior styling, meanwhile, looks just a dab edgier, and driving dynamics turn that SUV frown upside down.
Add all these small victories together, and you total what feels like a clear-cut win. Forget the badge – the Mazda CX-9 delivers the experience and feel without a sticker price to match.
To learn more about the 2017 Mazda CX-9, visit mazdausa.com.
PRICE AS TESTED: $45,255
LOANER FROM: Bommarito Mazda West County, bommaritomazdawest.com