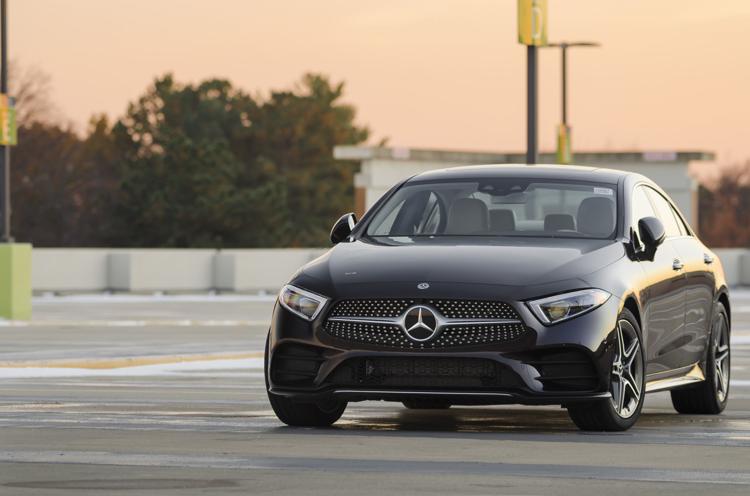 "Well, that's new" – those words repeated in my head like a techno track's bass line as I drove the 2019 Mercedes-Benz CLS.
When Mercedes-Benz of St. Louis contacted me with news of something "cool" to drive, my lukewarm reception likely left the dealership's people wondering what it takes to excite me. As a non-AMG four-door coupe, the CLS 450 wasn't on my must-drive radar. My assumption was it would be an extremely well-built but ultimately uninvolving means of transportation.
Little did I suspect the tricks hiding up Mercedes' figurative sleeve for the '19 model.
Although evolving visually from the '18 CLS, the new sheet metal emphasizes unbroken, flowing lines. The previous arches over the rear fender wells have been replaced with a smooth, flowing curve from tip to tail. Its passenger greenhouse follows the same contour and slopes so gracefully you have to look close to notice it's a four-door. Taillights appear as if they were styled by an artist's brushstroke. Visually, the '19 CLS 450 exudes class, with just a bit of aggression from the muscular front fascia. Although the CLS 450 falls around the middle of the Mercedes model lineup, "in the flesh" it presents itself as a flagship.
Sliding inside reminded me of two past favorites: the Volvo S90 and Range Rover Velar. The combination of macchiato beige, magma gray nappa leather and open-grain sen wood presented a fresh, airy Scandinavian feel. And its use of light-emitting diode illumination, contrasting materials and strikingly cutting-edge tech integration instantly rewired my brain for happy thoughts, as the Range Rover did. Within seconds, I felt at home in the perfectly contoured seats and behind the steering wheel, which begs to be held. For first impressions, the CLS makes a sparkling one.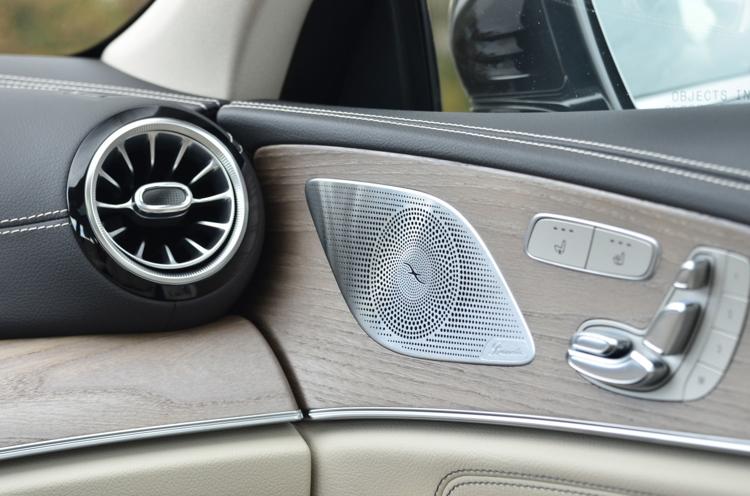 But it's beyond that first impression of impeccable look and feel where Mercedes makes its case for having the best engineers, ones who have put together, in my mind, the most complete automotive package I've seen. This car bubbles with revolutionary tech – not just tech for tech's sake, but ideas that move forward today's thinking of what a car can be. For some time, to be honest, cars have been regurgitating the same tech ideas, many of which I could (and do) live without. Blind-spot monitoring, lane assist, collision-avoiding braking – to my mind, all worthless.
A few of these rehashed ideas, like radar cruise control and dynamic driving modes, do advance the joy of driving, but in large part, the tech we've come to expect is just empty options that add to the cost and complexity with little real reward. What Porsche accomplished with cutting-edge tech ideas in its new Panamera, using them to advance performance, Mercedes has done to advance not just performance but every aspect of motoring.
Parsing a list of headline ideas this long isn't simple, but perhaps the feature piece of the CLS 450 is what Mercedes calls EQ Boost. Not simply one new bit – instead, EQ Boost makes possible an entirely new game plan. Imagine a large-diameter starter/generator sandwiched between the engine and transmission bellhousing; as the internal combustion engine spins, so too does this hunk of copper and magnets. As it is spun, it creates current – not your typical automotive 12-volt, but a much more useful 48-volt. This 48-volt potential is stored in a nearly 1-kilowatt-hour lithium-ion battery pack that can then be tasked for other jobs. For instance, electron flow can be reversed, and instead of creating current, the starter/generator can function as an electric motor to the tune of an additional 21 horsepower and 184 foot-pounds of torque. If that were the only benefit of this less complex, less costly and more seamlessly integrated mild hybrid system, it would be welcomed, but the benefits go much further. Being 48-volt, the system supplies enough juice to allow elimination of all ancillary drive belts, air conditioning, water pump and so forth, which are all driven by electric motors now. And before you bellow about repair costs of all those electric bits, remember the time between failure of electric motors today is far less than spinning rubber drive belts.
The EQ Boost system is so comprehensive, there's no way to flesh it out more concisely. In driving, the pairing of its all-new 362-horsepower turbocharged inline six and the starter/generator filling in the torque curve before the turbo spins alive is exquisite. It's Tesla smooth, with the benefit of a nice soundtrack as revs increase. With a 0-to-60 time of 4.8 seconds, it doesn't rearrange internal organs like some others can, but this also isn't an AMG model, which is coming shortly complete with additional motivation.
I haven't even mentioned how good the Mercedes-built nine-speed transmission is or its merging of dual-clutch with traditional torque converter automatics. Not a mention of its infotainment-integrated aromatherapy or allergy-stopping air ionizer. I haven't even delved deeper into its incredibly mood-setting chameleonic interior, seemingly able to take on any feel from dance club to deprivation tank. How about the massive user-customizable display covering two-thirds of the dash or the nifty steering wheel-mounted touch motion sensors to control it? Nothing.
The stagnation of tech has ended. This marks the first time I've driven a car and felt as if I had peeked into the future. Cars like the Acura NSX make you feel you're seeing the future of performance while employing rehashed tech in other areas, whereas the '19 CLS 450 paints a more complete picture of the future. The ideas are bold, they're smart and nearly all of them provide substance – not just an automotive sugar rush. Desire for a more chiseled, muscular character should be addressed in the upcoming AMG CLS 53. Until then, the CLS 450 ranks as the most comprehensively impressive must-drive in its class.