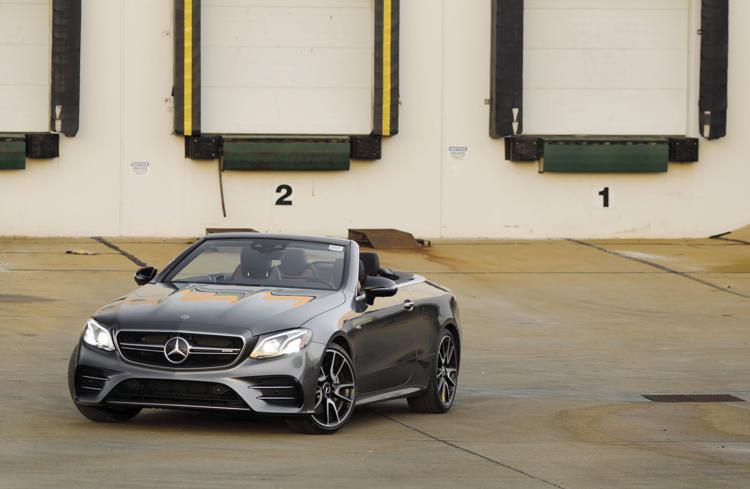 I admit I broke a few of my own rules in reviewing the all-new 2019 Mercedes E53. Typically, having an open mind – a clean slate, free of bias or preconception – is key to remaining objective. But after my recent test drive of the 2019 Mercedes CLS 450, a car that left me smitten, the desire to experience an AMG-tuned version of the same core package was unshakable. The CLS 450 was so good – easily my car of the year. With the arrival of the AMG E53, however, the promise of what made the CLS 450 so good, combined with an additional AMG kick in the pants, had me refreshing the Mercedes of St. Louis website daily hoping to see an arrival on home soil.
Much of my excitement to drive the AMG E53 centers around the technology suite Mercedes calls EQ Boost. Not just one piece of tech or new idea, EQ Boost is an example of how one idea can give birth to the next – and the next. To summarize, EQ Boost is a mild hybrid 48-volt system using a 1-kilowatt battery pack to power a starter/generator that can produce 21 horsepower and 184 pound-feet of torque. All this electron flow on tap allowed Mercedes engineers to convert belt-driven systems to electric, and having no drive belts shortened the powerplant package significantly. This gave space for the all-new 3.0-liter inline-six engine to drop into the same spot as the prior V-6. And as was found in the CLS 450, all this wizardry congeals into a new class standard for seamless performance. In the AMG E53, there's also a CLS 53 variant – a 48-volt-driven supercharger that reaches full boost instantaneously. The electric supercharger fills in for any lag of the exhaust gas-driven turbocharger, allowing a larger primary turbo to be used and boosting overall output to 429 horsepower.
Getting all these pieces to work together is a miracle of modern software development, but work together they do. It's all enough to propel the 4,500-plus-pound Benz to 60 mph in 4.4 seconds and through the quarter-mile in 12.6 seconds. In actual use, it feels even faster than that; the EQ Boost and electric supercharger provide a whack of instant torque like the bigger-turbo V-8 AMG cars. And it does so with silky smoothness that even some of their hand-built bigger brothers can't match. This package makes its case as a replacement for displacement.
As impressive as the auto's engineering is its sense of style. The use of materials, lighting and flowing forms in the interior are as soothing and at the same time invigorating as any I've seen. Consider all the ways passenger comfort is considered. The seats are heated, of course, but so too is the steering wheel, center armrest and door armrest. Then there's the AirScarf system on this cabriolet, which blows heated air on the back of your neck. So 55-degree top-down days are no less comfortable than 75-degree days. Oh, and don't forget about the massaging seat function, as well, because you'd expect nothing less. Every interior surface both looks and feels luxurious. The steering wheel feels as though it were made for my hands, no matter where hands rest. The electronic instrument display and 12.3-inch infotainment screen are sharp and saturated in any lighting. Almost unnoticed are the haptic feedback buttons on the wheel spokes that, once mastered, work so well you'll never find reason to reach for the center stack. One final bit of mastery is the soft top that folds in under 20 seconds and at speeds up to 31 mph.
AMG did massage chassis dynamics on the E53. Comfort modes are as weightless as you'd expect, but Sport+ dials up a bark from the exhaust and some eager handling character. This, combined with the grippier summer tires on my tester, helped dispatch my personal favorite Rock Creek and West Four Ridge roads with aplomb. I wouldn't describe it as nimble – this car is almost twice the heft of an Alfa 4C – but it is capable of painting a smile on the driver's face through twisties. The E53 is a grand tourer in the truest sense, able to dance but in a dignified way, like a waltz. This isn't a weekend track car, although my tester was outfitted with AMG Track Pace, which records video and overlays lap times and driving data like a racing car's telemetry system, in case you do decide to hit the course. That's a testament to this car's many personalities: Although sporty cruising may be its natural home, it's ready to shred rubber if you are.
I try to avoid hyperbole if possible. Proclaim one car "best," and you look foolish the next month when something better arrives. Readers tire of those endless appeals to spend their money, and honestly, when you look at the picture as a whole, few cars truly separate themselves from the pack. All that said, I'm going to stick my foot squarely in my mouth and declare this car, the Mercedes AMG E53 Cabriolet, as the best car you can buy for under $100,000. I've picked it apart looking for something to draw complaints about, and my only wish would be for a bit more aggressive body styling. But even if that happened, I might want this car's simple elegance back. I feel as though Mercedes has brought all the different arcs of luxury, performance and technology together into perfect balance.
PRICE AS TESTED: $94,845
LOANER FROM: Mercedes-Benz of St. Louis, mbstl.com