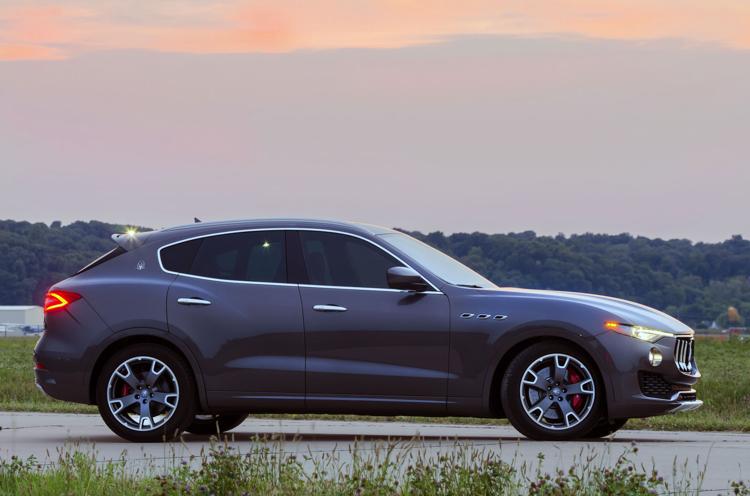 Most people associate sport utility vehicles primarily with the "utility" component – how well a voluminous pile of kids' soccer gear or inflatable pool toys fit in the rear. But to the pleasure of drivers hoping for a less soul-sucking experience, more focus is going to the "sport" angle. In 1999, BMW owned the sporting SUV space with the X5 – and then came the Porsche Cayenne in 2002 and later the Porsche Macan in 2014. Jaguar got in the game with the F-Pace in 2016, and even Lamborghini has a hyper-SUV planned for the near future. All this focus on making family hauling fun wouldn't be happening if sales numbers weren't there, but the market was still missing an SUV with Italian individualism.
Maserati recognized the trend some time ago. In fact, the Levante has numbered among the most torturously teased and talked about new products in some time. In 2011, the idea began as the Kubang concept, which appears very similar to the car seen here. However, back then, all the proposed details differed. Maserati being a cog in the Fiat/Chrysler wheel, it was thought the new SUV would be based on the Grand Cherokee platform. Thank the gods of memorable driving experiences that that didn't happen.
We ended up with something much more focused on that idea of putting "sport" back into the SUV. The Levante shares a platform with the Maserati Ghibli, which I reviewed in the January 20 Ladue News. Much more aluminum goes into the bodywork and suspension of the Levante than that of the Ghibli, which keeps added mass to a minimum. Mild revisions to the same splendid Ferrari-built, 3-liter twin-turbo V-6 found in the Ghibli boost output to 424 horsepower and 428 foot-pounds of torque. Given that I found the Ghibli to compete well in a space crowded with options fielding legit sporting chops, it's clear this proven blueprint bodes well for the Levante.
Keeping the Levante planted is a complex and advanced suspension system dubbed Skyhook. To my surprise, Kareem Abdul-Jabbar doesn't belong to Maserati's marketing team. Instead, Skyhook combines air springs and electronic adjustable dampers. This combo delivers five adjustable ride heights for all sorts of scenarios, such as sport, ice, comfort or off-road, along with combinations of damper stiffness to go along with those different driving modes. I found it to be quite accommodating. Want cushy? You got it. And when you want washboard-flat cornering, you can have that, too. Because this advanced suspension hangs from dual a-arm-front and multilink-rear hardware, such a satisfying result should come as no surprise. Admittedly, I set my expectations low for how an SUV will handle twisty bits. Doing so makes for a more rewarding sense of excitement when one greatly exceeds, like this Levante did.
The rest of the driving experience equally enticed, with one notable exception. My amorous feeling for the Ferrari-finished V-6 heart in the Ghibli drive remains with the Levante: This smooth and rev-happy piece pulls and sings all the way to the top. In Levante tune, though, I can't tell whether to fault turbo lag or a transmission brain fart, but on initial pedal mashing, there can be what feels like a full "Final Jeopardy" theme song's worth of time waiting for that rush of acceleration. Pressing the pedal through the firewall matters not; the delay remains the same. Once things get spinning, they continue without delay through snapping gear shifts, so it's a bit of a head-scratcher. I know intimately how turbo lag feels, and this feels more like the computer getting caught between "piddling-around-town mode" and "business-time mode."
I can happily report, though, that that ends my quibbles list. Otherwise, the Levante S is a joy to drive, both in comfort through day-to-day traffic and in an aggressive way – one of which Enzo Ferrari himself would be proud. The underpinnings don't just resemble those of the Ghibli, they improve on them – further refinement of the sporting purpose.
Maserati's new Levante then delivers on the promise on engagement behind the wheel. What sets it apart, however, is style and panache, both inside and out. This great-looking people-hauler may be the most distinctive on the road today. The deeply faceted front grill sports a muscular, elegant look and ties into the sculpted lights perfectly. It presents a shape full of 3-D interest; fat fender haunches pinch inward to a sleek greenhouse. The sharp rake angle of the rear glass gives it a much more slippery look, as opposed to the block-on-wheels of many SUVs. That sloped rear glass does, however, contribute to somewhat poor rear visibility – a price I'd willingly pay for the style it brings. And as attractive as the Levante is outside, the interior's even more stunning: Beautifully contrasting elements and materials abound. As with the Ghibli, the Chrysler parts-bin pieces are evident, but they're integrated much more successfully into the Levante interior. Sure, I'd still prefer an infotainment display with a less obviously American-looking font and layout, but the rest of the appointments look so pretty, I found myself not even noticing.
In a market segment growing more and more crowded, the Levante carves out a niche for itself. A similarly priced BMW or Porsche can easily evoke feelings of "that's nice," but the Levante makes you say, "Damn, that's really nice." And as with the other Maserati offerings, you'll likely never need to worry about parking next to your twin. Exclusivity's an implicit perk of Levante ownership.
In all honesty, I've already driven way more SUVs for Ladue News Test Drive columns than I ever intended. I'm happy I have, though, because I've found doing so doesn't have to mean you're stuck driving what feels like a three-legged bar stool. I'm not finished making the rounds yet, but the Maserati Levante S strikes me as a thoroughly rewarding, sharp driving experience full of tactile and visual oohs and aahs alike. Whether it's the best option or not seems irrelevant – it's a very good one with enough individual flair to make it a welcome addition.
To learn more about the Maserati Levante S, visit maseratiusa.com.
PRICE AS TESTED: $97,425
Loaner from Jim Butler Maserati/Alfa Romeo, jimbutlermaserati.com