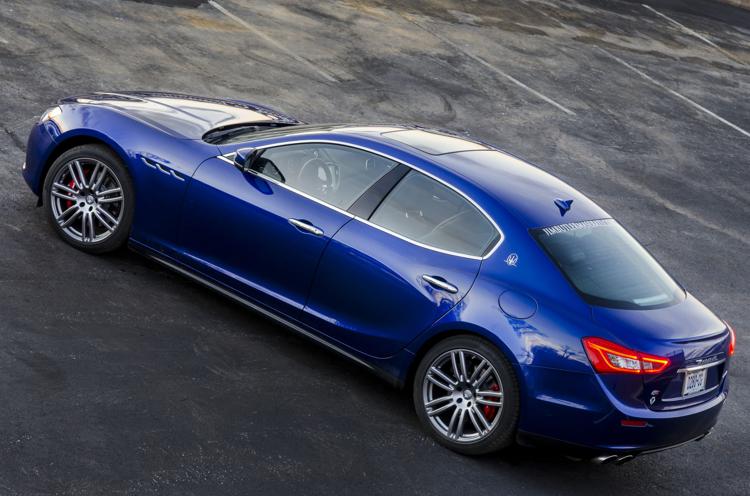 Maserati. Just speak the evocative Italian name, and you'll likely be met with wide eyes. The irony is, most have no idea what Maserati builds these days, only that it must be expensive. In the '80s and '90s, there was much doubt if Maserati would survive as a brand. Until the late '90s, Maserati would move only hundreds of cars total worldwide, essentially making them the unicorns of the automotive world. But with the infusion of Chrysler/Fiat cash, Maserati is making a comeback, and it is pinning much of its hopes on the new Ghibli. The question is, does it have a purpose for existing in an already-crowded luxury-sport sedan market?
In today's marketplace, a multisyllable brand name full of lore and romance alone isn't enough to move iron; you must truly offer something compelling. In the past – long past – Maserati would do that by fitting loads of screaming V-8 power to a sleek sheet metal shell and give the package plenty of eccentric Italian flair. But forget everything you know (or didn't know) about Maserati – it's making a push for mainstream. With that impetus for greater sales numbers comes risk: the challenge of earning broad appeal without becoming something less special.
How Maserati accomplishes this task begins as a somewhat peculiar assemblage of parts. Good news comes under the hood, as the long-standing association with Ferrari remains intact. The twin-turbo, 3-liter V-6 was designed by Ferrari F1 guru Paolo Martinelli, but it begins its life as a block cast in the Kokomo, Indiana, Chrysler plant before being shipped to Maranello, Italy, to be molded into its final 404-horsepower form. And in a world and automotive segment where nuance is everything, it's obvious the engine was designed and executed with extreme care and skill. Revs come freely and without protest, and the power band is wide and extremely linear. This is an engine I could live with, and it propels the 4,200-pound Ghibli S Q4 to 60 mph in a spry 4.8 seconds. Too many fixate on the numbers alone, and in that regard, the Ghibli S isn't top dog in the power department, but it's the detail of how it delivers that power that shines.
For the vehicular cognoscenti, knowing the Ghibli sits atop a modified version of the Quattroporte land-yacht chassis could give cause for consternation. Behind the wheel, however, those concerns vanish. Although certainly not flickably svelte like my personal 2,300-pound Mazda MX-5, the Ghibli belies its girth with an eager nature in the twisty bits. To be rewarded with similar balance and feel in its German competitors, you have to move into much pricier M (BMW) or AMG (Mercedes) territory. A bevy of words could be levied discussing the chords of this dance, but suffice it to say the electronic all-wheel drive system and Skyhook suspension are well sorted and deliver many a sly grin. Oh, and the brakes are phenomenal, too.
Inside, the Ghibli's mixed heritage becomes clearer. It's unlikely potential Maserati buyers will cross shop in a Chrysler showroom, but if they did, many similarities would be obvious. These shared pieces – infotainment, buttons, switches, even the engine start button – aren't necessarily a bad thing, but they are a bit of a fly in the punch bowl. Styling is where you expect Italians to show their emozione, but inside, the entire package comes off like the afternoon siesta ran a bit long on interior-design day. I felt the Chrysler influence was a bit heavy-handed here, but it was likely a necessary concession in order to meet the intended price point.
If Maserati had worked to create another crazy uncle, an eccentric that throws convention to the wind, comparisons to competitors would be irrelevant; the Ghibli would stand on its own as success or not. But by going after the market as a whole, this car is going to be broken down into base components and numbers, then scrutinized. When compared to the aforementioned BMW M5 and Mercedes E63 AMG, the Ghibli simply can't hang. Those cars are hammers, loaded with next-decade tech and dressed in freshly pressed Versace. But they also demand a much higher cost of admission, so we compare to the less top-of-the line models of 5-series and E-class. And in that comparison, the Ghibli not only stands its own but also stands apart in some ways. I wouldn't declare the Ghibli a winner outright in those comparisons, but if you're tired of losing your car in a parking lot full of German sedans, it will give you fresh breath without having to accept compromise in order to stand out.
To learn more about the 2017 Maserati Ghibli S Q4, visit maseratiusa.com.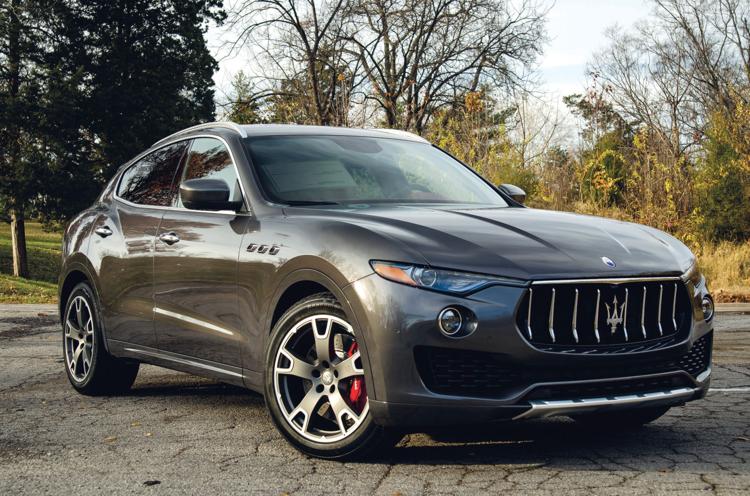 2017 MASERATI LEVANTE
That's a spicy meatball.
I'll admit it – I'm a shallow man, easily swayed by a pretty face. Bat a set of long eyelashes at me, and I'll be putty in your hands. So when I first saw pictures of the new Maserati Levante, I thought, "That's the first SUV I'd like to buy dinner." In fact, my visit to the Maserati dealer was originally in the hope of obtaining a Levante loaner. Alas, demand is so hot right now that no long-term loaner was available. But after my Ghibli drive, I did give a Levante a quick spin around the neighborhood.
Getting to know the Ghibli is certainly relevant, as this new SUV is based on the same chassis. My brief drive was in a Levante S, which receives a 20-horsepower boost to 424. Even with the 500-plus-pound penalty for the larger dimensions, this is obviously an engaging and fun people-hauler. My drive wasn't long enough to give real insight, and I look forward to spending more time with one soon. But truth is, this beauty batted her eyes at me and cast a spell. The exterior form flows and exudes emotion – in my opinion, it's easily the most beguiling SUV currently made. Inside, abounding improvements keep the emotion running high and even build it a notch further.
I'm a journalist, with journalistic integrity and whatnot. Responsibility would demand I leave opinions there until further investigation, but I also know what two plus two equals. The Levante takes the Ghibli chassis and engine I enjoyed and piles a list of improvements on it, topped with a form that proves that big cars can be beautiful. Forget responsibility – move the Levante straight to the top of your shopping list.