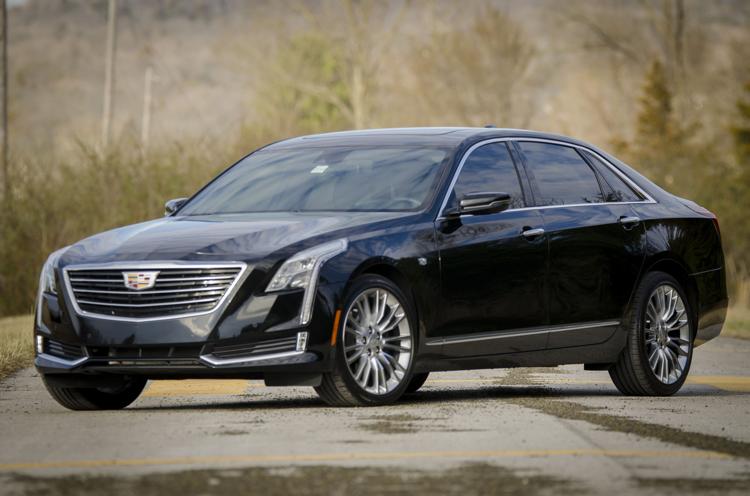 I'll get right to it: I like this big Caddy a lot. But that's not the headline – at least that's not where my mind settled after an enjoyable three days behind the wheel. More than once I thought to myself, "This car does BMW better than BMW does BMW." How could that be? Just a few short years ago, I was the loudest voice in the room promoting the Big Three automakers' failure. Debating that point with me was like convincing a Cardinals fan to be happy for the Cubs. And before then, if you'd walked into a room with keys to a new GM product, you'd feel less verbally assaulted if you got on an elevator with George Carlin wearing too much cologne. Yes, I was an automotive tyrant.
Tesla, Camaro, Brussels sprouts – I've espoused the power of human bias many times in the past, and the importance of being able to challenge such bias. As I've aged, my tyranny has faded into a passing holier-than-thouism. I don't think I'm any less right; I just keep my mouth shut more often. But I have also discovered the surprising joy of discovering I'm wrong, as long as it's not someone else telling me I'm wrong. Another example of that is the GM Cadillac ATS-V. The bullet-point summary of it: Buy one now! That car blew my socks off and made me realize GM has hired some top-flight talent to develop chassis dynamics and overall behind-the-wheel experience.
But the bigger the car, the larger the challenge in making it feel and drive small. And the CT6 is a big car, 204.1 inches from tip to tail. That's longer than a three-row GMC Acadia. Compared to similarly sized BMW 7-series and Mercedes S-class, the CT6 drives like a much smaller car, perhaps the greatest engineering challenge in all of autodom. To accomplish that task, Cadillac employs a similar approach used with the ATS. It starts with a sublime chassis, known as the Omega platform, which is ultrarigid thanks to high-tensile steel in its central core, and keeps its polar moment of inertia down with ample use of aluminum around the perimeter. Underneath is a magnetic ride suspension that's tuned for responsiveness but also knows how to coddle – a fine line to walk. Combined, along with some other AWD and rear-steering trickery, it's the enthusiasm with how the CT6 drives that leaves a lasting impression. I live with a truly small and catlike, agile car every day. Comparatively, no, the CT6 doesn't beg to have its tail wagged out navigating 20 mph switchbacks, but it does reward the driver who's looking to hustle through them.
Under the hood is a twin-turbo, 3.0-liter V-6, one of the smaller engines in its class. But delivering 404 horsepower, it's plenty mighty in the relatively lightweight CT6. Zero to 60 jaunts take just over five seconds and get you through the ¼ mile at 105 mph in 13.5 seconds – both respectable, if not impressive, numbers. Turbo lag on throttle tip-in can be noticeable at times, but overall this engine impresses with its sublime smoothness and thrust delivery when needed. The eight-speed ZF automatic transmission is the same as you'll find in just about every competitor, and in the CT6, it is tuned to be nearly unnoticeable in operation. Only a few times did I feel a jerky one-two shift at parking-lot speeds. Cadillac thought to give the driver paddle shifters on the wheel, which is a welcome addition. However, one of my very few complaints about the CT6 is that the combination of manual shifting and sport mode should deliver shifts the instant instructed, not some seemingly arbitrary amount of time afterward.
This is a luxury car first and foremost, and for most luxury buyers, the level of appointments and tech inside are where the rubber meets the road. I'll admit the CT6 isn't as opulent as a Mercedes S-class or as stylishly refined as an Audi A8, but taken on its own, the CT6 interior certainly fits the luxury billing. Talking tech, though, this car goes toe-to-toe with anything, especially when spec'd in Platinum level trim. Heated, ventilated and massaging seats make the driver and passenger feel special indeed. And this latest version of the Cadillac User Experience infotainment system is one of the best available at any price. A fully digital and very customizable driver's display gives a slick polished feel, and the heads-up display is something that once you live with, you wonder how you ever lived without. I'll run out of real estate quickly giving you a tech rundown, but I'll say its success is just as much about how well it's implemented, after it all worked seamlessly throughout my three-day crash course. Just days earlier, I watched a friend kick repeatedly in an attempt to open the trunk lid on his Mercedes SL65, only to resort to his key fob with a grumble. My first attempt on the CT6, not even knowing where the sensor might be, was met with success. One feature that bears mention, which I found by accident, was the integrated rearview mirror LCD. If you flip the toggle on the bottom of the mirror expecting a dimming effect, as I did, you'll see instead a display created by the rear-mounted cameras, giving a very wide and clear view to the back. Groovy.
It seems Cadillac has been in perpetual comeback mode. The Cimmaron of the early '80s has earned its place on just about every "worst-ever" list. Remember the Northstar motor? On paper they seemed like the ticket to earn Cadillac a spot at the luxury-makers table again, but that ticket ultimately proved as reliable as friends on moving day. And through those three decades, Cadillac was known for the ride quality of a waterbed down a marshmallow-paved highway. But I'm ready to fully commit now: The Cadillac comeback is complete. In fact, I believe this is the biggest automotive headline of the past 10 years. More than just Cadillacs, GM as a whole is making some of the best drivers' cars available. I've often said there are only two companies that put the emotion of driving first: Porsche and Mazda. But now I have to add GM to that list. Yes, cats and dogs living together, mass hysteria and all that. Possibly the only bigger headline would be if Alfa Romeo, in its third attempt to penetrate the U.S. market, ends up on J.D. Power's most-reliable list.
To learn more about the 2017 Cadillac CT6, visit cadillac.com.
PRICE AS TESTED: $73,465
LOANER FROM: Elco Cadillac, elcocadillac.com