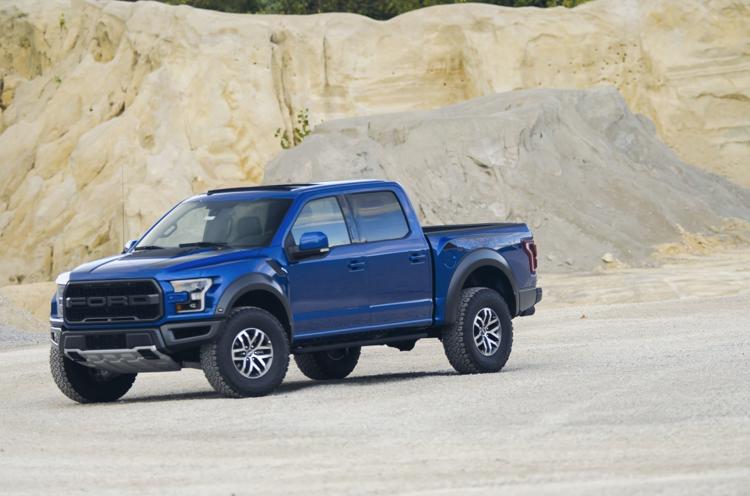 Many words have been scribed in these pages to implore readers to see driving not as a chore but as something that can bring joy. I've tested sports cars, sedans, electric cars, even SUVs and station wagons, which have all provided thrills of their own. As dissimilar as they've been, the one characteristic all share is they do their best work on a nicely paved stretch of tarmac. Any surfaces with holes, bumps or dirt have been avoided, meaning there's a whole world left to explore.
That's not to say I've never experienced the fun of off-roading; it's just that doing so has always been with ATVs of some sort. In Jefferson County, where I reside, lifted pickups that require a stepladder for entry are the status symbol du jour. My experience in pickups or Jeeps that have been modified for off-road capability, though, has been less than enjoyable. Brutish and uncomfortable, they typically deafen passengers with tire noise on the highway and ride like a beat-up lumber wagon.
For all its tales of off-road prowess, the 2018 Ford Raptor is a factory-built vehicle. Certainly it can't be as abusive to passengers as those modified monstrosities, or else who would buy it? When first you come face to face with the Raptor, its physical size is intimidating. At 6½ feet tall and more than 7 feet wide, it doesn't leave much wiggle room in a parking space. On smaller cars, the federally mandated backup camera and myriad obstacle sensors can seem like wasted expense, but not so with the Raptor. They're essential – and much preferable to the alternative of listening for a car being crushed behind you.
Interior accoutrements are a pleasing, if distinctly Ford, approximation of luxury. There's a nice mix of heated and cooled leather seats, glossy carbon-fiber and brushed-aluminum trim, and soft-touch textured plastics. Although the Raptor's certainly not on par with a German sedan, I doubt tricking passengers into thinking they're in such a sedan is the point. Elsewhere inside, the Raptor is full of all the latest bits: lane assist, blind spot-monitoring radar, active cruise control and one of the better stereo systems I've listened to at any price thanks to B&O PLAY. Infotainment is routed through a crisp, clear 8-inch screen. One complaint is the clarity of the backup camera and 360-degree camera views – especially where these views are so critical.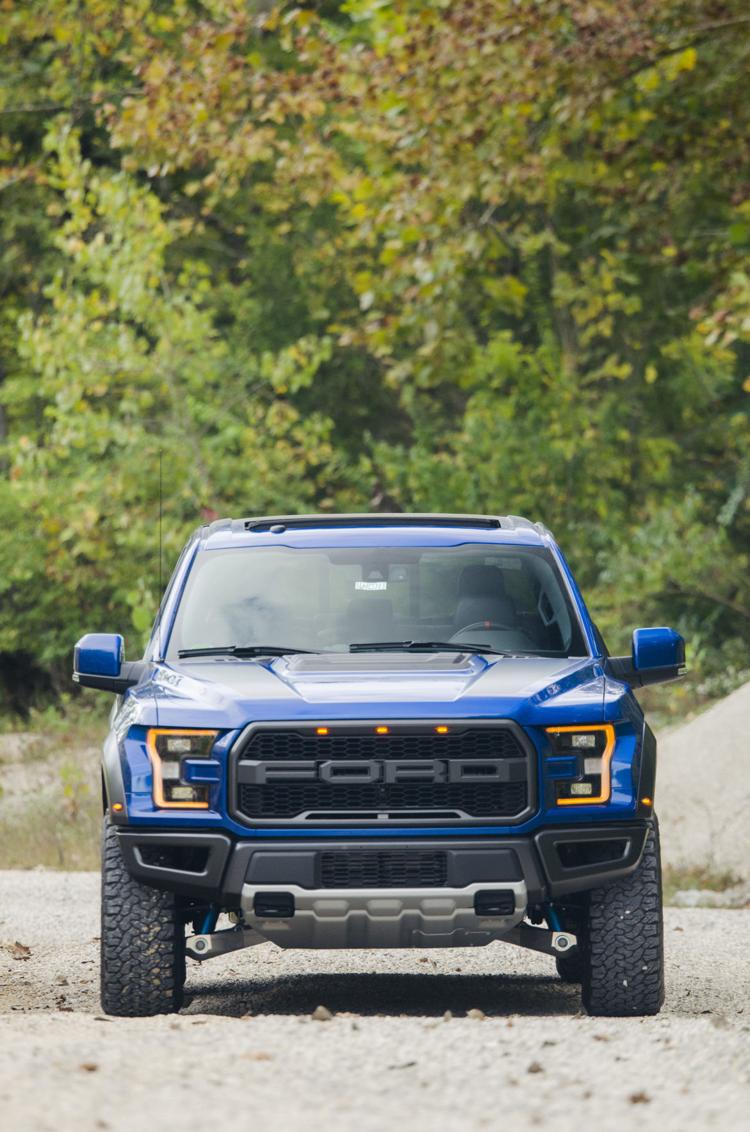 Looking at the knobby BFGoodrich tires, complete with off-road purposefully bead-lock capable wheels, one might expect a rough ride replete with road noise. But all the pieces work together incredibly well, so that isn't the case. But the 3-inch-tube external-reservoir Fox Racing Shox were developed specifically for the Raptor. At 70 mph, the 10-speed transmission keeps things spinning barely above idle. Put it all together, and inside the plush cabin, occupants are treated to a pleasant experience.
About those capabilities: There are many. Perhaps the most controversial component found in the Raptor is its twin-turbo 3.5-liter V-6 engine, not some massive V-8 or a lumbering diesel. Plucked from Ford's GT supercar, this motor in the Raptor produces 450 horsepower with 510 foot-pound of torque, good enough for a five-second 0-to-60 sprint. And despite the bar stool seating height, engaging the sport button stiffens the suspension to where body roll is kept in check. Those knobby tires even provide a surprising amount of lateral grip in twisties. Just as the interior provides a reasonable approximation of luxury, the Raptor's power and handling provide a reasonable approximation of a sporty car. Color me surprised.
As surprisingly pleasant as the Raptor's on-road manners are, it's what happens when the asphalt ends that gives it a purpose for existence. On my first day of driving, my head was on a swivel looking for an unpaved playground. For the most part, I struck out, but the few short stretches of bumpy stuff I found made me want more. The Raptor almost feels even more composed, more in its element, with some imperfections under its rubber.
On the next day, I hit pay dirt (or gravel in this case): a miles-long complex of rough gravel roads near Pacific. Here I tested the different off-road driving modes of Mud/Sand, Rock and Baja. Without getting too into the weeds, pun intended, each of these modes results in its own combination of chassis, suspension and steering settings. For this day, Mud/Sand and Baja were best, Baja being the far more aggressive setting. Once acclimated to the conditions, speeds started creeping upward, regardless of the footing underneath. The Raptor simply didn't care; it devoured whatever came.
There's a big difference between being able to do something and doing it with aplomb. That's essentially the point of every review you'll read here: critiquing the details of how they do what they do. And the Raptor did the rough stuff so well, it inspired so much confidence in doing so, that it lit a fire under me personally. I'd like to take one to the off-road park in Sullivan, in Washington County, Missouri – high speed over sand dunes sounds amazing. I can even imagine a Utah vacation planned around going places with the Raptor. This is a vehicle that is changing how I think about vehicles, and that's no hyperbole.
I admit, I have a sweet gig here choosing what I want to drive. I've been lucky to get to know some pretty incredible machines. In fact, after nearly every drive, I entertain the thought of owning whatever it is. However, that thought usually fades upon further reflection. Although the Raptor experience is still fresh in my mind, I feel this thought of ownership will cling to my psyche. It opens up the possibility of enjoying the previously unreachable 98 percent of the world.
LOANER FROM: Sunset Ford, sunsetfordstlouis.com
PRICE AS TESTED: $71,640