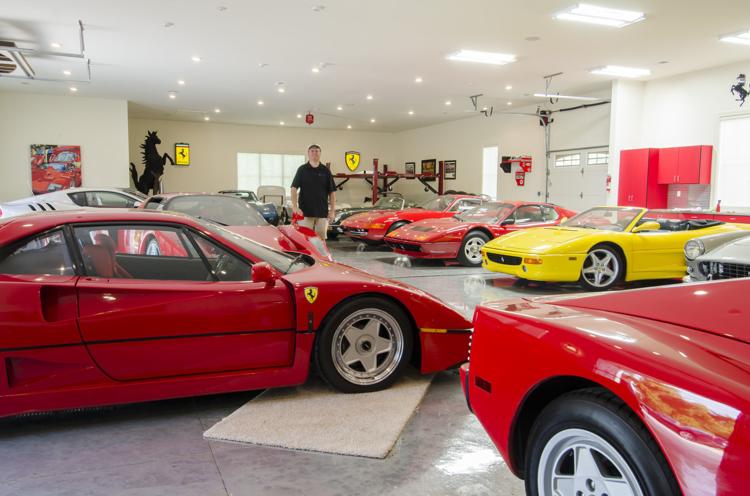 Randy Gori, car collector and vice president of the Ferrari Club of America – Missouri & Southern Illinois chapter, has assembled an impressive fleet of Ferraris at his Edwardsville home.
Cars – especially beautiful, fast cars – have always appealed to collectors. It's the engineering and precision, the visual stimulation, the quest for constant endorphin release and feelings of freedom from an open road. And although some die-hard American iron fans might disagree, one brand through the decades has inspired heavier panting than any other: Ferrari.
Ferrari is as much an idea as it is a tangible thing. Founder Enzo Ferrari always saw the building and sale of road-going cars as a means of funding motorsports pursuits. From the late 1920s, Scuderia Ferrari (Ferrari's official racing division) has been singularly focused on racing – and winning. And win it has; it's easily the most successful and celebrated team in Formula One. Ferrari's road-going cars, beginning in 1947 with the 125 S, have been equally the result of passion. This marriage of performance and design has made Ferrari's creations de facto teenage-boy wall-poster material.
One example of how Ferrari has succeeded at igniting a fire inside teens, which grows into an inextinguishable flame by adulthood, can be found in Randy Gori of Edwardsville, Illinois. Gori, who is now vice president of the Ferrari Club of America – Missouri & Southern Illinois chapter, spent countless hours reading car magazines and adorning his walls with images of Italy's finest, all while thinking, "Someday." It was always Ferrari that spoke to his soul, and in 1994, while working three jobs in order to make payments, Gori purchased his first – a 1980 308 GTSi. Although no longer considered fast by today's standards, the 308 was one of the few true sports cars available during the '70s, an era automotive enthusiasts think back on with scorn. For many, the 308 kept that fire alive. And with it being the wheels of Tom Selleck's Magnum, P.I. on TV, it earned an iconic, almost mythical status.
"When I was a kid, my parents used to take me to work at my grandparents' nursery on Manchester Road in St. Louis," Gori says. "As an incentive, they would drive me by Brentwood Volvo-Ferrari on the way home. I've liked and wanted a Ferrari since I was 5."
For many years, the 308 was the only prancing stallion in Gori's garage. Like most people, he prioritized graduating college, beginning a career, getting married and starting a family. The fire might have been simmering, but it certainly wasn't extinguished. With the success of his legal practice, Gori purchased his 1972 Daytona 365 GTB/4 and 1997 355 Spider in 2005. Gori says he really began collecting cars in 2009.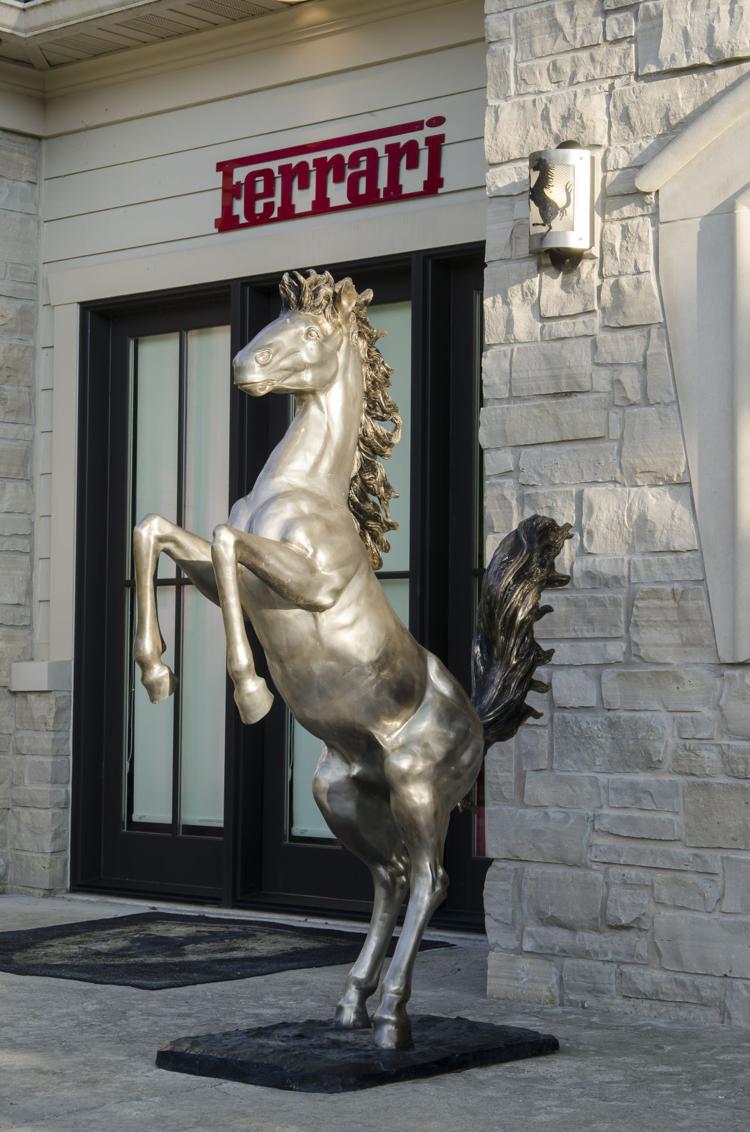 During my visit to his home in Edwardsville, we drove his 2017 F12 TdF and the 2017 488 Spider, both absolute marvels of design and engineering. The TdF is propelled by a front-mounted, normally aspirated 6.3-liter V12 that produces 769 horsepower up to a wailing 8,900-rpm redline. A track-focused variant of the F12, the TdF is full of hypertech such as active aero pieces, rear-wheel steering and carbon bits everywhere. This is a car that will reach 60 mph in under 3 seconds, 125 mph in under 8 and keep going to well beyond 200. There are even rpm and speed readouts on the passenger side of the dash so your terrified guest can understand this level of insanity.
With the traction control aids turned off, Chris Harris of Top Gear called the TdF "comfortably the most ridiculous Ferrari I've driven." But with traction control engaged, I found it exhilarating and still easily drivable, albeit at nowhere near its limit. When Ferrari says a car is track-focused, however, the company means it. The TdF feels taut, like the rear legs of a cat stalking a field mouse. In the cabin, there's an audible whine from the differential, computer-controlled gear shifts from the Formula One style box, felt in your fingertips, and the symphony of that glorious V12 comes through loud and clear. This is a car that makes the driver feel like a jet pilot or like being inside a transforming robot from another galaxy. "Special" doesn't begin to capture its essence.
"It's a little more raw," Gori says of the TdF. "It can give you a rush by stomping on the pedal and having the rear end start going sideways – it makes you keep it in control."
Trading off to the 488 Spider, its civility is evident. But it's an ease that belies its additional savage capability. With 661 horsepower and the capacity to dispatch a quarter of a mile in 10.6 seconds, new drivers handle the gas pedal with the delicacy of grandma's Swarovski crystal. But such white-glove treatment isn't necessary – the Spider 488 doesn't bite. Combine this approachability with soft Nappa leather, Bluetooth connectivity, premium sound and a trick retractable hardtop, and the 488 may be the finest all-around performance car available today. Gori says it's also his wife's favorite, which is quite understandable, given how nearly dead-center bullseye it is toward perfection.
Gori's favorite, however, is his 2003 Enzo, of which he says: "The Enzo is fast, beautiful, rare, precise and makes a novice like me feel like a good driver. Yet you know it has the capability to perform at levels I can never dream of achieving."
Gori isn't done adding to his collection, and there were many more in his stable (a whopping total of 16 Ferraris) I hope to experience in the future. Another visit is surely in order. Fear of rolling up the odometer isn't something Gori suffers from; he says all of his Ferraris get driven as much as possible. And as the leader of the Ferrari Club of America – Missouri & Southern Illinois chapter, he's easy to find out on local roads enjoying the fruits of his success.
Ferrari Club of America – Missouri & Southern Illinois, 314-845-6546, fca-mo.org/fca-mo