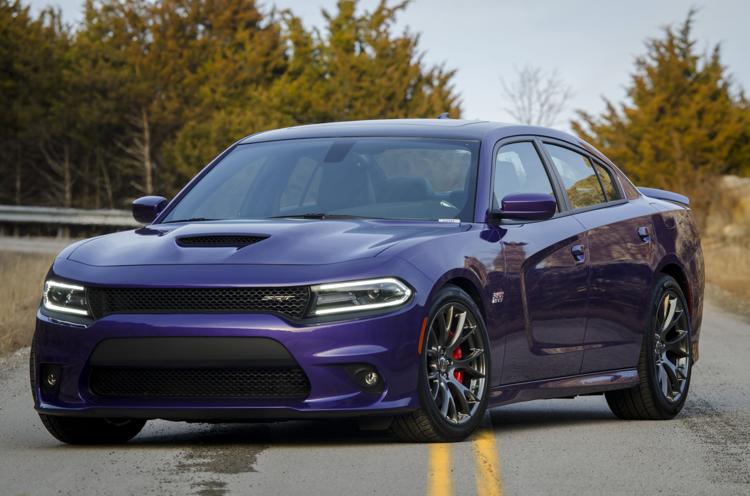 Inside even the most pretentious automotive aficionado is an unabashed child. For all our talk of things like refinement and balance, our insistence on there being only one right way, the inner child puts on a smug grin at the thought of big Detroit iron. There are many statements than can be made with your car of choice: sophisticated, responsible, stylish – and, in the case of the Dodge Charger SRT 392, bad to the bone. Deny it if you feel you must, but who can't enjoy that?
I understand the case against a car like the Charger 392. Automotive snobs, of whom I would have to count myself, have made it ad nauseam: It doesn't handle, it's too front-heavy, it's an unrefined and oafish brute. But that's the 10,000-foot view from people who need to justify their own buying decisions. Truth is, this Charger appears to offer an unparalleled combination of power and performance in a four-door sedan compared to anything near its asking price and deserves a deeper look.
Discussion of most performance cars (and certainly with American muscle cars) begins and centers on the power plant. Dodge certainly doesn't want its owners to be one-upped and delivers hair-on-your-chest American goodness in the form of 6.4-liter, 485-horsepower, thundering Hemi V-8 power. But how this engine delivers the goods will put a smile on even a refined snob's face. Power is accessible and ample at any rpm, but it's also smooth and effortless. No, the 392 is not a rev-happy motor, but the power starts so low that you never wish for a bit more upper limit, as you do in the Camaro SS. Past standouts have been the twin-turboed 3.8 liter of the Maserati Ghibli and 3 liter of the BMW 340i, but this Hemi puts a gold star on the "there's no replacement for displacement" adage.
There's no free lunch here, however. In this case, you'll probably want to get that fuel-saver card because you'll be visiting the pump often. Dodge says to expect 15 mpg city and 25 mph highway, but the latter number I found to be quite optimistic. I tried a stretch of eco-mode highway driving with the proverbial egg under my right foot, and the best I could muster was 22 mpg. With any pedal application, expect that number to drop precipitously. I have a mental image of something like a thumb over a garden hose, spraying petrol into the eight voluminous cylinders.
The good news is that fuel economy marks the beginning and end to the list of significant downsides. Although the Charger is based on the LX chassis, which has roots dating back almost two decades, it doesn't give a dated feel behind the wheel. The more modern Alpha chassis of the Cadillac ATS-V is undeniably more composed, but considering the extra size and rear seat usability of the Charger, it's more of a "what's right for you" decision than it is a compromise. With all the chassis-tuning options accessible through a touch of the center stack SRT button, this car can turn into a capable back-road carver. If I see the option of track mode, I skip all others. Throttle response becomes hair-trigger (good), steering wheel paddle-induced shifts are instantaneous (also good) and steering tightens up and feels more direct (good again), but the suspension becomes a bit bouncy for real-world roads (could be better). I found the best combo to be a custom cocktail of everything in track mode except suspension, which I left in sport. And because I'd rather not test the limits of my insurance, I left traction controls in sport, as well. Is it the best four-door sedan in terms of chassis dynamics? No. But it is darn good, enough to pleasantly surprise this snob.
Throughout, this car is loaded with track-ready goodies. So the conversation might begin with the engine, but it certainly doesn't end there. Under the beautifully scalloped and concave 20-inch rims are a set of the biggest Brembo brakes I've ever seen – 15.4-inch two-piece rotors, to be exact. During my normal spirited driving, I knew they were good, but I could hear them calling me, anxious to prove the car's forward-acceleration capability was nothing compared to what they can do. Because they asked nicely, I had to oblige with a full-pedal stop from 80 mph, but I almost instantly regretted doing so. I think I might have a mild retinal detachment or, at the very least, got to experience the feeling of having every molecule of air forced from my lungs. It was unpleasant but exhilarating at the same time – so much so that I did it again and experienced nary a bit of brake fade. This car having what is likely the best braking performance I've experienced is a surprise, to say the least.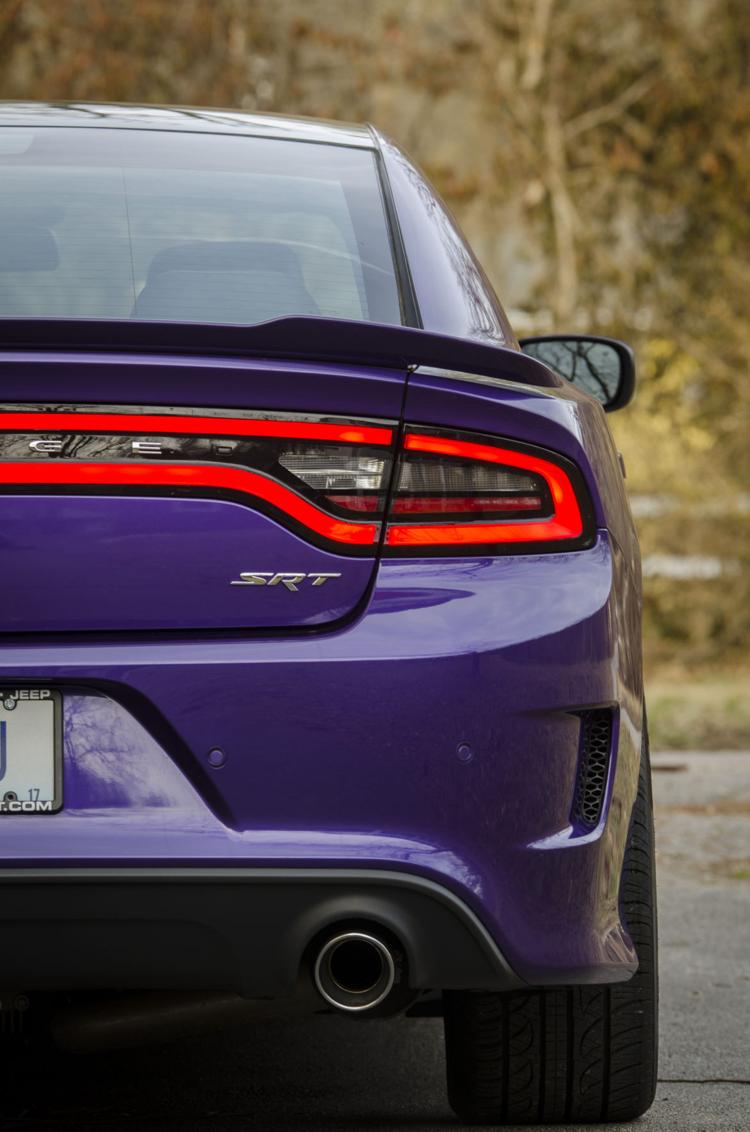 Snobs will find nits to pick in the Charger's interior. There are no issues with usability; you get the proper mix of hard buttons for often-accessed functions and touch-screen controls for the many others. Visibility is good in all directions, and seating is comfortable and adjustable enough. It's just uninspired and a bit drab. The seats were clearly intended for passengers of more ample proportions – my gluteus-challenged rear had plenty of sliding room before encountering side bolsters.
Dodge's SRT performance division has made a reputation for itself as a dissident-defying challenger that does whatever it wants. As in your face as the Charger SRT 392 is, it's still a big step down from the convention-shattering, 707-horsepower Hellcat. Still not content, Dodge is currently teasing an even more mental car named the Demon. What's next? I envision a Dodge with a hood badge that's just a middle finger proudly displayed in the air. With this Charger, it delivered some serious performance chops on top of a totally livable day-to-day platform. Its only real competitor, the Chevy SS, is going away in 2017. After that, expect to pay much more if you want to play in its sandbox.
PRICE AS TESTED: $54,685
LOANER FROM: Royal Gate Dodge | royalgatedodge.com
To learn more about the 2016 Charger SRT 392, visit dodge.com.