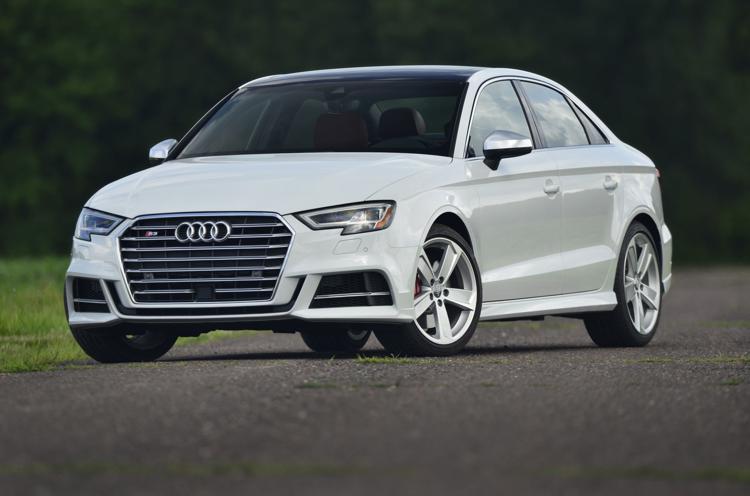 Thoughts of driving the Audi S3 weren't even on my radar. It wasn't until a string of requests to drive other, more lustworthy cars went unanswered that I ended up on my S3 fallback plan. Please, don't shed a tear for me.
With keys in hand from the fantastic staff at Audi Creve Coeur, the S3 makes its first impression thanks to loads of cutting-edge tech. The virtual cockpit is brilliant and intuitive, just as it was in the Audi S5. In fact, every piece of the Audi user interface makes perfect sense. I won't go so far as to say my parents could master it, but anyone living in the post-rotary phone era will feel at home quickly. The car I was given, with Prestige trim, sported a couple of additional features seen in many cars – adaptive cruise control and high-beam assist – but while using them, I discovered they're the best implementations I've experienced yet. The adaptive cruise induced nary a heart-rate spike, as many other systems do with herky-jerky speed management and aggressive braking. And with Audi's high-beam assist, I didn't blind a single fellow driver. It's a set-it-and-forget-it feature, just as it should be.
Audi's entry-level sport sedan delivers surprises in the experience, as well. Out is much of the overly damped and disconnected feel; in is a truly playful demeanor of a car that wants to be your partner in shenanigans. Under acceleration, it feels stronger than the quoted 292 horsepower would suggest. However, like the S5, it's impossible to slingshot the S3 from a standing start. Whether it's the traction control attempting to manage wheel spin, lag from the turbocharged 2.0-liter engine or just some auto-nannying, it takes a good half-second of foot to the floor before the S3 complies with your request. Once it does, though, forward thrust is delivered with vigor. Add to that the clearly audible turbo-whoosh, and you have a truly visceral experience.
As my new play partner and I were getting along swimmingly, we agreed to a blast down my personal test circuit of Rock Creek and West Four Ridge roads. A beautiful, approximately 10-mile stretch of fresh blacktop spattered with 15- and 20-mph turns, this road separates the pros from the posers quickly. And the S3 accommodated itself nicely. It was very neutral in balance and rotated through corners without drama. All that held the S3 back from being higher in ultimate cornering ability was the all-season Bridgestone tires, which, honestly, is to be expected. I speculate if fitted with some sticky summer-only tires, the S3 could transform into a track weapon in capable hands.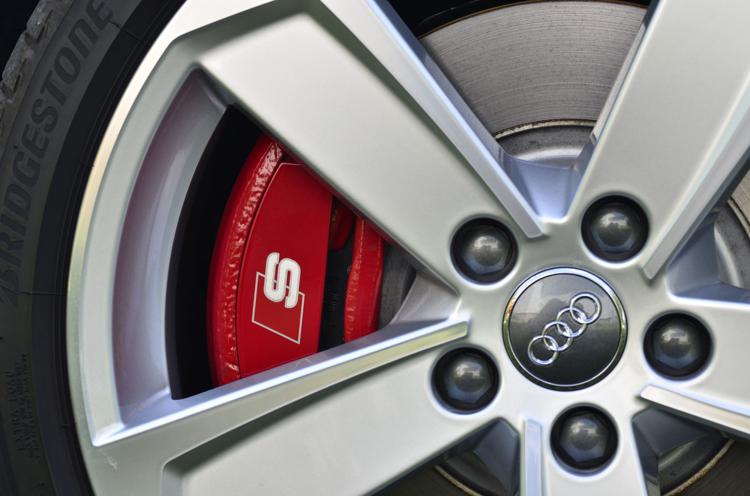 The Audi S3 shares underpinnings with the Volkswagen Golf R, a car aimed at younger enthusiast drivers. And if I were to further speculate, I would suggest that explains the entirely different set of sensations communicated to the driver of an S3 versus the S5 mentioned earlier. While the S3 feels more grown-up than a VW Golf R, the bones of a dancer remain underneath. The VW Golf R is renowned as a brilliant-to-drive hot hatch, whereas Audi takes the S3 to boarding school for class and refinement. Magnetic shocks used in the S Sport package deliver the best of both worlds: pancake flat during hard cornering but also making potholes feel like pebbles. And there's no comparing the fit and finish of the two cabins.
But it's not all roses. Much of the S3's goosebumps-delivering success comes from its small size. Its relatively light weight and short wheelbase are of course pieces in the formula, but also factoring in are a comical rear seat and limited trunk space. Don't let the four doors fool you; unless the two front-seat occupants are under 5 foot, 8 inches, the S3 is not a place where four adults can exist comfortably.
In recent years, Audi has carved out its market share by appealing to seekers of the latest technology and wrapping it in a refined-but-understated shell. Excitement had seemingly gone by the wayside, but this S3 keeps the same simple lines packed with tech … and thankfully left the fun intact. Much like the BMW M240i, the S3 isn't a car I find myself craving for more, but I did walk away with a healthy heaping of respect. Also, as the M240i elicits the thought of "Why not just get an M2?," the middle-child S3 begs the question of why not just jump in headfirst and opt for the 400-horsepower turbo five-cylinder Audi RS3. It's just as practical – or impractical, depending on perspective – and, if a buyer went light on options, can be had for barely over our S3's as-tested price. In a packed segment, though, questions and hypotheticals like that are never-ending. What is certain is that this S3 is a welcome addition and deserving of your own test drive.
LOANER FROM: Audi Creve Coeur, audicrevecoeur.com
PRICE AS TESTED: $51,850