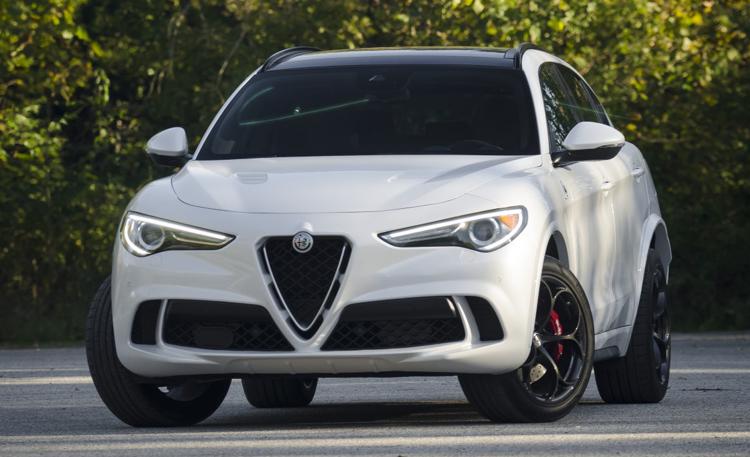 About a year ago, the crew at Jim Butler Alfa Romeo kindly tossed me a sack full of keys with the only condition being "Have fun!" Falling in love with the ultra driver-oriented 4C was no surprise, but how much I enjoyed the four-door sedan Giulia and Stelvio SUV was unexpected – especially because only the turbo four-cylinder Titanium models were available for extended drives. The high-zoot Giulia Quadrifoglio was so new I was allowed only a couple of hours of shakedown, and the Stelvio Quadrifoglio then existed only on paper.
Fast-forward to the present, and supply has caught demand. Not only are Giulia Quadrifoglios plentiful on the Jim Butler lot, but also the Stelvios in similar trim have arrived after much fanfare. In production guise, the Stelvio QF (let's truncate Quadrifoglio, shall we?) received some subtle changes from preproduction. More specifically, the front fascia has an additional vertical slat and looks more aggressive, cooling vents were added to the hood, and some wheel arch time helps to break up the side profile. This particular Stelvio QF was done up in Alfa's eye-catching $2,200 upgrade Trofeo White Tri-Coat paint.
These small, revisionary changes to the outside of the Stelvio QF appear to carry over to the interior, as well. I write appear to because … well … I had never been inside a Stelvio QF before. In contrast with my memories of other Alfas I've driven, though, things have been taken up a notch. The seats seem more plush and supportive, and contact points on the steering wheel are more tactically rewarding. Interior leathers feel higher grade than before, and the exposed plastics now feel Italian, instead of Fiat-ish.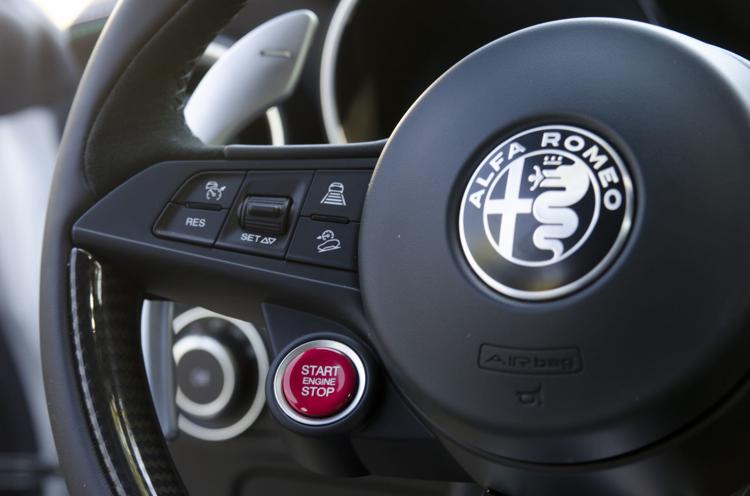 Sharing chassis and powerplant underpinnings with the plethora-of-awards-winning Giulia QF sedan, the Stelvio QF is the devil on your shoulder whispering, "Do it!" Classy and aggressive-looking, sure – but the Stelvio QF remains an SUV full of inherent compromises, right? Wrong. Or at least that's the promise.
Sharing the same Ferrari-built, aluminum-block, twin-turbo 2.9-liter V-6 from the Giulia QF that produces a staggering 505 horsepower certainly implies lack of compromise. Differing primarily from the Giulia QF in its addition of an all-wheel-drive system, the Stelvio QF's straight-line G-force generated is shocking! I've driven faster cars – but not many. Tested times have clocked as low as a 0-to-60 time of 3.6 seconds and a quarter of a mile in 11.8 seconds. That puts it in rarefied company indeed. Again, my recollection may be off, but it felt significantly faster than the Giulia QF of a year ago. Has Alfa also figured out how to extract more twist from this motor in the last year? Yes, the Stelvio QF has AWD, which is an advantage, but it also tips the scales 500 pounds chunkier than a Giulia QF, so it shouldn't feel this much faster.
Driver's cars involve much more than just acceleration. Balance remains key. And the more power you have on tap, the more those other systems are stressed to keep pace. Brakes have to efficiently and repeatedly turn speed back to heat, and suspension forces ramp exponentially with speed. It bears repeating: Balance remains key. (Are you listening, Hellcat?) Considering the Stelvio QF isn't a lightweight, how it keeps drivers feeling in full command of its 4,300-plus pounds at all times constitutes the real feat here. On city roads, having drive mode set to Dynamic or Race results in a borderline punishing ride, and I have a high tolerance. Fortunately, Alfa gave us a simple one-button push option of leaving engine and transmission in rip-snort mode but sets the dampers to cushy. On a smooth, twisty back road, keep the dampers set to punishing, and enjoy the best-handling SUV ever created. Here, typically, SUV compromise always creeps into the picture, but not so with the Stelvio QF. A new high bar has been created.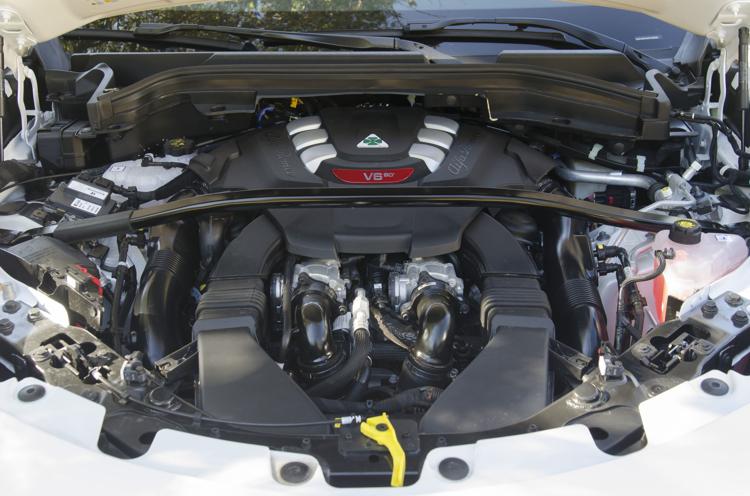 There's a lot to like – even more to love – about this car. Exhaust growl and volume are just right, and a flatulent "thwaap" between shifts evokes a giggle or two. Although the Stelvio QF uses an eight-speed automatic transmission seen all over the market, in this trim and tune, it's snappy and responsive enough to be confused with a dual-clutch sequential. The Stelvio QF is the first automatic I've driven that always seemed to make the right decisions.
The list of positives is basically the entire car, so in the interests of brevity, I'll list my only two complaints. First: the brakes. While incredibly competent, they're nigh impossible to apply smoothly. Initial bite is hard and startling, then they smooth out before biting hard again just before the car comes to a stop. Alfa designed a brake-by-wire system, meaning brakes are applied by electric motors, not your foot squeezing hydraulic fluid. Theoretically, that means it should be easily possible for Alfa to refine this system with lines of code. Until that happens, though, keep a hand on your coffee during braking. Second: the infotainment. It's clearly Italian – meaning it works fine, until it doesn't. Maybe it sipped a bit too much Chianti during lunch.
When I drove the Alfa line a year ago, I proclaimed that, assuming build quality and reliability stayed on par, its line of cars had what it would take for explosive growth in the U.S. Now it appears build quality has improved, and I haven't read any damning reports of reliability. Add to that the fact that Alfa Romeo has reimagined the SUV into a "supercar utility vehicle," and I'm doubling down on my previous forecast. And I didn't even mention that the company's giving you all this for a lot less coin than its competitors. The future remains quite bright in Turin.