Driving the latest and greatest from around the world, I'm used to hearing, "What is that?" Typically I'm met with nodding approval and possibly a follow-up conversation, but when the answer was "an Alfa Romeo," I had to wonder if I was speaking Latin, because every time, I received blank stares. I get it – Alfa Romeo hasn't been sold in North America, really, since 1995. Forget the 50 8cs the company sold in 2008 and 2009, so rare and exorbitantly priced were they that the vehicles might as well have never existed. And even when Alfas were being sold here in the '80s and '90s, they had received such a (well-deserved) reputation for unreliability that only the most masochistic buyers dared consider ownership.
No doubt, Alfa Romeo is facing an uphill battle in the hypercompetitive U.S. market. Younger buyers have never heard of the brand, while older buyers remember the vehicles as four-wheeled time bombs. Even among my group of well-heeled automotive-enthusiast friends, discussions about the Alfa I was driving always began with an obligatory "Who the heck is Alfa Romeo?" preface.
But the truth is that Alfa Romeo is as storied a brand as any, founded in 1910 in Milan, Italy. Enzo Ferrari, founder of you-know-what, was even an Alfa Romeo employee and motor sports manager before spinning off his own marque. So why has Alfa failed to grab a foothold in the U.S. market? As it's completely open to debate, I'll just state my opinion – historically poor distribution channels and unreliable (albeit quite soulful) product offerings. Now that Alfa is a part of Fiat Chrysler Automobiles, at least the first issue has been resolved. Any other questions can be answered only with time behind the wheel, and thanks to the eager staff at Jim Butler Alfa Romeo at 3050 S. Hanley Rd., I was able to do just that.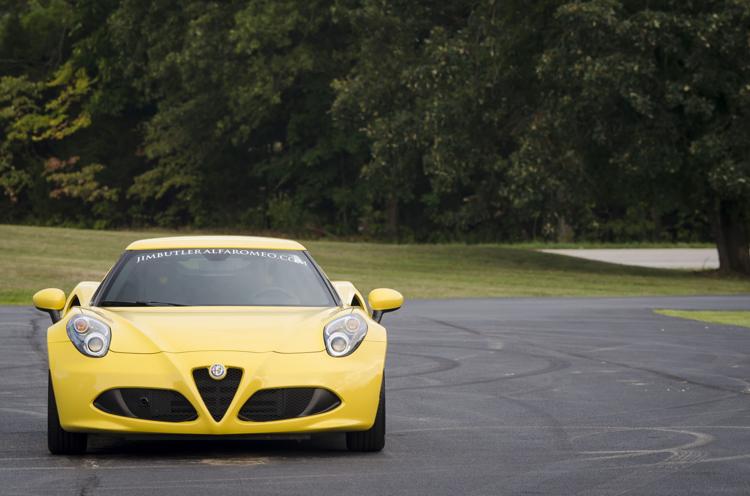 Alfa Romeo 4C
Being the first car Alfa chose to introduce to the U.S. market in 2014, the 4C, I feel, is very important to drive, as it speaks to where the soul of Alfa Romeo lies. One could make the argument it's not important to drive because it's sold in such low numbers, around 50 a month, but I believe that's the wrong case to make when trying to evaluate just what Alfa is as a company today.
When the 4C was first introduced, I'd be lying if I didn't admit instant love for it. In concept, it's almost as if the designers and engineers chose their course after a mind-meld with yours truly. An extremely lightweight, ultrarigid-chassis, rear-engine, two-seat, no-compromise sports car with looks that cause nonstop rubbernecking from traffic-light passersby. The idea of what would happen if a Mazda MX-5 and a Lamborghini spent a weekend snowed in at a cozy bed-and-breakfast with too many bottles of wine is one I can get behind. And if the 4C didn't exist, I likely wouldn't have been as eager to drive the full Alfa line.
So what's it like to drive the 4C? First off, there's no preconception of practicality. Getting in and out of the carbon-fiber-tub chassis with deep door sills is nothing like any car you've likely ever driven. Imagine driving your bathtub. There's no glove box, in fact, no area in the passenger compartment to store anything. My wallet and phone went in the larger of the two cup holders, the smaller of which would be a tight squeeze for a Red Bull can. There's no center console armrest, rear visibility is a challenge and the lack of power steering gives you an excuse to skip arm day at the gym. But if you're a driver, one always searching for that perma-grin experience behind the wheel, all these compromises are ones easily accepted, assuming the experience delivers.
And boy, does the 4C deliver! I hate having a word-count limit when trying to describe the experience of something like the 4C, as I could lay out pages of superlatives. This is a car that reminds me of everything I love about driving: The communication between driver and machine blurs the line between when one ends and the other begins. The aforementioned lack of power steering was a bold decision but one deserving of a standing ovation. As I said to a 16-year-old car-obsessed friend, "You're growing up in an era where all cars have a boring, dead-steering feel, so you probably wonder why we old fuddy-duddies talk about steering feel at all." Well, the 4C reminds us why it's so important. In short, it's perfection.
The 4C isn't about numbers, even though it posts impressive ones: 0 to 60 in four seconds, a quarter mile at 12.8 and more than 1 G of road holding on the skidpad. No, the 4C is all about the intangibles, feel and emotion. And if you're one of the rare breed of drivers who put those intangibles above all else, there's literally nothing else available in the U.S. market that can give them to you in the same way.
PRICE AS TESTED:
Alfa Romeo 4C: $67,022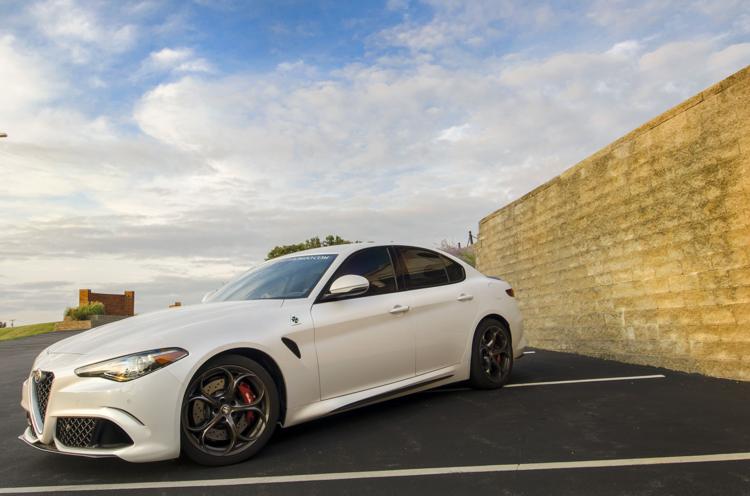 Giulia and Giulia Quadrifoglio
If the 4C represents Alfa's passion, the Giulia represents the company's understanding of what people want. As great a place as I think the world would be if all cars were rip-snorting thrill rides, I'm the outlier. For most, practicality must come first. And Alfa took its time with the all-new Giulia platform, knowing full well the company's ultimate success or failure hangs in the balance.
I drove two models of Giulia. Think of it as a competitor to the BMW 3 series, with most models sold being the lower-powered version. The base Giulia and the Giulia Ti both have the same engine, and there's very little difference between the two other than trim packages. In Giulia-land, the entry level is powered by a 2.0-liter turbocharged four-cylinder making 280 horsepower and 306 foot-pound of torque. That's a lot of grunt for a small and efficient (33 mpg) engine. Combined with the Giulia's extensive implementation of weight savings, under 3,500 pounds in even the most option-laden trim, this base engine gives a snappy 0 to 60 of 5.1 seconds. That's impressive, but even more is how smoothly power is delivered. There's none of the on-off feeling many small turbo fours give, just a linear delivery. My opinion is this is the best turbo four-cylinder on the market today.
But where the Giulia in base and Ti trim stands above the sports sedan market is in its soul. Steering is precise and direct, and the chassis feels eager to respond. It changes direction like a cat on carpet and communicates to the driver while doing so. It's a wonderful addition to the market landscape of family-haulers and draws stark contrast to the flaws of cars like the BMW 330i and Audi A4, where the steering is lifeless and disconnected, and the suspension conveys no feeling to the driver. When for the same price you can get the same practicality and economy, just with a big heaping of fun on top, it seems the choice would be easy.
In the Giulia line, it's the Quadrifoglio that has been receiving all the praise from the motoring press, just as the M3 does for the BMW 3 series line. For decades, other manufacturers have been aiming to topple the M3 from its perch as king of sports sedans, and while some have come close, all have ultimately fallen short. I'll save the suspense: It's time to crown Giulia Quadrifoglio as reigning supreme.
Under the Quadrifoglio's carbon-fiber hood is a Ferrari-built 2.9-liter V-6 sporting a pair of IHI turbochargers, making 505 horsepower and 440 foot-pound of torque. Gobs of power combined with a lightweight platform do just what you think they would; the car rips off numbers like 0 to 60 in 3.8 seconds and a quarter mile in just 11.8. The Quadrifoglio employs a whole host of other go-fast trickery, as well, active aerodynamics, an electronic torque-vectoring rear differential, carbon brakes and a race mode that allows maximum turbo-boost pressure of an insane 35 psi.
Numbers and specs never tell the story of how a car is to actually drive, however, and it's here the Quadrifoglio shines. Daily driving is comfortable and composed, but as a driver turns up the wick, it responds with eagerness. Even the seemingly most ridiculous requests are answered without drama: The harder you push, the lighter and more responsive it feels. With all that power and only two wheels putting it down, there's certainly plenty of electronic trickery to thank, but it happens without the driver ever being aware. This has to be as close to a Ferrari sedan as you can buy today.
PRICES AS TESTED
Alfa Romeo Giulia Ti AWD: $47,585
Alfa Romeo Giulia Quadrifoglio: $77,195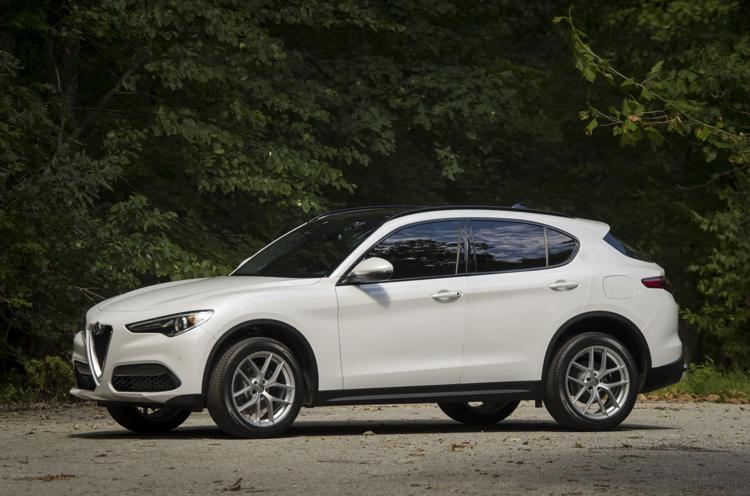 Stelvio
Just as the Giulia line is Alfa's future, so is the Stelvio. After all, they're very much the same car underneath. But as buyers move more and more toward SUVs, the importance of the Stelvio cannot be understated. And since they share the same underpinnings, logic serves that the Giulia's excellence will be on display here, as well, and it is. Whatever differences you would expect if a car grew larger and taller to become an SUV, those changes are very much what you'd find here. The Stelvio is a bit softer, has a smidge more body roll and is just an inkling less involving to drive than the Giulia. That's to say, it's still very good, good enough to easily be the most driver-involving SUV at its price point.
I could go on and on (and on) about just how far out of the park Alfa has crushed it with its new lineup. Want a rational four-door sedan? Go buy a Giulia. How about rational and rewarding? Sign the paper for a Quadrifoglio. Need a weekend perma-smile endorphin release? The 4C has you covered. The Stelvio is the best option for a couple of kids and a pile of soccer gear. And soon shipping will be a Stelvio Quadrifoglio, in case you're always late to soccer practice.
I'm going to make a prediction: I know it's asinine to judge a car's potential reliability based on its reputation from 30 years ago, but those worries do linger. My prediction is that if Alfa Romeo's lineup bears out even class-average reliability, you'll start seeing its trademark triangular grille everywhere. In fact, if that happens, I predict Alfa Romeo will be the fastest-growing brand in the U.S. for the next five years. Incredibly, just like that, Alfa Romeo has become the new high benchmark.
PRICE AS TESTED
Alfa Romeo Stelvio Ti AWD: $55,095
---
To learn more about Alfa Romeo's new lineup, visit alfaromeousa.com.
LOANERS FROM: Jim Butler Maserati/Alfa Romeo, jimbutlermaserati.com