Numbers don't lie, and the growth that Volvo has been experiencing lately isn't a fluke. Although still less than 1 percent of total U.S. market share, at its current annual growth rate of plus-10 percent for the past three years, the lone Swedish automaker should cross that line soon. It takes no training in calculus to understand this revitalization. Volvo has managed to find a seamless blend of curb appeal and economic rationality – luxury without pretention.
This thoughtful execution has been evident with models previously reviewed in Ladue News. The top-of-the-line XC90 SUV and S90 Sedan both made me feel right at home with their airy Scandinavian feel, Silicon Valley-level tech and dreamy seats, while the hip, cool entry-level XC40 punches above its weight.
Built on the same Scalable Product Architecture as the S90 and XC90 and equipped with identical powerplant options, the XC60 can boast more than just a family resemblance. The XC60, like the XC90, comes in three base-trim packages: T5, T6 and T8. The nuts and bolts behind this nomenclature remains the same between the two models, as well. The T5 has a turbocharged, 2.0-liter, four-cylinder engine with 250 horsepower; the T6 offers the same engine but adds a supercharger to the mix, raising output to 316 horsepower; and the plug-in hybrid T8 adds electrification for 400 horsepower of total output.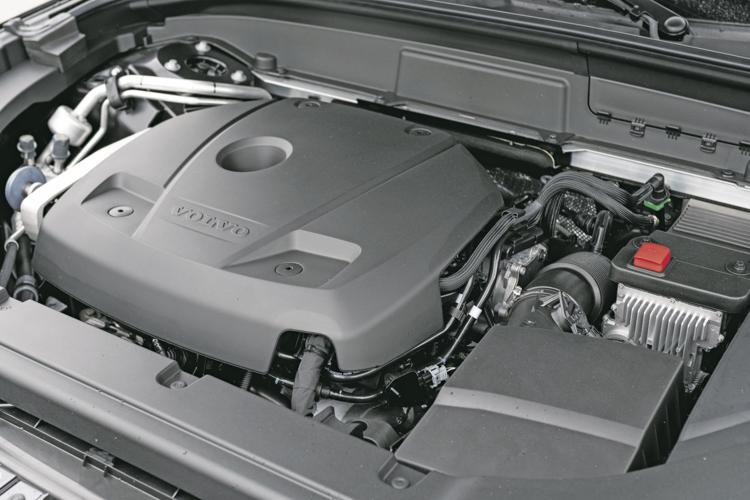 I drove a T5 – the most humble of the group –and found power delivery to be satisfactory from the turbocharged four, albeit not as refined and effortless as that of the turbo-plus-supercharged version. A 0-to-60 time of 6.5 seconds sounds plentiful for the class, but in traffic can feel more like having to demand action rather than it just happening. A dead zone in the middle of the throttle response yields revs too low for the engine to be making power, but the transmission, even in sport mode, remains determined to deliver mpg might, and a stab of the pedal to the floor ranks as the only way to make it known you mean business.
Ride quality seems well-sorted. Our chewed-to-bits metro area winter roads felt deceivingly smooth, and interstate cruising felt isolated from noise and vibration. The XC60 managed to give this buttery feel while still conveying responsiveness to the driver. The steering was accurate but not too sharp; the brakes did what I asked without biting overly aggressively; and cornering allowed a touch of fun within modest limits. So overall, the XC60 presents a comfortably conservative approach, but the lack of any glaring faults brings it all together successfully.
From the exterior, similarities between the XC60 and XC90 can be clearly seen, so much so that one might not tell them apart in traffic. The same goes for the interior; the fresh, light feel of its big brother can be found in the XC60 as well – a good thing.
With powerplant and chassis tuning that fails to create any separation from the pack, Volvo leans on styling for its identity. So that interior styling and feel should be a slam dunk, as with the XC90, right? Well, not quite. Although the loaner I drove was fitted with the $6,700 Inscription package and $2,500 Advanced package, it still fell a bit short of a convincing luxury performance. The door panels and dash felt more plasticky, albeit with a layer of foam behind for cushioning. The seats, although comfortable, fail to approach the ergonomic perfection of the XC90's top-trim ventilated and massaging seats. And the solid Harman Kardon sound falls well short of the superb Bowers & Wilkins setup. Those options are available for the XC60, however; the $2,200 Luxury package yields the better seats, and a mere $3,200 outfits the XC60 with the Bowers & Wilkins stereo.
But as the price climbs, so do second thoughts. Does a loaded XC60 compete at well into the $60,000 range? I think so, but the midsize SUV segment remains packed with choices.
With such a wide range of available build options and prices, recommendations become harder to divvy. In some ways, Volvo's competing against itself. To wit, if style brought you through a dealership's doors, why not step up to the XC90? Unless parallel parking constitutes a daily nuisance – making the XC60's smaller dimensions a blessing – adding those (in my opinion) must-have options might make more sense on the XC90. 
PRICE AS TESTED:
$55,290
LOANER FROM:
Volvo West County
14410 Manchester Road,
Manchester, 636-227-8303, wcvolvocars.com
Care by Volvo
Many LN readers should be old enough to remember when a "lease" was a new idea of how to "own" a car. Some thought such a thing would never catch on, but now it's standard practice everywhere. A couple of generations later, we're starting to see subscription programs gaining momentum. One such, driveBLACKTIE by Jim Butler, I profiled here some time ago – I'm now a member. Manufacturers like Porsche, Mercedes-Benz and Cadillac all have offered their own subscription programs, with varying levels of flexibility and wide ranges of cost.
Now, add Volvo to that list; the manufacturer has been working hard behind the scenes to make available its own program, Care by Volvo.
Regulatory challenges have formed the biggest hurdles for Volvo and other manufacturers. With insurance included in the package price, each state presents its own red-tape challenges – but in Missouri, West County Volvo does indeed offer the service.
Essentially a 2-year lease with the ability to switch to a new car after 12 months, Care by Volvo has reportedly been quite successful thus far. The program can cover much of the Volvo lineup, including the XC40, S60, V60, XC60 and XC90. And it seems to make sense to go right to the top. An XC40, Volvo's entry-level option, involves a monthly $700 commitment, while the top-of-the-line XC90 asks for only $100 per month more.
At those prices, with insurance from Liberty Mutual included, a logical argument can be made when the additional convenience and simplicity are considered as well. With more options always preferable, while we're waiting to see how these new subscriptions evolve, Care by Volvo is available now.
The business news you need
With a weekly newsletter looking back at local history.