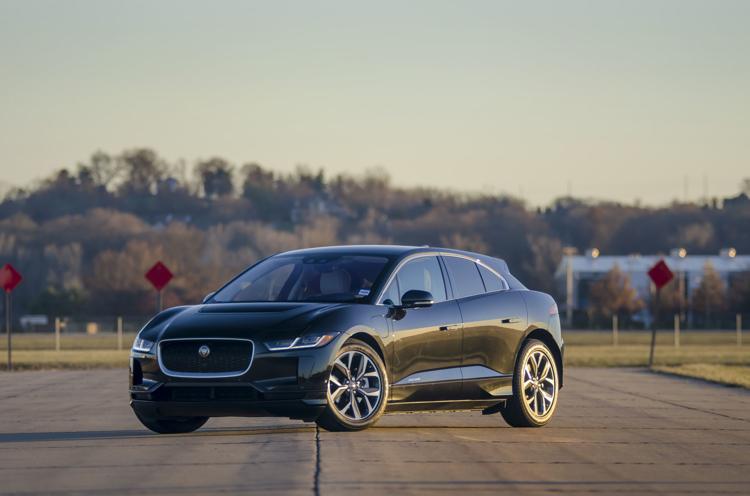 The times they are a-changin', as a gent named Dylan once noted. Until now, deniers with little foresight could write off all-electric cars as a fad. With Tesla as the sole banner-waver and only low-volume afterthoughts such as the Chevy Bolt EV (electric vehicle) and Nissan Leaf for competition, those who live in the now could conclude electron power will never challenge petroleum. For those, making that argument will become more problematic with the arrival of the Jaguar I-PACE. With generations-old brands jumping into the fray, the landscape is indeed changing – quickly. So the question isn't whether the change to battery power will be prominent; it's whether that change will be welcome.
Writers try to avoid the obvious comparisons, but in this case, a grudge match with Tesla is the only real apples-to-apples matchup possible. And as the first competitor to Tesla's sole ownership of a burgeoning market segment, the interest is in how Tesla's product compares to the approach of a nearly century-old legacy brand.
The spec sheet of this new electrified cat certainly reads like a Tesla – a pair of synchronous AC (alternate current) motors, one on each axle, delivering a combined 394 horsepower and 512-pound-foot torque. Stuffed in the floor pan is roughly 1,400 pounds of lithium-ion battery pack, enough for a range of 234 miles. Because of the simplicity with EVs, that's the end of the spec sheet. Also, because of how electric motors operate – somewhat binary on or off – there's no area to discuss feel of power delivery. Rather, how much of it is there? With the I-PACE, few would fault the amount of motivation, good for a 4.5-second 0-to-60 sprint. Teslaphiles would snicker and point out the 2.9 seconds stat of a Model X P100D, but its price is two full base-model Jags. The proper comparison is Tesla's Model X 75D.
It's a bit of a sad realization that spec-sheet numbers tell the full story with how an EV accelerates. Rather than typical discussion topics such as engine comparisons, differentiation lies in things gearheads focus on less, such as styling and build quality. Even how they handle, at least with the small sample size, EVs seem to follow the same paradigm. With such a large percentage of their weight hugging the lowest possible space, both Tesla and this Jag I-PACE change direction in very similar ways. And considering its girth, it's much better than expected. The I-PACE rides on an active air suspension that can lower itself for egress/ingress or raise itself for off-road capability, and it keeps things tidy in the twisties, but it does so without emotional driver involvement.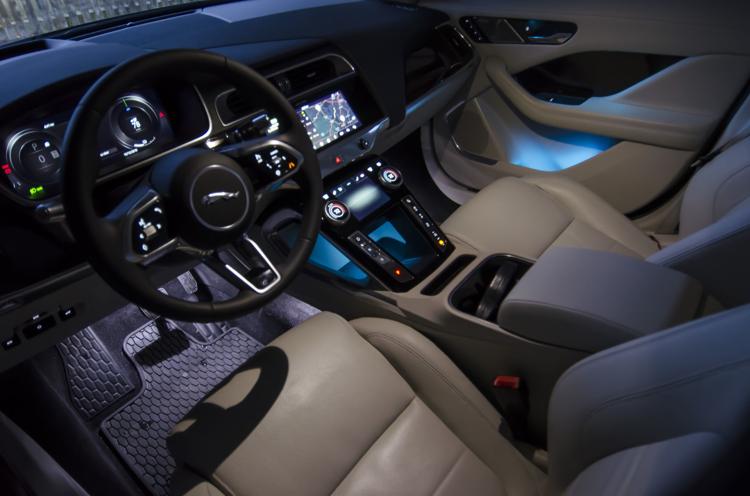 In those areas of styling and build quality, however, the Jaguar does offer a totally different viewpoint. Jaguar draws upon decades of what is successful design. Inside, the layout is reminiscent of any other luxury vehicle today, albeit a very freshly designed one. The dash, dual-control clusters and center tunnel are all reminiscent enough of "traditional" cars that my septuagenarian parents could stand a chance of figuring out – no chance in a Tesla. The Jaguar strikes a better balance of hip and comforting. Overall, the tech found within the I-PACE is enough to appeal to young buyers while relating to older ones
Most obviously different is the exterior of the I-PACE, which cuts a very unique profile. It almost presents like a stretched hot-hatchback with the wheels pushed as far out to each corner as possible. It's here where Jaguar showed it, too, can think outside the box, creating an aggressive feel from something without aggressive intent. The air flow-directing hood scoop, sharply raked rear glass and impossible-not-to-notice rear diffuser are things one would find on a Lamborghini, but here are used to create as slippery a shape as possible to extend battery range. There's nothing on the road today that will be confused with an I-PACE – just that at this point, no passersby will know what it is.
In terms of charging, a Jaguar-approved home charge can be purchased and installed, which is said to fully recharge the vehicle overnight. In public, expect at best a 0-to-80 percent full charge in 85 minutes. However, the I-PACE is equipped to accept up to a 100 kW DC charge, meaning you can easily cut that 0-to-80 percent time in half. Jaguar does guarantee battery life unlike any other current manufacturer, giving an eight-year/100,000-mile warranty period should the battery drop below a 70 percent "State of Health."
While driving the I-PACE, after the initial euphoria of engaging with such a cutting-edge product wore off, an almost melancholy realization set in. The driving experience between Tesla and Jaguar EVs is so similar that they could be difficult to tell apart. Both have capability to produce sports-car numbers, but without any of the associated excitement. No doubt the Jaguar I-PACE is an incredible means of transportation that will find many homes in coming years. But the enthusiast in me wonders if it's possible to make an EV that inspires weekend twisty-road drives to nowhere, simply out of love for the experience.
PRICE AS TESTED: $86,841
LOANER FROM: Plaza Jaguar St. Louis, plazajaguarstlouis.com