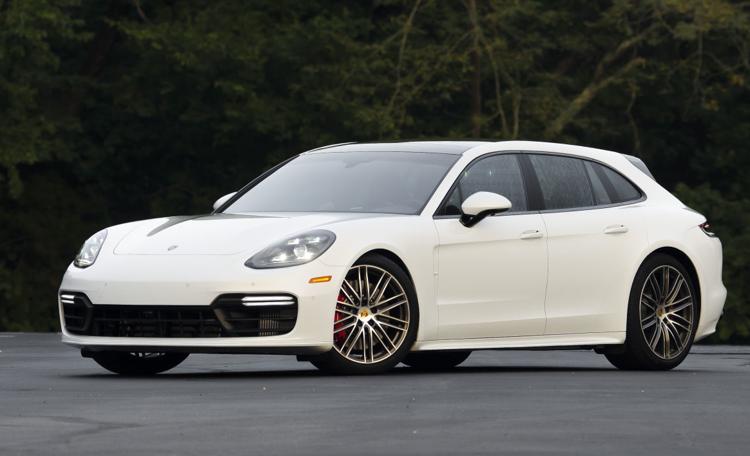 Porsche owners and fans have long had a well-earned reputation as a fanatical bunch. In 1998, when the legendary Porsche 911 moved to water-cooling of its flat six engine from the prior air-cooled engine, you'd have thought Armageddon was upon us, judging by reactions. A similar reaction occurred when the 911 first employed electric steering. News of Porsche building an SUV, co-developed with Volkswagen no less, sent Porschephiles into a tizzy. Fortune, in a February 2011 story, proclaimed, "The idea of Porsche making an SUV is only slightly less jarring than Lafite Rothschild producing a blush wine, or Brioni applying its Italian stitching to a pair of overalls."
Then again, a similar and predictable response came in 2010 when Porsche launched its four-door sedan, the Panamera. Cats and dogs living together – to steal a shtick from the 1978-82 CBS sitcom WKRP in Cincinnati – mass hysteria! But Porsche didn't just survive these changes – it thrived. And just as the Cayenne SUV proved a Porsche can serve more than a singular purpose (and still feel like a Porsche), I set out to determine if its latest and greatest Panamera could pull off the same trick.
It seems Americans will buy anything with a hatch, from SUVs to crossovers and seafaring vessels, and in recent years, the trend has continued into a resurgence of station wagons. In my opinion, that's a positive development in stemming the tide of SUV domination. Because 10 inches of ground clearance is overkill for Saturday-morning shopping, wagons give the benefits of additional space and convenience combined with improved driving dynamics that come with a lower center of gravity. It took a couple of generations, but the stigma of the Griswolds' wood-paneled wagon has faded to the point where manufacturers can test the waters.
And this Sport Turismo Turbo is the baddest wagon on the planet today. The sublime 4.0-liter twin-turbocharged V-8 under the hood would feel at home in a million-dollar supercar. Packing the turbochargers between the engine's V cylinder banks keeps plumbing shorter and exhaust gasses hotter for improved spool-up time. Other manufacturers have used the same trick, but in the Panamera, the result is more obvious than in any car I've driven.
All 550 horsepower seemingly turn on with a twitch of the right foot, for Tesla-esque head-snapping ability. Engage Launch Control, a function used to achieve maximum acceleration from a standstill, and you'll reach the mile-a-minute mark in 3 seconds flat. Stay in it past there, and you'll catapult through a quarter of a mile in 11.3 seconds. Considering those numbers are happening in something weighing close to 4,500 pounds, it's fair to say the claimed 550 horsepower and 567 foot-pounds of torque are conservative.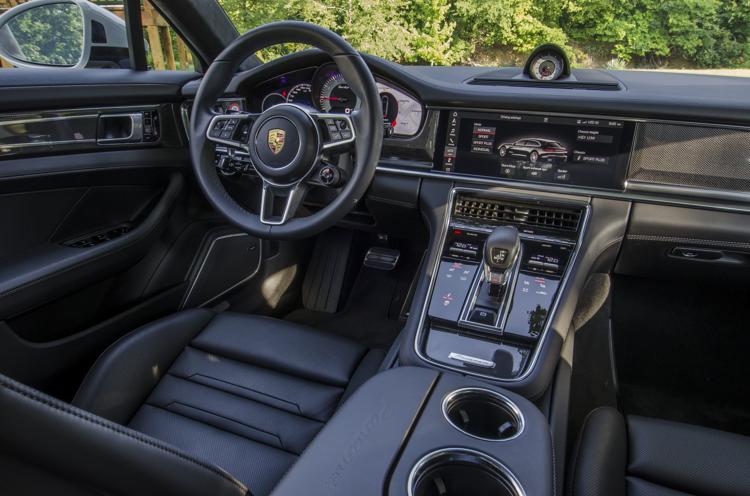 On the Panamera, the extra juice from the 48-volt system allows implementation of a continuously variable, electronically controlled sway bar system. Sway bars have always been a double-edged sword. Stiffer means the car sits flatter in corners, keeping more of the tire contact patch on the road surface and improving grip, but at the cost of a bumpier ride over uneven surfaces. Softer results in a more compliant ride but a car that rolls through corners with minimal wobble. Porsche has given us the best of both. The dampers are also continuously variable and electronically controlled. There's an electronically locking rear differential, also capable of torque vectoring, and of course electronically controlled. And then there's the steering: The front wheels are turned with electric motors programmed and controlled by a computer, but now the rear wheels are, as well. Yes, that means four-wheel steering.
All of this reads like an exercise in digital excess, the fear being it would result in a lifeless, digital feeling. Happily, though, that's not the case – for the most part. Bear in mind the Panamera Sport Turismo is quite a lump, and while Porsche hasn't cracked how to rewrite the code of universal physics, it has managed to exploit a few loopholes. The amount of lateral grip created is staggering, and a car this size has no business rotating this eagerly through tight corners.
Those industrious German engineers have been so busy, given us so many toys, I almost forgot to mention one of the Panamera's coolest surprises: Push a button at the center of the driving-mode selector mounted on the steering wheel, and you engage SPORT Response. One press begins a 20-second countdown display in the center cluster where the suspension becomes tighter, the throttle response becomes sharper and the engine is allowed to overboost, thereby making more power – although Porsche isn't telling us just how much extra. Why do we need to make more power? Because we can, that's why.
At first glance the Panamera Sport Turismo Turbo seems pointlessly excessive, in both price and complexity. Driving makes the case for its complexity – it's simply able to do things no car could without all that complexity. It's both a refined, comfortable cruiser and reality-defying performance thrill ride. Combine that with the cabin full of premium materials and impeccable finishes, and I can honestly say with a straight face I'm surprised it doesn't cost more. Porsche has created a technological marvel that translates perfectly into the real world.