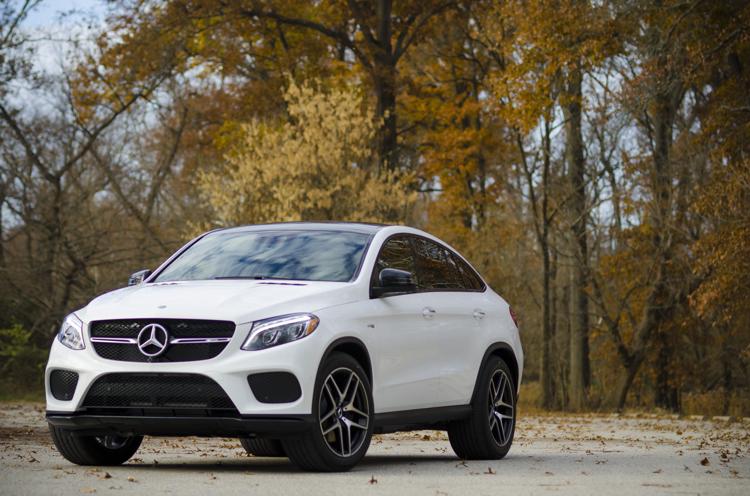 I can only imagine how easy it must have been to write about autos in the good ol' days.
Back then, everything was either a car or a truck. Simple. Then someone conceived of a car that could haul stuff – and thus was born the van, as well as the wagon. After that, though, shag carpeting ruined the van, and wood paneling ruined the wagon, making a new cool car-truck hauling hybrid needed – and the SUV was born. Next, people decided they wanted car-truck hauling hybrids that didn't ride like lumber wagons, and the crossover appeared. Ultimately, crossovers grew more carlike – see the Mazda CX-3 – at the same time they grew in size, leading to the BMW X6 and this month's review subject, the Mercedes-AMG GLE43 Coupe.
Yes, indeedy, crossovers seem to be replicating faster than the flu virus in a day care. They've quickly gone from nonexistent to dominant on roadways, and one crossover or another now fills every price and customer need. The crossover space has grown enough, in fact, to demand many layers of further delineation to know what sort of beast you're dealing with. For example, I'd place this Mercedes-AMG GLE43 Coupe in the midsize luxury performance crossover space.
Further confusing the issue of its identity, Mercedes-Benz has chosen to play name games. First, the lineup includes two Mercedes-AMG GLE43s: the coupe reviewed here, with its swoopy, crossover body lines, and the noncoupe, a boxier, SUV-shaped GLE43, which offers more rear boot space. (Yes, I know, coupes traditionally sport just two doors, but in the interests of brevity, I'll leave it.) Also, where the AMG moniker previously involved only über-Mercs with hand-built engines from some guy named Jürgen, now it's replacing the "Benz" in factory-built cars with giddyap.
As an AMG unit, this GLE43 promises driving intrigue but at a more approachable price point, thanks to its completion on one assembly line. Under-hood motivation comes in the form of a 3-liter twin-turbo V-6, good for 385 horsepower and 384 foot-pound of torque. Routed through a new nine-speed transmission and all-wheel drive, it hustles the nearly 5,000-pound GLE43 to 60 mph in a snappy 5.6 seconds. Twin-turbo V-6s have become the automotive soup of the day, replacing V-8s everywhere. And this "AMG-enhanced" unit remains every bit on par with the best from elsewhere. Turn the driving mode selector to Sport+, and a raucous addition to the soundtrack appears. Baffles open inside the exhaust, raising the base decibel level, and full-throttle shifts prompt a hair-raising crack from the pipes.
Rolling on massive 21-inch rims and 315-millimeter tread-width tires, this big ride sticks to asphalt. Its AMG motivations are obvious when cornering in Sport+ mode; with the suspension tightened, it sits flat through aggressive cornering. Although it does tend toward understeer, it's very predictable, and certainly back-road fun can be had. And though you'll rarely hear me complain about "too aggressive," Sport+ mode could at times be just that over uneven roads. But the incredibly thorough Mercedes infotainment gives the driver precise control over combinations of Steering, Suspension and Drivetrain settings. Any driver should be able to dial in his or her own just-right combination.
No, you won't confuse driving the GLE43 Coupe with being behind the wheel of a proper sports car: It's just too heavy despite a valiant effort to mitigate the feeling of heft. Although sporty when sportiness is wanted, this car attempts to balance a bit of everything. It probably could be lighter and thus more engaging to drive through clever engineering, but the weight remains because luxury and vaultlike solidity remained priorities, as well. Things like laminated side glass to manage road noise add weight, as does the cabin full of premium materials. Although the Alfa Romeo Stelvio no doubt provides a more lively drive, it also feels unrefined in materials choices and build quality when compared to the GLE43. So pick your poison.
The GLE43 makes its mark in the culmination of everything as a whole. It has power, it has some sporting feel and it also has a bit of everything else. I got the feeling while becoming acquainted with its laundry list of features that Mercedes engineers enjoyed a green light to add every nicety they could: heated and cooled cup holders, an air ionizer, the biggest glass panoramic roof outside of a Tesla Model X, a heated steering wheel, even separate dehumidified air for the glove box to keep your documents crisp. (Seriously. I'm not making that last one up.) Even the details in customization options for the infotainment outstrip those of its competitors.
For all its myriad bits and pieces, though, I found the big Merc easy to learn. Navigation of the screen menus made perfect sense, and the mouse pad – which at first felt clumsy – proved its worth, as well. A nice combination of hard buttons covers the most-used functions, but not so many as to feel cluttered. In fact, enough empty space remains on the center stack that some tidying could accommodate a much larger LCD screen.
In a field of 20 competitors, the GLE43 Coupe doesn't finish first, admittedly. It's fun to drive, but a Maserati Levante is more fun. It boasts luxury and style inside, but the Volvo XC90 seems just a bit more inviting and comfortable. And although the GLE43 Coupe looks edgy and athletic in a distinctly European way, the Jaguar F-Pace succeeds more as an exercise in design.
This Mercedes isn't the best at any one thing, by and large, yet still manages to check off all the boxes and remains in the thick of the race thanks to its comprehensive approach. In the final analysis, for a car whose purpose involves being driven daily in various settings, the GLE43 Coupe, I think, scores a bull's-eye.
PRICE AS TESTED: $78,065
LOANER FROM: Mercedes-Benz of St. Louis, mbstl.com