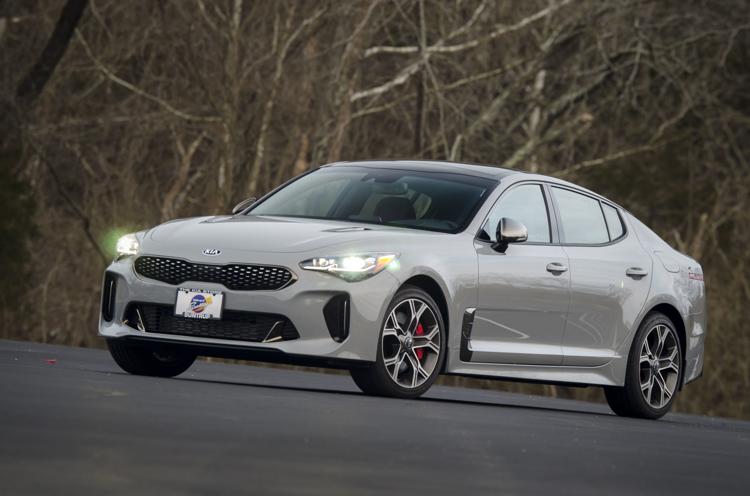 The 2018 Kia Stinger is still quite new to the market, but in the few short months since dealer deliveries began, opinions have abounded. Essentially every major outlet has recently covered the new upscale Kia and almost universally lavished praise at its Michelin-shod feet. I admit, my interest was piqued, but the Stinger didn't move my dials until I saw one at a distance on westbound Interstate 64 and thought, "Ooh, a Maserati." (Yes, I'm a fickle thing.)
Much like a Maserati, the Kia Stinger is a good-looking car but lacks a timeless execution of design. From the front, it's a rather odd assemblage of vertical and horizontal shapes, with some soft shapes thrown in. The side sportback profile is a success – more balanced than that of an Audi A7 or Porsche Panamera – but the side strakes come off as a bit '90s boy racer. (I should know – I was one.) The look works in its own way and certainly is attention-getting. I was no more than 100 feet out of the parking lot from Suntrup Kia when a carload of teens rolled their windows down in a 40-degree rain and began yelling, "Hey, man, what is that thing?" In a tough-to-penetrate sport sedan market, the Stinger does get noticed.
When you put your right foot down, drivers will notice, too. Its 3.3-liter twin-turbo V6 engine produces on paper 365 horsepower and 376 pound-foot of torque. But on the road, it feels like that may be a bit underrated; it has real kick. Driving the all-wheel-drive GT2 version, I could feel all four wheels struggling for grip at full tilt. Hold it down, and you'll be to 60 mph in 4.7 seconds and through the ¼-mile in 12.9. Those are numbers that, again, set the Stinger apart from competition like the Audi S5 and BMW 340i.
Of course, numbers don't always tell the full story. One might suspect that the more established European counterparts have the edge in refinement, but that's not the case I observed. The Stinger's powerplant displayed nothing but confident composure at all times. Turbo lag is kept in check to the point of having to really focus to notice any, and the house-designed eight-speed automatic transmission fires off upshifts in the blink of an eye. Acceleration junkies, the Stinger has you covered.
While acceleration performance is often an exercise in brute force, chassis dynamics and handling characteristics are much more a delicate balance of nuances. To handle the development and tuning, Hyundai/Kia poached Dr. Albert Biermann, former chief engineer of BMW's M Division. The final result is one that I would call largely successful but not without complaint. The Stinger chassis exudes composure – most of the time. Hard cornering with any roughness or undulations in the road can upset things to the point a driver might forget to breathe for a few moments. And the application of brakes into the cornering sector results in a nose that wants to stay down, unwilling to rotate through. I left with the impression that Biermann would be happy with the result but aware there's still work to be done. In comfort mode, the Kia does what one expects, softens all impulses and removes road imperfections to a very luxurious ride.
Some surprises hide inside the Kia Stinger, as well. At 6 feet 2 inches, my legs were happy in the back seat, my head not quite as much, but it, too, fit, albeit snugly. Front seats were a nice place to be, with all the wanted adjustability, including the all-to-often-overlooked side bolstering, with both heated and cooled options.
The cockpit was full of tech in an understated way. There's a head-up display, lane assist, adaptive cruise control, auto wipers, Android Auto and Apple CarPlay … basically everything the segment has to offer today. Visually, it's presented to the driver in a throwback way: The center stack is full of hard buttons, and much of the real estate is dead space among the three round HVAC vents. The touch screen has an 8-inch display and can be a hair too far away for use without a forward lean. Everything works well, but there's a bit of a lack of imagination in the layout.
So to the point: Are all the other opinions out there overly praise-filled, or does this Korean competitor back it up? I'd have to say a bit of both. There is a lot to love about the Stinger taken on its own – but especially when you consider its asking price versus the competition. Is the Stinger the best car in its class, as some have proclaimed, regardless of the price discrepancy? I would have to say no, but it certainly deserves a place in the discussion.
If I were the competition, I'd be worried just as much about what the Stinger will be in the near future. Hyundai/Kia has quickly grown to the world's fifth-largest automaker. Based on the history of the company and the outside talent brought into the fold, one would have to imagine any flaws will be quickly remedied. And because we're talking about only a few tweaks needed, one would have to imagine the European engineers are taking a bit less holiday this summer.
LOANER FROM: Suntrup Kia South, suntrupkiasouth.com
PRICE AS TESTED: $52,595