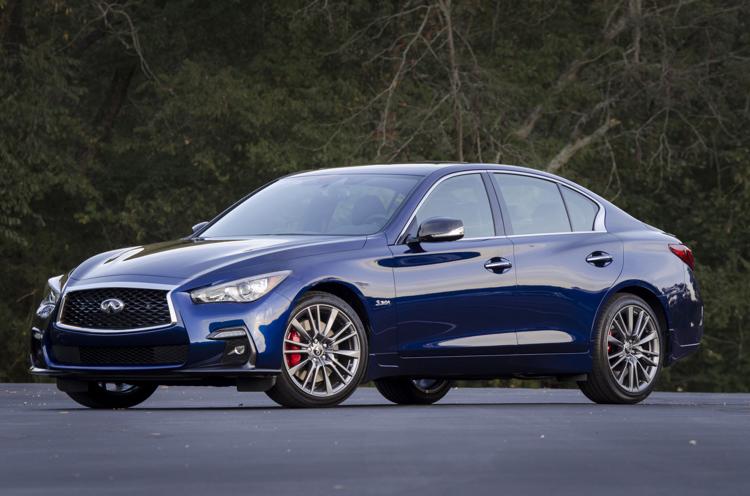 I have been a product reviewer for a long time, for all sorts of things. I've also been a reader of other product reviewers for an even longer time, as I imagine most of you have. I'm often befuddled when I read other auto reviews. For instance, I found more than one mention of the too-stiff suspension on the Maserati Levante S. Another spent a full paragraph bemoaning the childish exhaust note of the Jaguar F Type-R. I disagree with both those assessments, but that's the crux of reading reviews in proper context: understanding not only their words but also the writer's personal preferences and frame of reference.
All of that is an attempt to put the subject of this review, the Infiniti Q50 Red Sport, into context. It's the hyper-sedans tested at the famous Nürburgring motorsports complex in Germany, like the BMW M3 and Alfa Romeo Giulia Quadrofoglio, that get all the buzz for their eye-popping on-track ability. Admittedly, that's catnip for this writer, and there are buyers out there who crave it, too. But the majority of sports-sedan buyers prefer an animal that knows how to curl up on your lap and purr, not just climb curtains and attack your ankles.
For my review drives, I don't discuss the engineering goals or target market with the manufacturer, and dealers typically toss me the keys and simply say, "Have fun!" So I set off with a blank slate, free to form my own opinions. It was in just a few short driving hours that I realized the fine line between track performance and real-world livability that the Infiniti engineers were trying to walk with the Q50 Red Sport. They were very successful in doing so; this is an animal that wants to be your best friend.
Infiniti/Nissan has a long history of some of the world's finest V-6 engines, both with and without turbocharge. This new VR-series 3-liter twin-turbo V-6 furthers that tradition. Delivery of its 400 ponies is instantaneous, and one would be hard-pressed to find any trace of turbo lag. As it pulls through the rev range, its lack of vibration or shudder is much appreciated, as well. I doubt anyone will find fault with the Red Sport's powerplant; it's a gem reminiscent of the wonderful Ferrari-built twin-turbo V-6 found in the Maserati Ghibli. That's high praise indeed! And the 4½-second 0-to-60 sprint backs up those claims.
In the modern era of sports sedans, a powerful engine isn't enough – responsive chassis dynamics are a requisite, too. And it's often in discussion of things like "feel" and "responsiveness" that writers' opinions diverge. My Q50 Red Sport loaner did not come with the controversial Steer by Wire package, which replaces the conventional steering rack with electronics and electric motors to turn the wheels, a package that has been tweaked for 2018 and one I hope to try in the future. Even without, I would still call the steering feel rather dead, although anything else these days is the outlier. That dead wheel, however, didn't negatively impact my ability to hustle the Q50 through twisty Jefferson County roads. In Sport and Sport + driving modes, the car takes on an eagerness that was confidence-inspiring, and all the pieces play together well. Overall chassis balance is neutral, with just a bit of understeer, easily managed with throttle application midcorner. At first, the brakes gave the impression of being a bit soft, but that was just the learning curve with how to work the pedal. After a brief familiarization period, I found myself going deep into corners without drama. And the fitted all-wheel-drive system made mashing the gas pedal on corner exit completely worry-free. With the new '18 magnesium paddle shifters, the seven-speed transmission also never got in the way of enjoyment.
Overall, its sporting chops were commendable. No, it's not the knife-edged Giulia Quadrofoglio, but it's not meant to be. What the Q50 Red Sport does is get you onto the same playing field as, say, an Audi S4 or a BMW 340i M Sport, and it does so with arguably an advantage.
Full of minor updates for 2018, the Q50 interior makes its case heard, as well. Levels of fit and finish overall fall in the luxury segment without question, rear-seat leg room is more than expected, and comfort is on par with your favorite pair of sneakers. Infiniti's use and application of technology are also very smart. Its dual-screen center stacked with many redundant hard buttons nearly eliminates the need to ever go three levels deep into an infotainment screen to find the desired setting. I had the hang of it completely before leaving the dealer lot. And all the active-this and assisted-that drivers' aids expected in the segment are there, as well.
While other reviews of the Q50 Red Sport complained about the two-screen control system, I personally loved it. I saw one mention of too much road noise through the summer tires, and that one had me scratching my head. Another writer complained of the transmission being "too" responsive. Seriously? What the Q50 Red Sport accomplishes is a careful balancing act between aggression and accommodation. In a way, it's the Goldilocks of sport sedans – not too hard and not too soft, not too expensive but also not too cheap. It gives more power, more interior space and competitive levels of finish quality and tech, for about the price you'd expect – and it looks every bit the part.
To learn more about the 2018 Infiniti Q50 Red Sport, visit infinitiusa.com.
PRICE AS TESTED: $61,215
LOANER FROM: Bommarito Infiniti, bommaritoinfiniti.com