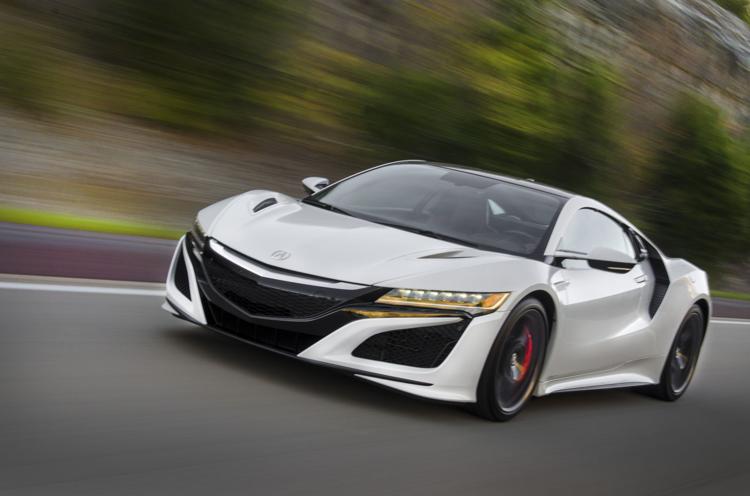 In poking around the internet and reading about what's hot and exciting in the automotive world, I noticed the 2017 Acura NSX was the car everyone seems to love to hate. That was a head-scratcher for me, because at least on paper, the new NSX offers a lot of the things car nuts love. Granted, online discussions about cars that cost more than $150,000 can often be undercut by envy, but still, the critical feedback seemed more pervasive than usual – and that made me all the more eager for a test drive. So it seemed like fate when I bumped into Travis from Leta Acura at a local cars-and-coffee event, and he was driving the Casino White NSX (pictured here) and said he'd love to have me drive it sometime.
First, though, let's discuss exactly what the new NSX is, as well as what a supercar is in general. The traditionalist would say a supercar is an Italian (or at least European) car with jaw-dropping, almost violent performance capabilities, wrapped in a dead-sexy shape. Supercars typically forgo the niceties of everyday driving – a comfortable ride, lots of cup holders and reliability. Instead, if a supercar leaves you stranded on the side of the road, you excuse it as part of the deal. But more than anything, what many would say defines a supercar is its singular focus on bending reality and convincing the driver that he or she is some sort of Hollywood hero.
The NSX does these things well, but those aren't the only things it does, and maybe it's this "mission creep" away from one-track-mind design that gives fuel to some of the online fire. Counter to popular opinion, Acura says supercars don't have to be finicky beasts; the application of modern tech should allow a well-conceived machine to release endorphins on demand and coddle on the stop-and-go commute to work. If done well, I see no reason for consternation among the automotive adrenaline seekers. In keeping with the original NSX, leading up to the new model's release, Acura said that the goal of the car was to give the owner more livability than those eminently capable but also moody supercars. In early 2016, the final details became clear: The NSX would employ a mid-engine twin-turbo 3.5L V6, a hybrid electric system to boost instant throttle response, and a 9-speed dual clutch gearbox. A lot of tech with the devil ultimately in the details.
Let's talk about the petrol engine first. Unlike the original NSX, it's not a pumped-up 3.5L V6 pulled from an Odyssey minivan. Instead, it's born of Honda's racing heritage with a 75-degree V-angle and a dry sump oiling system. On its own, the twin-turbo V6 is rated at 500 horsepower and 406 lb-ft of torque at a low 2,000 rpm. And in driving, its motorsports roots are obvious – this engine is silky smooth and rev happy. It wants to see redline, practically begs for it, and in doing so rewards the driver with intoxicating thrust. Its soundtrack also creates a lovely chorus, with a deep rumble intermixed into higher frequency harmonics that become more prominent as revs increase.
Electric motors are known for their instantaneous whack of full-power output, and it's that startling abruptness that makes the Tesla so giggle-inducing. What Acura has done is employ a 36hp electric motor on each of the front wheels, and another 50hp motor shared by the two rear wheels to give immediate throttle response while the petrol engine is getting into its happy range. But while the push tails off as speed increases with a purely electric drivetrain, the NSX gains urgency as you move faster, combining the best of both worlds. Also, the electric assist helps smooth out acceleration rough edges. This NSX is capable of sub-3-second 0-to-60 sprints, and how easily it does so makes one believe it could be done over and over consistently, without worry of a time-killing fudged launch.
While the hybrid powertrain tech is the obvious talking point, all the tech smarts employed in the chassis and drivetrain are equally relevant, if not equally obvious at first glance. The NSX's 9-speed dual clutch is smart – wicked smart. While test driving every car, at some point during my evaluation, I switch gears manually instead of letting the ECU decide. And in most cases, this injects a bit more driver involvement, because I'm just a bit smarter at making those decisions. With the NSX, I found the computer always did a better job of deciding when to switch cogs than I could, and adding myself to the processing cycle only dulled the experience.
Every true driver's car has switchable driving modes these days – some are obvious changes, others not so much. The NSX has four switchable modes, and they transform the car from kitten to killer. In Quiet mode, for instance, the NSX can slink past unnoticed, except for its traffic-stopping looks. Quiet mode keeps the car on battery power up to 20mph, quiets the exhaust above and softens all its senses. Then there's Track mode: Turn the knob to that position, and the NSX becomes a high-wire experience, walking the razor's edge between control and chaos. To truly discover the boundaries of what the NSX is capable of in Track mode would actually require a safe and controlled track setting. On the street, after a handful of 20mph switchback corners, I found myself white-knuckled and backing down to the more computer-stabilized Sport+ setting – but wow, was it exhilarating! I've never experienced a more dual character car, and it was all made possible with tech and smart programming.
No longer does your supercar need to sit under a car cover all week – the new NSX proves it. This car could absolutely be driven anytime or all the time. Its cost of admission means it will be compared to a lofty few on the market, and one might want for more luxury inside, or a bit more storage space, possibly a more refined stereo system. What the NSX does more perfectly than any other car available today is making supercar excitement accessible on a daily basis. And really, what fun is a supercar if it spends its life in your garage?  
PRICE AS TESTED: $189,230
LOANER FROM: Frank Leta Acura, frankletaacura.com