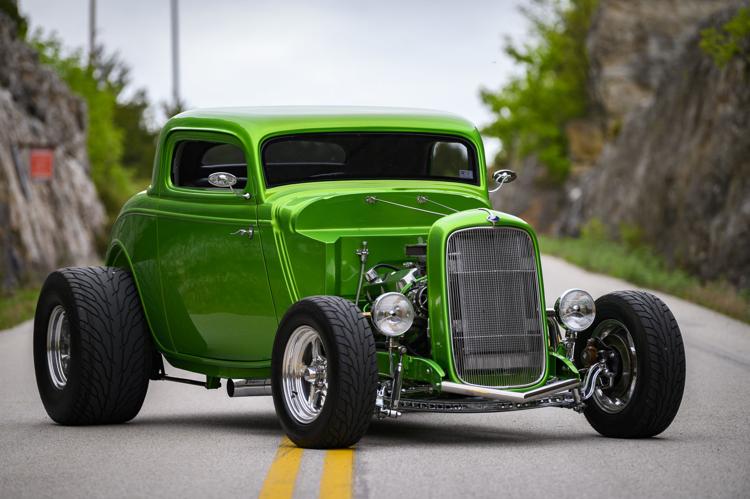 No one is as rambunctious, rowdy, and audibly and visually impossible to ignore as hot-rodders. Hot rod culture is as vibrant as it is because those base-level emotions tug at the hearts and minds of car enthusiasts. Forget practicality, comfort and luxury; at some point, every car guy or gal fancies the idea of building a ride that's the equivalent of a knockout punch. And there's no option as iconic as the early '30s Ford Coupe and Roadster.
The '34 Ford Coupe pictured is a perfect example. However, nothing you see is original. The hot rod industry is so robust that every part can be sourced new – not only does that remove issues of trying to find, fit and use rusty old parts, but also it gives the buyer nearly unlimited customization options. People often underestimate the level of skills and knowledge required to run a successful auto body shop. When a car is delivered with damage, there's a lot more than just a shiny paint job – disassembly, sourcing new parts, reassembly and more. Plus, body shops are expected to be able to repair any car that drives up: One day, it's a Dodge SUV, and the next, it's a BMW sedan. It's this vast breadth of knowledge that prepares the team at Center Line Auto Body in House Springs to turn crates full of parts into polished and road-ready hot rods.
So what's it like to drive a car like this? First, there are more comforts than you might expect, including air conditioning, power windows, a power trunk, a stereo and a comfortable custom-upholstered interior. The automatic transmission is livable in traffic, and the ride is relatively compliant and forgiving. But any misconceptions of tameness are shattered when the 415-horsepower 347 Ford Stroker V-8 Crate Engine comes to life with straight headers dumping its full fury just outside the windows. Much of the driving experience is about that glorious note. Ample torque fed through the massive Mickey Thompson tires makes the car squat like a sprinter on the starting block. The chassis twist and a short wheelbase combined with nary a hint of traction control mean the driver better pay attention, or it may bite. Successfully harness what the car is capable of, however, and the satisfying adrenaline rush is your reward. The modern world is full of fast-without-fuss options, but with this, the fuss is the fun.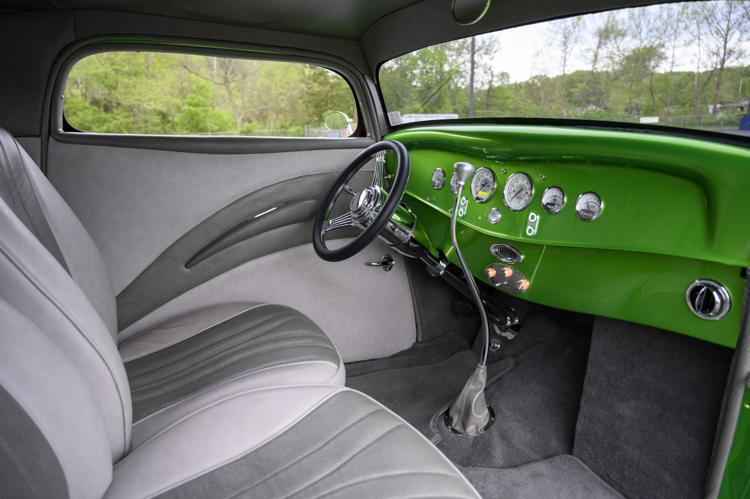 This isn't a twisty road-carving machine – and with solid axles in both front and rear, you shouldn't expect it to be. More "modern" chassis that use independent suspension setups are available, as is the addition of sway bars for more body control. Shock and spring rates can be chosen and tweaked with buyer input to match desired result, and with a handling tire and wheel package, there's no reason to believe this 2,800-pound machine couldn't hold its own through the curves.
And really, that's what hot-rodding is all about: creating something that fits your unique character. Multistage lime-green House of Kolor paint, no fenders and an exposed engine bay scream, "Look at me!" in this instance. But you can easily draw less attention by adding the fenders and a hood, and opting for a more subdued paint scheme. There are also options of changing the bodywork – perhaps an open cockpit roadster style, maybe the curves of a '32 or '33 Ford, even a '41 Willys replica. Under the hood, a Ford powerplant is the proper option, but many less expensive and equally powerful options from Chevy exist. Why not a 707-horsepower Hellcat Crate Hemi Engine if you have the budget and desire?
As much as Americans like hot rods, we also like options, and literally every component can be chosen to suit taste. Steve and Debbie Pilgram from Center Line Auto Body say a completed turnkey car can be built for starting as little as $45K, with the price increasing depending on style and options. From there, the world – as well as the open road – will be your oyster.
PRICE AS TESTED: $65,000
LOANER FROM: Center Line Auto Body | centerlineautobody.com