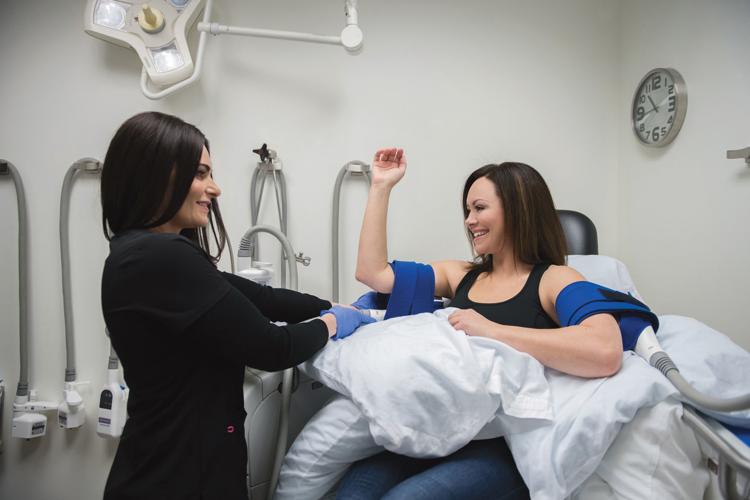 You hit the gym. You eat a balanced diet. You take care of yourself. And yet, you still can't get rid of that extra flab, gained through genetics or from pregnancy. There's a solution for you, says West County Plastic Surgeons of Washington University: body contouring.
"Treating these areas with liposuction or CoolSculpting eliminates fat to give the body a more svelte appearance," Dr. Marissa Tenenbaum says. "One of the most important considerations in choosing a body contouring procedure is determining which treatment would be most beneficial."
Her colleague, Dr. Terry Myckatyn, explains two procedures that can help you cross the finish line and complete your transformation. "Liposuction offers dramatic results, with a one-time procedure that removes 60 to 70 percent of fat cells in a treated area," he describes. "It's done as an outpatient procedure with local anesthesia or sedation, depending on the patient's needs and preferences."
This can result in some pain, bruising or swelling at the procedure site, but these capable surgeons will set you up with a plan for pain management. Liposuction requires your doctor to make small incisions, which may result in minor scarring that generally fades over time. You'll be back to your regular routine shortly but may need to wear a compression garment for up to three weeks.
"CoolSculpting is a noninvasive procedure," Dr. Myckatyn details. "It is ideal for patients who are at a desirable weight, eat well and are active, but who need help with a problem area. There is no downtime with CoolSculpting; however, it only removes up to 20 percent and may require at least three 35-minute sessions."
The big benefit here is that you can resume normal activities same-day. The treated area may be uncomfortable to the touch for up to four days post-procedure. Whichever you're inclined to choose, discuss your options with your doctor. Other procedures, such as a tummy tuck for excess skin, may be your best solution.
"We make sure our patients know all of the options open to them when considering fat reduction and body contouring procedures," Dr. Tenenbaum says. "We want to understand their goals and set realistic expectations to ensure the patient is satisfied with the results."
West County Plastic Surgeons of Washington University, 1020 N. Mason Road, Suite 110, St. Louis, 314-996-8800, westcountyplasticsurgeons.wustl.edu