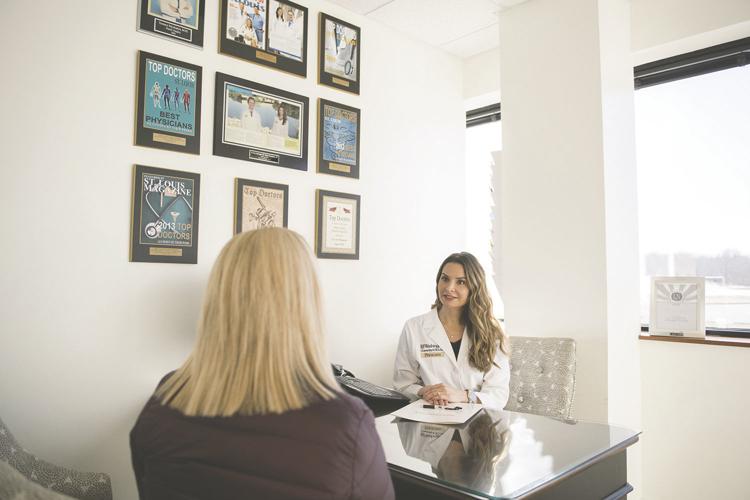 Confidence may build from the inside out – but remaking your outward appearance can certainly give you a boost. Your chest may not hang like it used to or surgery scars may have you feeling insecure. Occasionally, curves prove too much of a burden to bear, causing pain in the lower back and beyond. That's when West County Plastic Surgeons of Washington University steps in.
"Many women feel a boost of confidence after cosmetic breast surgery," Dr. Marissa Tenenbaum says. "It can help them to feel more youthful or like an improved version of themselves."
It's not surprising that many women opt for breast augmentation, the most common type of surgery requested, although breast lifts, corrective breast cosmetic surgery and breast reductions are also popular choices.
Dr. Terry Myckatyn delves into how the practice makes women's bodies work for them. "Fat can be harvested from areas typically treated with liposuction, such as the abdomen, flanks, inner or outer thighs, or the bra roll area," he describes. "The fat is processed – by separating it from other tissues and fluids – and concentrated. Then, it is reinjected in small amounts through tiny incisions into the breast. We often combine implants with fat to create a more natural, smooth look for patients."
"Newer implant technology has dramatically improved the choices women have," Tenenbaum adds. "It really allows us to tailor our patients' results [according] to their wishes."
Patients of the practice are highly satisfied with their cosmetic breast surgery results, leading to a better fit in clothing and an increase in self-esteem.
"It is important to seek out a plastic surgeon who is certified by the American Board of Plastic Surgery, with experience in the specific area of cosmetic breast surgery," Myckatyn reminds. "Make sure you are comfortable with them and their strategy, and that they discuss realistic expectations with you. Everyone is different – and a personalized strategy is best."
When it comes to strategizing a custom solution for correcting that image you see in the mirror every day, the experienced doctors at West County Plastic Surgeons have you covered.
West County Plastic Surgeons of Washington University; West County, 1020 N. Mason Road, Suite 110, St. Louis; Central West End (by appointment only), 4921 Parkview Place, Suite 6G, St. Louis; 314-996-8800, westcountyplasticsurgeons.wustl.edu